This week's list of recommendations includes a '80s/'90s revival, a nine-piece soul orchestra, and a multi-band country show that benefits heart-transplant patients.

May 2 at the Midland: Interpol
This rock band from New York emerged in the late 1990s, making waves in the gothic/post-punk revival with the release of Turn On The Bright Lights in 2002. The record drew instant and nostalgic comparisons to bands like Joy Division, Bauhaus, Spandau Ballet.
In the intervening 17 years, the band released five records and navigated/survived a brief hiatus and a few personnel changes, including the departure of founding bassist Carlos Denger in 2010.
In August, Interpol, now a trio, released Marauder, its fifth studio album. In its four star review, Slant magazine noted a heavier reliance on guitars and wrote: "The band takes a more upbeat musical approach here than usual, but the album's chugging rhythms and lively tempos belie some rather bleak lyrical content."
Recent set lists have focused heavily on Bright Lights and its follow-up, Antics. Live, the band is known for its moodiness, if not remoteness. From a review of a recent s how in Portland, Ore.: "Over the 80 minute, 18-song set, the members of Interpol moved from one song after another in near stillness save Daniel Kessler's occasional guitar heroics. Singer Paul Banks, hair slicked back and clad in a dark suit, barely stepped away from the microphone, his voice reedier and less deliberate than on record."
 Foals, an indie-rock band from Oxford, England, opens at 8 p.m.  Tickets are $32.50 to $47.50.
May 3 at Knuckleheads: Merle Jam
Most loyal patrons of Knuckleheads know Merle Zuel, longtime employee at the music venue. In February 2007, Zuel was the recipient of a heart transplant. Later that same year, he organized the first Merle Jam to raise money for transplant recipients, who often need financial assistance.
Friday night, Knuckleheads will host the 13th annual Merle Jam, and, once again, the lineup is stellar. Jim Lauderdale headlines a bill that includes The Sara Morgan Band, The Grisly Hand, and Outlaw Jim & The Whiskey Benders.
Lauderdale is a country/roots/bluegrass singer-songwriter whose work has been recorded by a large host of artists and stars, including George Strait, the Dixie Chicks, Blake Shelton, and Elvis Costello.
Morgan is a country singer-songwriter from Kansas City via Arkansas. Her second EP, Average Jane, received plenty of critical acclaim and hit No. 4 on Billboard's Heatseekers Chart after its release in 2018. Coincidentally, Friday is also the release date of its follow-up, Church In A Bar.
 The Grisly Hand is a Kansas City band that plays an invigorating blend of rock, country, and soul.
Outlaw Jim & The Whiskey Benders brand themselves as a "hard-hitting outlaw country band." And rightfully so.
Show time is 7:30 p.m. Tickets are $12. Proceeds go to the St. Luke's Hospital Foundation to help heart-transplant patients meet expenses before and after surgery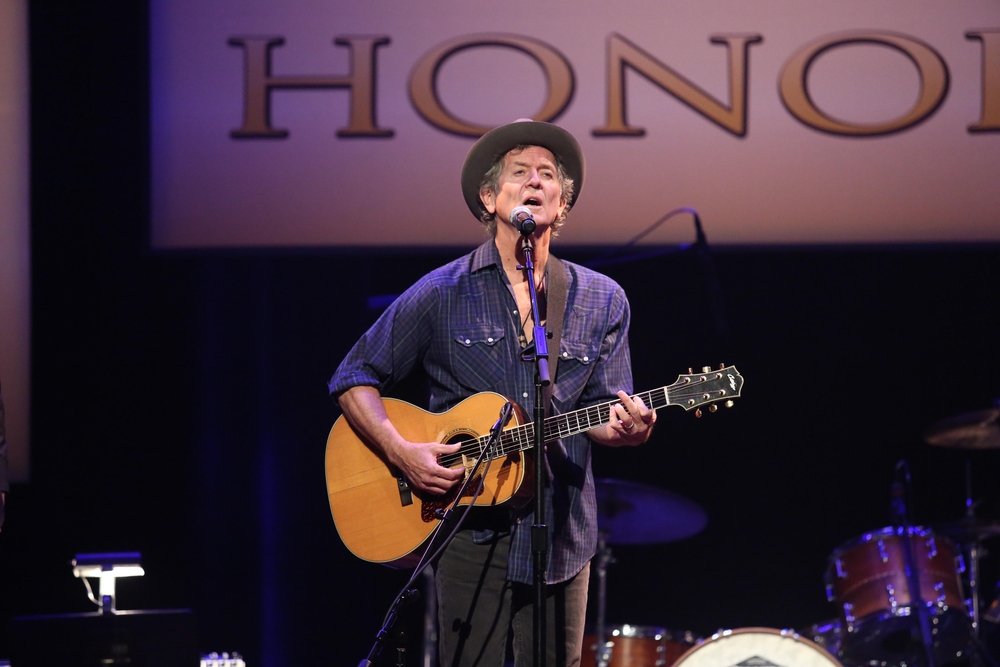 May 3 at the Folly Theater: Rodney Crowell
More than 30 years have passed since Crowell released Diamonds & Dirt, a career-defining album that put five No. 1 singles onto Billboard's Hot Country charts: It's Such A Small World, I Couldn't Leave You If I Tried, She's Crazy For Leavin', After All This Time, and Above and Beyond. They would be Crowell's only No. 1 songs.
Crowell is a five-time Grammy nominee, two-time Grammy winner, former member of Emmylou Harris' Hot Band and ex-husband of Rosanne Cash. In August, he will release Texas, a collection of songs featuring a host of guests and collaborators, including Willie Nelson, Lyle Lovett, Billy Gibbons, Steve Earle, Ringo Starr, and Lee Ann Womack.
Show time is 8 p.m. Tickets are $22 to $55.


May 4 at RecordBar: The Freedom Affair
This nine-piece soul orchestra from Kansas City features two guitars, drums, bass, trumpet, sax, and three outstanding singers who share lead vocals. (The bassist is Chris Hazelton, for fans of his other project, Boogaloo 7, in which he plays Hammond B3.
Lyrically, their songs preach positivity: love, righteousness, and justice for all. From Rise Up: "Let's move toward a brighter day; together we can find a better way. Rise up!"
Musically, they plumb groovy, taproot, old-school soul—the kind that inspires dancing, often involuntary. The band is relatively new but has already stirred a buzz and a loyal fan base. Come see what the fuss is all about.
 Soultru and Duncan Burnett X Riot open at 9 p.m. Tickets to the 18-and-older show are $10.
May 7 at Sprint Center The Mixtape Tour
 The headliners are New Kids On The Block but they've invited some special guests from the pop/R&B/hip-hop heydays of the 1980s and 1990s: Salt N Pepa, Naughty by Nature, Tiffany, and Debbie Gibson.
NKOTB will no doubt showcase their blockbuster Hangin' Tough album (which turned 30 in 2018) and other Top 10 singles, but expect to hear some new material: The boys have been in the studio recording.
In October, in conjunction with the Mixtape Tour announcement, they released the single 80s Baby, which features a bass line contributed by Kaygee of Naughty By Nature.
Billboard magazine called the song "playful" and "a fresh throwback single in collaboration with all their touring partners. The joint track is a nostalgic ride packed with '80s references and a, maybe, a glimpse of what to expect from the Mixtape Tour."
 Show time is 7:30 p.m. Tickets start at $29.95.
OTHER SHOWS TO KNOW ABOUT
Jorge Arana Trio, May 2 at Minibar:  If you like your jazz avant garde and vigorously stirred, this show's for you.
Kiefer Sutherland, June 3 at Knuckleheads: This is no act or role play: Sutherland is a bona fide country/roots singer-songwriter.
Khalid, July 21 at Sprint Center: He's barely 21 and already a five-time Grammy nominee and four-time Soul Train Award nominee.
Banda MS, Aug. 23 at Sprint Center: A 17-piece orchestra from Mazatlán that plays pure and traditional Banda and Ranchero music.
Kasey Musgraves, Sept. 4 at Starlight Theater:  Earlier this year she won the Grammy for Album of the Year, a reward she richly deserved.