This week's list of recommended shows includes an American Idol idol, a flashy electronic-music trio, and one of Kansas City's finest jazz singers.
Feb. 7 at Sprint Center: Kelly Clarkson with Kelsea Ballerini
 She was 20 when she was crowned champion of American Idol's inaugural season. Nearly 17 years later, Kelly Clarkson remains a pop-music idol and a pop-culture icon.
Since her Idol crowning, Clarkson has won three Grammys, released six platinum or multi-platinum albums and one gold album, put 11 singles in the Top 10 of the Billboard's 200 chart, and launched more than a dozen headlining or co-headlining tours, including the 2 Worlds, 2 Voices Tour with Reba McEntire, which stopped at Sprint Center in February 2008, Clarkson's last Kansas City performance.
In October 2017, Clarkson released Meaning of Life, her eighth studio album, and in January 2019, she launched its official tour. The album generated plenty of praise ("a refreshingly real dispatch from an artist expressing exactly what she feels at this moment," wrote Entertainment Weekly) and so has the tour. From the Deseret News in Salt Lake City: "Clarkson's voice carried the same power and soul fans have loved since … American Idol."
The tour stops at Sprint Center on Thursday. Kelsea Ballerini, a rising pop star in the world of country music will also perform. Brynn Cartelli, a champion on The Voice (Clarkson was her coach), opens at 7 p.m. Tickets are $29 to $120.
Feb. 7 at The Truman: Beats Antique
 This electronic music trio comprises performers with diverse and eclectic backgrounds.
David Satori, a native Vermonter, studied music and performance in California before starting his odyssey into experimental and world music, particularly Afro-beat and the music of the Kuti dynasty.
Tommi Cappel studied percussion at the Berklee College of Music in Boston, emphasizing world music and jazz, particularly New Orleans jazz.
Zoe Jakes is an eminent belly dancer whose experience includes several years with cult heroes the Yard Dogs Road Show, a large troupe of diverse performers from Northern California who took the spirits of burlesque and vaudeville into their own wigged-out galaxies.
Together, as Beats Antique, the three have created their own world of electronica, world beat music and jazz plus dance, performance art, and lavish visual spectacles.
From a review of a 2018 show at Red Rocks in Colorado: "The show kicked off with a Marie Antoinette figure donning a clown-car skirt, giving birth to a band of charcoal-eyed, gypsy acrobats tumbling gracefully from beneath her billowing petticoats." And: "Each track featured a different stunt, unique costumes and evolving vibes that ranged from sinister and exotic to explosive and funk-fueled."
Come and see what all the fuss and hype is all about Thursday night. Show time is 8 p.m. Tickets to the all-ages show are $12.50 to $28.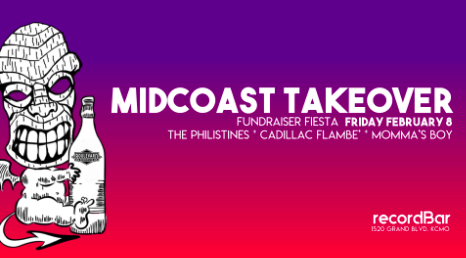 Feb. 8 at RecordBar: MidCoast Takeover Fundraiser
 The MidCoast Takeover is an annual showcase of bands and musicians primarily from Kansas City and Lawrence that takes place in Austin, Texas, each March during the international South by Southwest (SXSW) Music Conference.  This year, the Takeover celebrates its 10th anniversary.
The four-day event is not affiliated with SXSW but it has become a popular draw for festival attendees and also for music fans who don't want to pay the exorbitant price of a conference badge. Admission to the Takeover is free.
This year's event runs from March 13-16 at its annual home: the Shangri-La on the east side of Austin. More than a dozen bands will perform each day. To defray the cost of organizing and producing a project of this magnitude, the Midwest Music Foundation (MMF), the event's organizer, is presenting a series of fundraisers.  The next one is Friday night at RecordBar.
Three very different Kansas City bands will perform: Cadillac Flambe ("Delta stomp-boogie"), the Philistines (psychedelic garage-rock) and Momma's Boy  (indie surf-rock). Proceeds will help the MMF and the Takeover bands show Austin and fans from all over the world why Kansas City's music scene is so red-hot.
Show time is 9 p.m. Tickets to the 18-and-older show are $10.
Feb. 9 at Liberty Hall: Brewer and Shipley
More than 50 years ago, Mike Brewer and Tom Shipley returned to their native Midwest, specifically Kansas City, and became regulars on the Midwest college circuit and the short-lived Cowtown Ballroom in Kansas City.
The two were best-known for their Tarkio album (named for Tarkio, Mo.), which included the hit One Toke Over the Line, which was given an unintentionally humorous and ironic religious spin on an episode of The Lawrence Welk Show.  But Brewer & Shipley were ensconced in the counter-culture and, like contemporaries such as Crosby Stills & Nash, spoke out against the government and the establishment.
Fifty-plus years and several beaks/hiatuses later, the two flash the same spirit and draw deep from the same classic '60s- and '70s-era folk/rock cistern.
Saturday night, they return to Kansas City for a show at the Uptown. Don't miss the openers: Father/daughter folk duo Bob and Una Walkenhorst, who put out one of 2018's best albums, For Tomorrow.
Show time is 8 p.m. Tickets are $25 to $79.
Feb. 9 at the Blue Room: Lisa Henry
 She is an elite jazz vocalist, a winner of the Thelonius Monk International Jazz Vocals Competition (1994) who has toured the world and shared the stage with dozens of legends, including Roy Hargrove, Herbie Hancock, Wayne Shorter, Lou Rawls, Kenny Garrett and hometown heroes like Bobby Watson and the late Kevin Mahogany. She is in demand for a good reason.
From the Hancock Institute of Jazz: "Lisa Henry is a dynamic vocalist with a combination of swingin' cool and down-home class." Speaking of home, Henry has toured Europe, South America and India and performed all over North America, in elite venues like the Kennedy Center and the White House. But there's nothing like seeing her in the city where she was born and raised and nourished her jazz roots.
You'll have a chance on Saturday when she performs at the Blue Room. Show time is 8:30 p.m. Tickets are $10.
 OTHER SHOWS TO KNOW ABOUT
 Shy Boys, Feb. 22 at RecordBar: This five-piece from Kansas City wades chest deep into the sounds of psychedelic indie-pop. Their 2018 full-length Bell House, named for the midtown street they once lived on, promptedPastemagazine to call the album and the band "hidden gems."
 Survivors' Stories: A Benefit for MOCSA, Feb. 28 at The Rino: This evening of music, poetry, spoken word, and performance art is being organized by Kansas City songwriter Una Walkenhorst. All proceeds benefit the Metropolitan Organization to Combat Sexual Assault.
Joy Williams, March 14 at Knuckleheads: Hearts broke when her beloved Grammy-winning duet with John Paul White, the Civil Wars, broke up. But Williams has regrouped and launched a solo career. She called her new album Front Porchfor a reason: It has that warm, laid-back vibe.
 Electric Six, March 18 at the Riot Room: They stuffed a bunch of genres in a blender and concocted their own music smoothie: a mix of synth-pop, rock 'n' roll, dance pop, glam rock and one or two other ingredients. It all makes for a kinetic and groovy evening.
Catfish and the Bottlemen, March 31 at the Midland: Their name may make you think: country band. But they're a quartet from Wales that genre-hops from DIY indie-rock and garage rock to post-punk and new wave. Catchy, invigorating stuff.