This week's list of recommendations includes a guitar wizard, a Kansas City rapper with warp-speed flow, and an extravagant Mardi Gras celebration.

Feb. 19 at The Madrid: Eric Johnson
The Grammy-winning guitar wizard from Texas is out on a 55-stop jaunt he's calling his Classics Past and Present Tour. It features songs from a discography that goes back to 1986 plus numbers from the upcoming EJ Vol. II, the follow-up to 2016's EJ.
The new album showcases his prowess on the guitar, as usual, but also contains some surprises. According to a recent article in Westword magazine, it will include a lot of singing from Johnson, something he has just recently become comfortable with:
"It's taken me a long time to sing at a decent level, I think, but I'm being overly critical. When I started singing, it was pretty scary, actually. I just feel like recently it's getting to where it's pretty decent. I've always wanted to sing, but it's just taken me a while to get into the gist of how to do it better."
Show time is 8 p.m. Tickets are $35 to $85.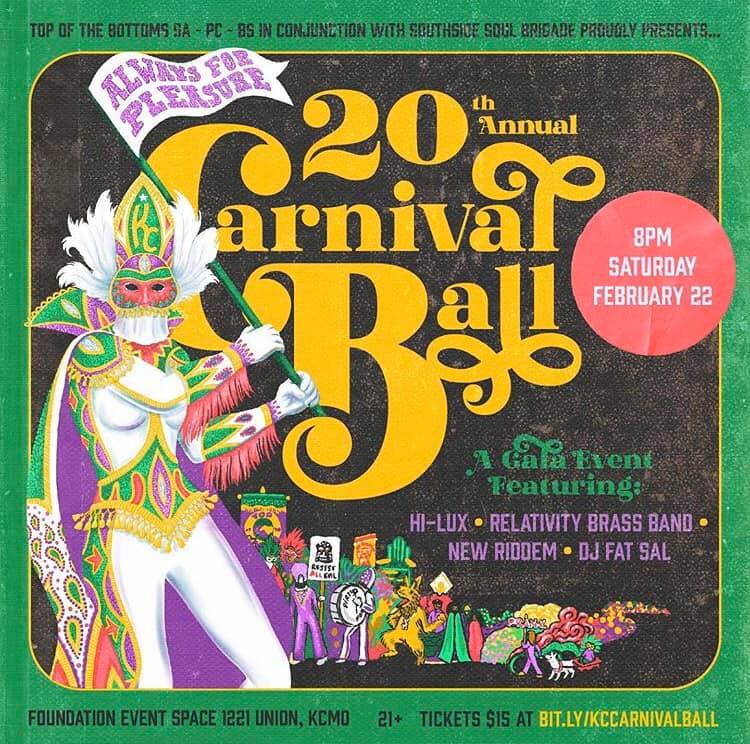 Feb. 22 in the West Bottoms: The 20th Annual Carnival Ball
The Carnival Ball has long been one of the city's biggest Mardi Gras celebrations. This year it will take place in two venues in the West Bottoms: The Ship and The Foundation.
There will be plenty of music and entertainment. Three outstanding Kansas City bands are on the bill: The New Riddim, Hi-Lux, and The Relativity Brass Band. DJ Sal will also be on hand to spin plenty of celebratory music.
And heed this word: Masquerade fashions are highly recommended. Veteran Mardi Gras party-goers go all out for this event.
Show time is 8 p.m. Tickets are $15. This is a 21-and-older event.
Feb. 22 at RecordBar: Mac Lethal
He was born David McLeary Sheldon but he is widely known as Mac Lethal, a Kansas City rapper with a Gatling-gun delivery and some of the wryest, wittiest, and most clever lyrics in hip-hop, a style one website described as "left-of-center beats, jazz vibes, soul samples, clever rhymes, socio-political awareness."
In 2011, he attracted national attention thanks to a video that went viral on YouTube in which  he raps over a Chris Brown song while preparing pancakes. "Nerdy White Kid KILLS Look at Me Now (Pancake Rap)" was its title. (Warning: Some language NSFW.) His outlandish personality eventually earned Mac a co-host spot on the MTV2 show Binge Thinking. More recently, he dropped one of the best tribute videos to the Kansas City Chiefs' Super Bowl run.
Crypt and Feral the Earthworm open at 9 p.m. Tickets are $15 in advance, $20 day of show. This is an 18-and-older show unless accompanied by a legal guardian.
Feb. 25 at The Madrid: Tennis
Over the course of 10 years and five albums—including Swimmer, released on Valentine's Day—the wife-husband team of Alaina Moore and Patrick Riley have been delivering waves of dreamy indie-pop, most infused with a warm, retro '60s/'70s vibe.
One reviewer proclaimed their sound draws "on the beautifully rendered tunes that emerged between pop's Wall of Sound era and the eruption of punk's unkempt energies, give or take a few years," then cited as inspirations artists as diverse as Dusty Springfield, the Carpenters, and Fleetwood Mac.
The new album addresses Moore's fear of water, at least of swimming—something she learned recently after overcoming much trepidation. It's an odd phobia considering the couple spends much time on the water, on their sailboat, which serves as a second abode. But it also sustains the fetching sounds that have made this duo favorites of indie-pop fans for a decade.
Molly Burch, an indie-pop and -rock singer/songwriter with jazz leanings, opens at 8 p.m. Tickets are $22 to $34.50.
Feb. 23 at The Truman: Dashboard Confessional with The Get Up Kids
Chris Carrabba has been fronting Dashboard Confessional for more than 20 years, defying the odds. On his most recent album, Crooked Shadows, released in February 2018 (the first Dashboard album in eight years), Rolling Stone praised his loyalty to his genre's legacy and his own pop ambitions.
That genre is emo, (short for "emotional"), which showcased his "strummy perpetually wounded boyhood drama."
His willingness to bare his emotions is, RS wrote, "a kind of calling, and it's a matter of duty to never give up on the kids that connect with his music."
Many of  his fans are adults now but they still connect with the waves of emotions that fill his heart and his ways of expressing them.
The Get Up Kids are Kansas City/Lawrence legends who preceded Carrabba and Dashboard in the annals of emo.  In 2019, they released Problems, their sixth studio album and first in eight years. It's also one of their best: a robust mix of energy, melody, grooves, and deft lyrics.
Show time is 8 p.m. Tickets are $35.
OTHER SHOWS TO KNOW ABOUT
 Destroyer, Feb. 28 at The Granada:  This eclectic band is led by Dan Bejar, former member of New Pornographers. Pitchfork calls Have We Met, its brand-new album, "masterful."
Hot Water Music, March 19-20 at RecordBar: A quartet from northern Florida, they made some big splashes in the punk/post-hardcore underground in the early 1990s.
Damo Suzuki, May 10 at RecordBar: Suzuki is a former member of German experimental-rock icons Can. If you don't know who Can is, you should.
 The Darkness, May 20 at The Truman: They mix glam sonics with hard-candy rock, all done tongue-in-cheek (or is it?).
 Femi Kuti, June 11 at The Granada: A legend and son of a legend in the world of Afrobeat.