To succeed in most industries, women typically have to work harder than men. Country music is among them.
In a world that has nearly marginalized women artists, Carrie Underwood, one of the few on the country charts, stands out for several reasons. Among them: talent, personality, perseverance, and work ethic.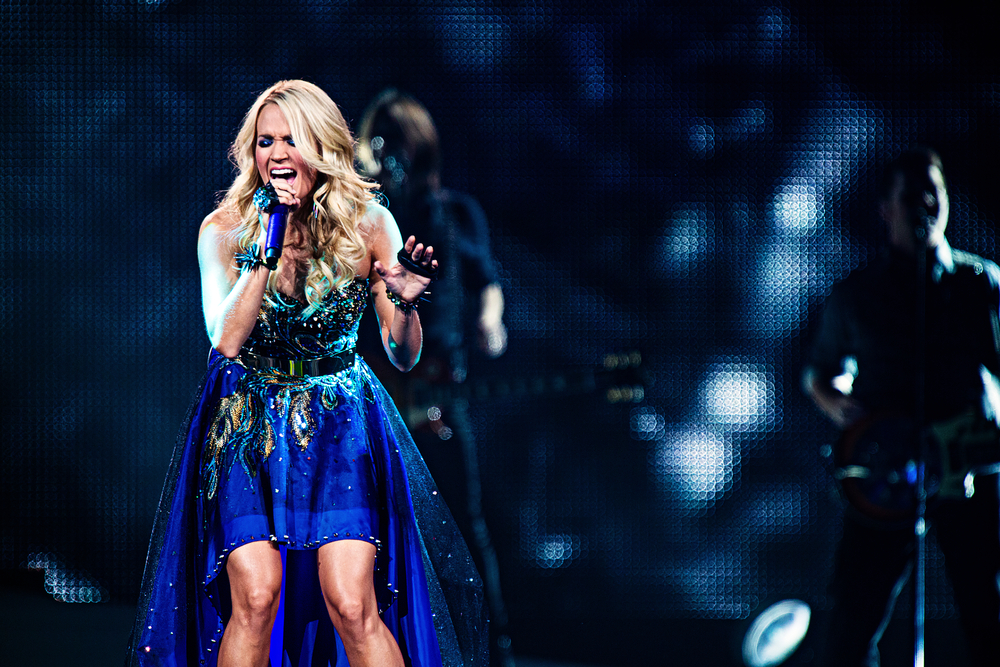 Thursday night at Sprint Center, the former American Idol champ and one of country music's most successful artists over the past 10 years put on a dazzling, two-hour spectacle, one rife with glitz, glamour, and relentless energy.
She was backed by an eight-piece band larded with guitars that, save for a fiddle and the occasional cameo by a banjo, sounded decidedly more rock than country.
And rightfully so. Underwood has a skyscraping rock-star voice suited for arena-sized anthems – as powerful as Ann Wilson's. Or heyday Robert Plant's. (As she and her band took the stage, the P.A. blasted Paradise City by Guns N' Roses, a song Underwood has covered in concert.)

They performed in the center of the arena on a stage that comprised two intersecting arcs that provided long runways for Underwood and her mates to roam and prowl.
That stage was equipped with hydraulic platforms that transported performers high above the crowd. Several times, large scrims descended from above, providing screens upon which visuals were projected. As Underwood returned from one wardrobe change, a huge curtain of what looked like tinsel, shrouded her, then lifted, revealing her garbed in yet another sparkling outfit. (She would joke later: "I want this on my tombstone: more rhinestones!")
It all contributed to a show that kept a crowd of nearly 13,000 on its feet and in the throes of an artist who has released 15 No. 1 country hits and five platinum albums. In September 2018, she released her sixth studio album, Cry Pretty; it has already gone gold.
She would perform nine of its 13 tracks, including Southbound, which opened the show, and Love Wins, which closed it.
She would play three from Some Hearts, her debut and best-selling album (2005), including Jesus Take the Wheel and Before He Cheats, both of which shook the arena, thanks to Underwood's voice and the crowd's raucous sing-along.

She would change wardrobe four times, each one significantly different from the others. During the sax-infested Drink Alone, a "groovy, smoky, jazzy" number, she called it, Underwood sported a dazzling, ink-black number and a bowler hat, giving the performance a cabaret vibe.
During End Up With You, she convened with several band members along one of the runways for a semi-acoustic version that featured Underwood banging on a drum. During Wasted, she sustained a pitch-perfect high note so long it sounded like an air-raid siren.
She paid tribute to her Idol days first by encouraging her fans to "give it a shot," "it" being whatever endeavor they dream of pursuing.  Then she gave them a medley of her Idol days, including a blast of Aerosmith's Dream On.
Late in the show, with assistance from her opening, all-women acts, Runaway Jane and Maddie & Tae, she paid tribute to some of the great women in country, including Tammy Wynette (Stand By Your Man), Patsy Cline (Walkin' After Midnight), Loretta Lynn (Coal Miner's Daughter), Dolly Parton (9 to 5), and the Judds (Rockin' With the Rhythm of the Rain).
Through her songs, Underwood would address other issues beyond the need for women's empowerment, like gun violence (The Bullet) and domestic violence (Church Bells).
And then there was her closing number, Love Wins, in which she testifies that, despite gun violence, despite "politics and prejudice," despite a world in which "everybody's got to pick a side," love will prevail.
You don't get many soapbox moments like that from modern country stars, but Underwood, one of the genre's biggest stars, has earned the right to express it from a mother's/woman's perspective—something country music needs more of.
SET LIST
Southbound; Cowboy Casanova; Good Girl; Last Name; Backsliding; Church Bells; Two Black Cadillacs; Blown Away; Drinking Alone; End Up With  You; Flat on the Floor; Wasted; Temporary Home/See You Again; I Know You Won't/Just A Dream/Dream On;  Jesus, Take the Wheel; The Bullet; Something in the Water; Low;  Stand By Your Man/Walking After Midnight/Coal Miner's Daughter/9 to 5/Rockin' With The Rhythm Of The Rain/She's In Love With The Boy/ Independence Day/Wild One/Why Haven't I Heard From You/Man! I Feel Like A Woman; Undo It/Freedom; The Champion; Before He Cheats. Encore: Cry Pretty; Love Wins.