A new decade is upon us, and 2020 already looks like a blockbuster year for live music. Two stadium shows are on the docket, including another at Kauffman Stadium, and, if there's a theme running through this long—and soon to be partial—list of shows it's this: Farewells are often impermanent. Here's a look:
 ARROWHEAD STADIUM

July 11: Kenny Chesney
For the sixth time in 10 years, Chesney will roll into Arrowhead in the thick of summer, supported by a star-studded lineup. This year's openers:  Florida Georgia Line, Old Dominion, and Michael Franti & Spearhead.
Chesney's shows have drawn some of the biggest crowds ever for concerts at Arrowhead, like in 2015, when he drew 57,368, breaking a 20-year-old record held by Pink Floyd. Expect the same.
ARVEST BANK THEATRE AT THE MIDLAND
Feb. 7: Jill Scott
The neo-soul singer extraordinaire is celebrating the 20th anniversary of her debut, Who Is Jill Scott? Words and Sounds, Vol. 1
March 14: Bob Weir and Wolf Brothers
The legendary Grateful Dead/Dead & Brothers guitarist is touring as a trio with bassist Don Was and drummer Jay Layne.
Other notable Midland shows
Feb. 14: Dustin Lynch with Travis Denning
June 8: Awolnation
KAUFFMAN STADIUM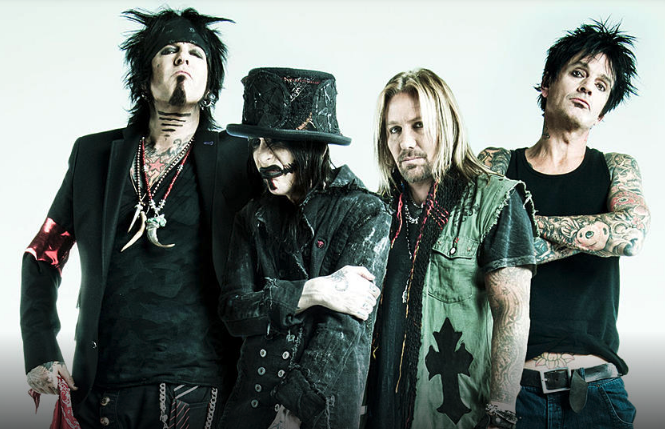 June 23: Def Leppard and Motley Crue with Poison and Joan Jett & The Blackhearts
Six years after the Motley Crue Final Tour rolled into Sprint Center (with Alice Cooper), the boys will hit the road again, this time with stalwarts Def Leppard, fellow hair-band diehards Poison, and the indefatigable Joan Jett.
SPRINT CENTER

Jan. 25 and 26: George Strait with Asleep at the Wheel
In 2012, Strait announced he would retire from the road after his Cowboy Rides Away Tour, which stopped at Sprint Center in January 2014 (with Eric Church). Almost six years later, to the date, he'll ride back for a two-night stand because: Kansas City loves him (both shows are near sell-outs); and cowboys gotta keep riding.

April 18: Cher with Nile Rodgers and Chic
At least she has a sense of humor about her farewell-ness. In July 2002, she brought her Living Proof: The Farewell Tour to Kemper Arena. In May 2014, her Dressed To Kill Tour stopped at Sprint Center. In 2018, she announced her Here We Go Again Tour, an admission that some farewells are temporary.
The final leg of this tour comprises more than 40 shows in cities large and small across North America, including KCMO, again. Cher will turn 74 in May, but don't be surprised if she Goes Again, again, five years from now.
July 8: Elton John
In February, he said farewell to a sold-out crowd at Sprint Center by delivering a swan song for the ages: a set list packed with hits and deep-cut favorites.
It felt like a bittersweet valediction, the end of a relationship that goes back to John's first show in Kansas City at Municipal Auditorium in 1972.
Eh, not so fast. He's still standing, so to speak. It's good to have him back. We've missed him, lo these many months.
Other notable Sprint Center shows
Feb. 5: Post Malone
Feb. 6: Miranda Lambert
Feb. 15: Tyrese with Joe, Ginuwine, Avant, and Brownstone
March 8: Toby Mac
April 9: Dan + Shay
April 16: Zac Brown Band
June 26: Ozzy Osbourne with Marilyn Manson
STARLIGHT THEATRE
Aug. 15: The Doobie Brothers
For the Doobies' 50th birthday tour, Michael McDonald will join Tom Johnston, Patrick Simmons, and John McFee to re-create the classic lineup for the first time in 25 years.
Other notable Starlight Theatre shows
May 12: NF
June 24: Chicago with Rick Springfield
Aug. 8: David Gray
Sept. 29: Vampire Weekend
OTHER SHOWS TO KNOW ABOUT
KNUCKLEHEADS SALOON
Feb. 8: Queensryche
Feb. 14: Jimmy Webb with John Fulbright
March 13: Galactic
March 26: The Del McCoury Band
April 10: David Allen Coe
April 16: Robyn Hitchcock
April 28: Amanda Shires
May 7-9: The Mavericks
May 14: Judy Collins
May 23: Southern Culture on the Skids
THE MADRID THEATRE
Feb. 19: Eric Johnson
Feb. 25: Tennis
Feb. 28: Soul Asylum with Local H
March 3: Anderson East and Foy Vance
April 17: Crash Test Dummies
THE TRUMAN
Feb. 9: Dr. Dog
Feb. 11: The New Pornographers
Feb. 23: Dashboard Confessional
Feb. 29: Dweezil Zappa
March 18: Allen Stone
THE UPTOWN THEATER
Feb. 8: Lyle Lovett and His Acoustic Group
Feb. 17: Stone Temple Pilots
March 1: George Thorogood and The Destroyers
March 4: Fitz and The Tantrums
March 21: Nitty Gritty Dirt Band
April 21: Mandy Moore
April 23: Beth Hart