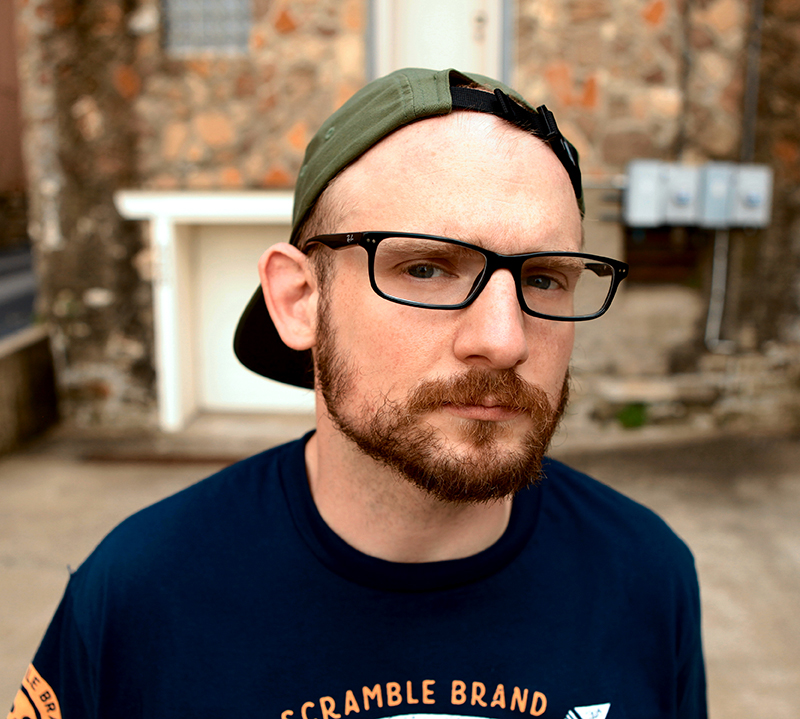 If your familiarity with the work of David McCleary Sheldon—aka the rapper Mac Lethal—is limited to his blockbuster video, then you no doubt will be surprised, blindsided even, by his latest album, Winter Heartbreak II, released in June in the wake of what Sheldon said had been an unbearably painful year. And if your familiarity with his work goes far beyond that video, you're likely to be surprised as well.
As Mac Lethal, Sheldon, a native of Raytown, burst into the hip-hop world in 2011, when the YouTube video to Look At Me Now (Pancake Rap) went hyper-viral, generating millions of hits in just a few days and arousing attention from national and international media. (Spin magazine named it one of the year's ten best viral moments.)
The video shows Sheldon rapping manically about pancake preparation to the music from Chris Brown's hit Look At Me Now, and it showcased Mac Lethal's signature, high-caliber skills: a fusillade of clever, wry, and humorous lyrics delivered rapid-fire in a nasally voice that deepened its unique comic bent.
By then, Sheldon had released three albums, including 2011's Irish Goodbye, which generated hype and acclaim within the indie-hip-hop world. But Pancake would be the breakthrough moment he'd been awaiting and deserved. It would lead to several major-media moments and opportunities and vault Mac Lethal into international renown.
Sheldon, a husband and father of two, turned 40 in July, and the lead-up to that milestone was grueling and rigorous. In addition to enduring the pandemic, the lock down, and the suspension of all live performances, he suffered several hardships and tragedies, all of which made it into the lyrics and words of Winter Heartbreak, a career and personal turning point for Sheldon. 
He recently answered questions from IN Kansas City about the album and the events that prompted and inspired it, plus his soul-plumbing views and epiphanies on marriage and fatherhood and his devotion to Brazilian jiu-jitsu.
Let's talk first about Winter Heartbreak II, your fifth and most-recent studio album, released in June. It is a deeply personal and candid album. In a few sentences, how would you define its overall themes or messages?
I treated this album like a release valve for the unbearable level of pain I was experiencing. It's a vulnerable, honest body of work, created by a guy who was blindsided by more pain than he could process.
What moments more specifically inspired this catharsis?
My wife and I were on the verge of divorce; my father was on the verge of taking his last breath; my friend Info Gates, a Kansas City rapper, collapsed and died at the Riot Room; my friend EMC, a Lawrence rapper, died in his sleep; my family doctor, who I had an unorthodox friendship with, committed suicide; and my friend Georgia was murdered by her husband and rolled up into a rug and kept for days.
Then Kobe Bryant died, and while I didn't know him, that was like pouring bleach on an open wound. Then the country shut down, which in a lot of ways was like zooming in on all the pain I was experiencing. Oddly enough, I'm probably forgetting some events.
Here's a quote from Patton Oswalt from the documentary I'll Be Gone in the Dark. It's to his wife, Michelle McNamara, who, not long before her unexpected death, was struggling to finish her book about the Golden State Killer: "Every creative object wants the safety and warmth of staying in your head. You're trying to drag it out into the light." He then exhorts her to "pin that (bleeper) to the mat and claim your trophy."
Does any of that apply to you, especially regarding this project? Was there any apprehension about bringing to light all this personal experience and emotion?
Big time. Mostly the divorce, which didn't happen, thanks to therapy and communication. I wanted to be fair to my wife. I'm not saying this as a way to pat myself on the back, but I genuinely felt like I had a responsibility to protect and honor her even during the catharsis. I knew I was only speaking my side of the story. 
My wife isn't the type of person to blast her life out on social media. She isn't going to take me to task on Facebook. If I said something public about her and it hurt her, no one would ever know. So I felt like I needed to handle that with care. The last thing I wanted to do was play victim and pretend there wasn't a long list of complaints she had about me that had been developing for a decade-plus. 
But I needed to get it out. It's the only music I had available at the time. There was a major balancing act happening with being fair to both her and myself.
Based on some of your Twitter posts, it seems this recording resonated deeply and profoundly with a lot of its listeners. Talk about that feedback and what it meant to you.
I remember a feeling kept surfacing, a sentiment, rather, that maybe the pain I was in was less about the specific moment and more about the collective experience we were all in. Sure, I have very detailed, specific things that would hurt anyone. But the pandemic triggered so much awful shit, I couldn't possibly be the only one whose pain was magnified by it. I knew going into writing it that it was going to be dark, vulnerable, and soaked in depressive feelings and thoughts. I knew it wouldn't be for everybody, but I thought, or hoped, that at least a small element of people would connect with it. 
But I guess I incorrectly assumed how many would, because it has been overwhelming. I've never had multiple pieces of fan mail bring me to tears in one day until this.
What does this recording say about what we can expect from you in forthcoming records?
I imagine they will all be significantly brighter and happier, at least for a while. Because things, for the most part, have done a complete 180: My life is great, or it's on the way to be. And I wouldn't mind just making "bangers" for a while.
You turned 40 in July. You are a husband and father, someone whose life and lifestyle is vastly different from what it was in 2002, when you released your first recording. We all grow and evolve significantly from the people we were in our late teens and early 20s (well, most of us do). But few of us document permanently and make public who we were at those ages like you have. What do you extract from that period in your life—lessons, observations, or otherwise?
I was terrified of my 30s. I always thought turning 30 meant I was officially old. But in a lot of ways, my 30s were my best years. I spent my 20s in toxic relationships, insecure, on drugs, partying, and obsessed with people's approval. I threw out a lot of those habits in my 30s. Now I have wonderful kids who aren't babies anymore, who have beautiful personalities, and I want to teach them and show them the world. And I'm more relaxed and healthier. 
I love productivity and exercise. And building wealth and reading and being vulnerable to my family. And learning about myself and seeing the world with the love of my life. 
The glory to me isn't in my career anymore or what I could one day achieve. The greatest accomplishment of my life is learning that there's nothing more important than spending time with those I love. And I only recently learned to truly value that.
List some of the moments in your career you are proudest of. 
Winning Scribble Jam 2001.
Signing to Rhymesayers Entertainment and releasing an album (11:11) with them.
Releasing multiple videos that got tens of millions of views on YouTube.
Having my blog Texts from Bennett go viral, which turned into a bestselling novel being published, which turned into a TV show being optioned. (And ultimately passed on. For the record, I pitched to FX a show about a white suburban rapper named Dave, and they passed on it in 2014.)

Being able to tour anywhere in the world and pull a nice crowd. I remember performing in Stellenbosch, South Africa, and having 100 people who knew the words to my songs in the crowd. I've never needed full stadiums; just give me some people I can connect with.

Releasing albums out of the trunk of my car and watching how they've created fans who have been with me for 15-plus years.
Getting a massive check for a Heineken commercial and using it to buy my wife our first house.
Another big moment: The video for Look at Me Now, also known as Pancake Rap, which brought you widespread national and international attention and accolades. It has now generated more than 50 million views. Assess that experience and its effect on your career.
The best contributor to success is consistent, innovative work. Consistency trumps everything. This doesn't mean to just [dump] out every idea you have, but to work hard on making as many truly great things as possible and release them frequently. Whenever I focus on that, something gets through. When I sit around pontificating on the wonders of the universe and how I can achieve perfection, nothing happens. But with consistent work, I periodically have ideas that grow legs and travel massive distances I'd never even imagined. 
I didn't intend for Pancake Rap to be so massive. I just wanted to stay consistent and work hard. But it blew up and opened a lot of doors for me that I kept open with more consistent hard work. To some people it defines me, to others it doesn't. To me it's just another idea that I wasn't afraid of releasing. And it has had the life it was supposed to have.
Another big moment: In March 2014, you appeared on the Ellen show. (Alongside Jason Bateman!)
Another experience that was awesome and came from me buckling down and going for broke. I try to do weird, or seemingly new, things. So I released the Alphabet Rap, and it blew up and took me to some cool places, like Ellen. 
You are an elite and unique lyricist. Do you ever wonder if listeners are so impressed with the speed and cadence of your deliveries that they miss some of your lyrical cleverness and wit?
I'd say it's my Achilles heel. I truly don't think people hear the words I'm writing. I'm not trying to pat myself on the back, but I'm an avid fan of rap and know what people are writing. There's great stuff out there. But I dunno, some of my lyrics simply go over people's heads, and it always bums me out. It's always the super-basic stuff people quote, and I'm like, "Did you hear the other 96 bars on that song? I guess not." Again, I'm not trying to be arrogant, but clearly, I'm not the only one who thinks that.
Have you ever considered releasing songs in another music genre or format or is rap your sole terrain?
I've been taking singing lessons for a year and want to experiment with some singer/songwriter stuff: folk, pop, even outlaw country. I might end up transitioning to only singing. My wife has been playing drums like a maniac for about a year, and we want to start a band so we can tour together.
Let's pivot to your other roles. What has fatherhood taught you or awakened in you? How has your childhood played a role in your parenthood?
All of my creative compulsions and instincts as a child were either quelled or ignored by my parents. I've made it a point to make sure I'm nurturing every single thing I can in my kids—and also probably [screwing] it all up like my parents did. Fatherhood completely refocused my life, though, and the fear of time running out is a constant factor in my life.
You've discussed how you and your wife navigated a crisis in your marriage. What else has marriage has taught you about yourself and life?
Not to always advocate for myself. That sometimes there are multiple ways to look at the same exact event. Listening is important, but so is talking. And not talking bullshit but talking truth. You both need to communicate. That looks so much duller and dumber than it actually is. Communication is probably the most powerful force on earth, and that doesn't change in a marriage. It's the soul of everything. And most of us do it poorly.
Brazilian jiu-jitsu: In social media, you make it clear this has become a lifelong passion and game-changer, one whose benefits far exceed your time in the gym. What has made it so important to you?
The constant squashing of my ego, the constant refining of my own skill set. You can never be great at jiu jitsu. I've sparred with a sixth-degree black belt—each degree represents three years, which means he was a black belt for 18 to 21 years. He was so far beyond anything I'm even capable of grasping. It was like fighting a Jedi. 
That's so inspiring to me: to know the journey of jiu-jitsu lasts forever. It feels super good physically, and it's a wonderful way to get out anxiety and stress. It will be in my life forever.
What are your plans for 2021-22?
Touring all fall and winter, assuming we don't get shut down again.
What do you tell outsiders about Kansas City and why it has remained your home and base?
If I can do this from Kansas City, I can do this from anywhere. I grew up here. My family is here. My friends are here. However, recently we've been considering exploring other parts of the world. Either way, this will always be home. I love it. Go Royals and Chiefs!
---
Want more Timothy Finn?
Check out his weekly online-only content, including his Top 5 Not-to-Miss Concerts in the metro and his revered, rollicking, reasoned reviews and commentary.
Email Timothy Finn at tfinn@inkansascity.com