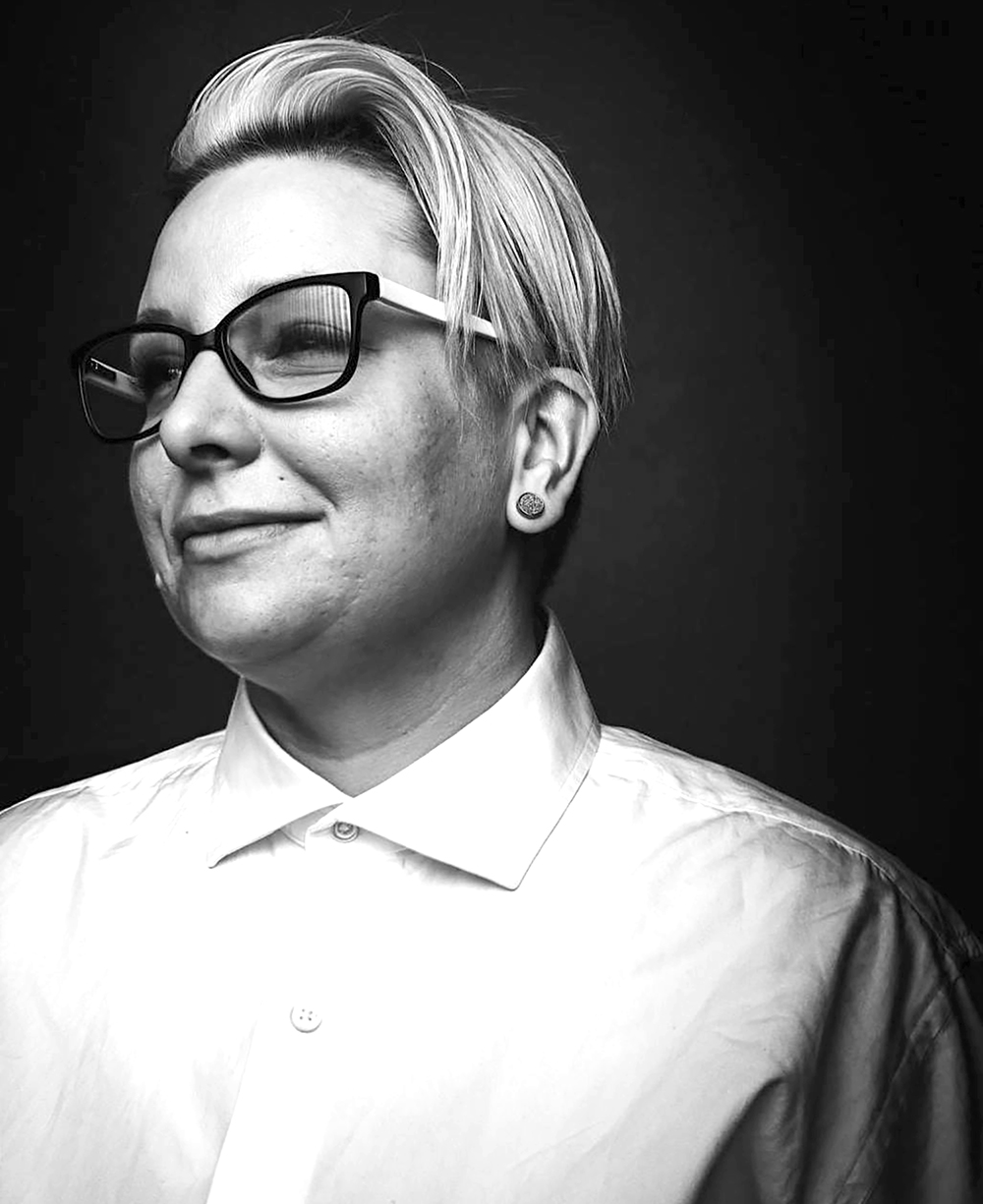 The route from girlhood to professional poet was long, circuitous and rigorous for Jen Harris.
Her childhood homes included Fort Walton Beach, Fla. and Gardner, Kan., where she graduated from high school in 2003.
Two colleges later, she would earn a Bachelor of Liberal Arts degree from UMKC. While in college, a few instructors and professors and "life mentors" persuaded her to try journalism and writing. It was fortuitous.
"They were the very first adults in my life who never once took advantage of me, who loved me for who I was and what I was capable of. They corrected me and they let me run wild. They tutored me. They taught me to trust my intuition."
All that would come in handy when, while living in Berkley, Calif., Harris discovered a true love: poetry slams.
"I sucked at first. We all do. But then, for love, I moved back to Kansas City," where she started her own world of poetry, spoken-word performances, and poetry slams.
She has since become a go-to force in Kansas City's arts community: an award-winning poet and performer, a published author, a TEDx Fellow, a devoted activist, and the founder of The Writing Workshop KC/OP, and the Kansas City Poetry Slam, a monthly event now five years old. She also made a brief but resonant appearance in Season 3, Episode 1, of Queer Eye in Kansas City.
Harris recently answered questions from IN Kansas City about her Queer Eye experience, her activism, and her approach to poetry and writing.
What was your childhood like? How did your family life shape and influence you?
My family life shaped me in that I have an inexhaustible work ethic and an untamable zest for life. I cannot sit still. I am terrified of wasting any moment of my life. I am no longer affiliated with any particular indoctrination, but I remain a very privately spiritual person.
I grew up dirt poor, in a constant state of reaction. My home life taught me to be kind and compassionate; to make the best of what was available to me and never give up on what's possible. My family is full of dreamers, journeymen, people who have no idea what they're looking for or where they're going but they keep searching. I am always searching for something.
When did writing and poetry start to become an interest?
Reading and writing have always been my primary, and sometimes only, passion. I had the word Poet engraved on the side of my class ring, I worked on my high school's hip-cool-angsty teen publication. I wrote and read a poem at graduation.
At 27, I discovered slam poetry and I distinctly knew that was the next door I should walk through. I'd never seen, felt or experienced anything like it. I was absolutely witnessing my next calling unfold before me. So, I stepped into it because: Be Brave. You've only got one life to live.
Tell us about the Kansas City Poetry Slam.
It occurs the first Wednesday of every month at The Brick (1727 McGee St.).
Shows are consistently sold-out, and we are forever trying to reach new and emerging writers and encourage them to perform.
Poetry has the power to heal, and slam poetry is a catalyst for that experience, coupled with community-building. Your secrets can't kill you if everyone knows about them and most can relate to them.
What role has music played in your writing and poetry? Who are some of your favorite bands, songwriters, lyricists?
Every song in my music catalog (now in iTunes) holds a memory. I grew up with a very limited Christian perspective of the world, but my dad would play Queen, Pat Benetar, Madonna in the mix of Christian rock, and I would be enraptured.
I can say now, with certainty, that I'd work for Sara Bareilles for free (and I never work for free) just for the opportunity to connect with her on an artistic level. I have loved her music since well before pop charts and Broadway and the Tonys, and I have traveled across the country to see her. Her lyricism moves me.
That's the truth about all the musicians I love: Megan Slankard, Teri Quinn, Calvin Arsenia, Jean Grae, Beth Hart, the Indigo Girls, Shawn Colvin, Jewel, Leikeli47, Patty Griffin, Joni Mitchell, Tracy Chapman. Give me a lonely girl, an acoustic guitar and a spotlight any day.
You have a music-related event coming up. Tell us about it.
On Sept. 22, I will release a new book in collaboration with Take Five Productions. Owners Lori and Doug Chandler have been remarkably enthusiastic and supportive of my career and recently introduced me to the extremely talented musician Eddie Moore. Eddie will head up the accompanying jazz band the night of the book release and together we will breathe new life into spoken-word poetry. Together we will build the bridge. And by that I mean, lyrics are poetry.
Music is the bridge between raw feeling and abstract emotion. Music has a way of slipping in and making you feel, whether you like it or not.
Music makes my art, the art of words, more accessible and so, I continue to collaborate.
Your poems are typically very personal, soul-baring. What's it like to reveal so much about yourself and then, sometimes, recite it in front of strangers?
I feel the same way about revealing my most intimate details to strangers as most folks do about going to work every day: It's what I do for a living.
That's not to say I'm blasé about my profession, but I long ago made peace with two truths about myself. One: I have a way with words. This is my talent and my calling, and I don't apologize for living in my truth. Two: I feel no shame about receiving praise or payment for my skill set. If I were this good at designing skyscrapers or plating flavor-exploding cuisine, then I'd do those with pride and gusto.
I'm good at communicating. I'm good at listening. I'm good at observing, acknowledging, and documenting the details of the most intimate of human experiences. So that's what I do. I share what I do with others, so they don't feel alone, because feeling alone, strange, out of place for most of my life is what almost killed me. And it did kill a lot of my friends, particularly my fellow queer friends.
How old were you when you acknowledged you were gay? Describe going through that process.
I came out to my friends when I was 16 as "gay" because it was the only word I'd heard to describe my experience. It wasn't until I was 17 and a year into my first romantic relationship that I heard the word lesbian for the first time, and it wasn't said in an endearing demeanor.
Things were different at the turn of the century, when I was coming of age. They were so much better than the hell endured by queers in the century prior, but they were still, and to a degree still are, (bleep) in the Bible Belt.
I came out because I got caught in the act of being gay, and while I knew it was "something I should pray on so God can fix me," I couldn't hide it. I was in love and I wanted to be visible and celebrated the way my straight friends were.
How have things evolved over the past 15 years, regarding gay rights and perceptions? Better or worse?
Straight people cannot understand the struggle the LGBTQ population experiences, and they never will. It's not comparable to anything else. It's not better or worse than any minority status; it's its own entity. It's suffocating to learn a large percentage of the world will hate you for literally no reason. It's disheartening to know that you'll have to look over your shoulder twice as often if you're both gay and a woman.
As for how it was versus how it is, I see growth. I see progress. I see acceptance. But we have a long way to go. The direction I'd most like to see the LGBTQ community go is embracing our uniqueness among our own communities and ceasing in efforts to be homogenous.
Gay men and lesbian women do not have the same experiences, in the slightest. Trans people are fighting prejudice from every community, being told to pick a gender and stick to it. I love hearing the trans community scream back: No. (Bleep) your homogeny. (Bleep) your gender roles. (Bleep) your demands to exist on a binary spectrum.
You appeared in a Season 3, Episode 1, of Queer Eye. What is your recollection of that moment?
Being on Queer Eye was a lovely experience. As I fully intend to one day fill stadiums with people who love, appreciate and are moved by my poetry, I laughingly called the experience, "Baby's First Netflix Appearance" and was very popular on social media for a few weeks. Ha.
I was asked by a friend on the production team to be a part of an empowerment circle for the primary focus of the episode, Jody, a lovely, wonderful human.
I arrived on set, signed an iron-clad contract to never tell anyone that I was on the show before it aired, and then I met a dozen other women from all walks of life who felt exactly as I feel: that we need to raise each other up and stop allowing the patriarchy to pit us against one another.
I was honored, as I am any time I have the opportunity to empower another woman. So, I got a haircut and ironed a shirt and headed down to the super-secret set location.
Your segment dealt with gender and self-perception and -image. Your wisdom, referring to yourself: "This is what a woman looks like, too. This is not an anomaly, you know. This is exactly who I am. This is exactly what I was meant to be and do."
Women receive messages from every possible input source on how to be a woman, except rarely do those messages include the affirmation, "You are enough as you are."
We are all enough. We are all valid in our own skin. Our presentations are feminine even if my femininity doesn't match yours. Our strength is not a masculine trait. Our softness is not a feminine trait. We are all enough, as we are: perfectly perfect in our imperfections and completely loveable, worthy and enough. Period.
You are an avowed activist. What causes are most important to you?
Writing pays my bills. Activism is my passion, not my job. Activism is an opportunity to make change. It is a right, a privilege, an honor, a responsibility we all have.
When it comes to presidential elections: women's marches; abortion-bill protest rallies; the Black Lives Matter movement; LGBTQ protections; marriage equality; transgender rights; accessibility for all, not just those of able body and mind; reducing criminal-activity recidivism through therapy and rehabilitation, ending the camps at the border …
I am incapable of sitting down and shutting up, so, wherever you find people being oppressed, I am there with a bullhorn, a poem, a cheeky T-shirt and no time to waste.
Recommend to our readers a couple of your favorite Jen Harris poems, some of which are available at poetjenharris.com.
I love my poem Shower Curtain, because I didn't mean to write an ode to a bathroom product, but I did and it makes people smile, laugh and revel in nostalgia. Also, it's a happy poem. Poets have a tendency to dwell on the dark and dramatic, which makes sense because when you're sad, you're isolated and writing. When you're happy, you're in it. You're living. There's no time to write when you're experiencing joy in the present tense. I continue to strive for balance in that regard. I want to write about it all.
I love my poem, Minutes, because it is an ever-evolving piece that I keep coming back to about how I want to be remembered in this life. It's my eulogy of sorts, and it keeps evolving, thank God. Because that means I keep evolving. I rewrote and utilized it during my final presentation for Artist Inc (2019), and there wasn't a dry eye in the house. That's saying something.