Review presented by UMB Private Wealth Management
Buzz about the Lyric Opera's kicky performance of West Side Story had quietly been building for several months. It was the first time in a few decades the Lyric had attempted to tackle a well-known Broadway musical. An older gentleman seated in front of me seemed a bit skeptical when he hesitantly asked, "What is this … 'pop-era'?" Never fear, the producers didn't miss a beat—or a note—or a highly-choreographed dance step, for that matter.
West Side Story opened the Lyric Opera's 2018-2019 season with flourish and flair. Co-produced by the Houston Grand Opera, Glimmerglass Festival and Lyric Opera of Chicago, the audience enjoyed toe-tapping and singing under their breath—two things one doesn't necessarily find in a by-the-numbers operatic performance. Broadway, yes. Opera, no. But the line was spectacularly blurred all night. The Lyric's performance was a tip of the hat to Leonard Bernstein who would have turned 100 this year. Bernstein, who died in 1990, likely would have tipped his hat right back. In another coincidence, West Side Story opened 61 years ago this week at New York Winter Garden Theater. The show's overarching social issues which were relevant in 1957 seem just as timely in 2018. Seems everything old really is new again.
The storyline—if you've been living under a proverbial musical theater rock—tells the Romeo & Juliet-esque story of Maria (soprano Vanessa Becerra, imminently likeable in her Lyric debut) and Tony (tenor-extraordinaire Andrew Bidlack). Set in the summer of 1957 in the Lincoln Square neighborhood in Manhattan, there's a sense of teen angst and tension on stage from the minute the curtain rises.
What has made the show so durable is not simply its movement into a world of social contention, racial separation, and national identity, but also by its very nature, the show acts as a conduit for inclusion. Story isn't quite opera. But it isn't quite musical theater either. It toes a line that works as an invitation for broader audiences to come together.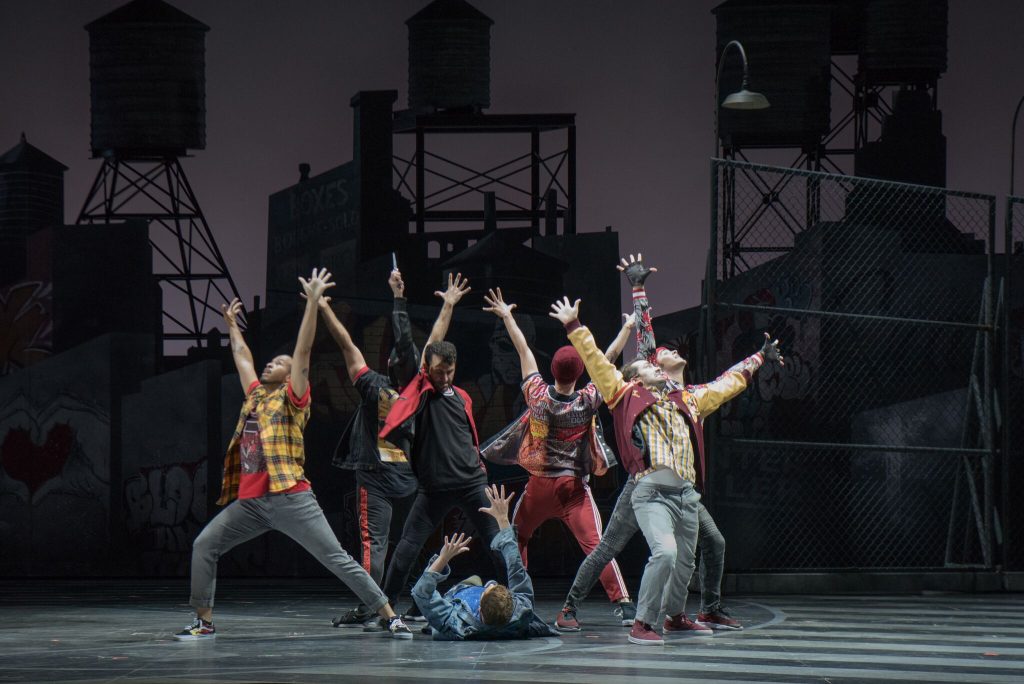 As the first scene opens, the audience is immediately treated to an extended ballet, which sets up the impending battle royale for territorial supremacy between the Jets and Sharks. A generational and ethnic war is simmering between the two gangs. The familiar, prideful Jet Song kicked off the night's first performance. The male chorus sounded slightly hesitant for their first song out of the gate. Either that or they were being overpowered by an overzealous symphony. It was the only time the two performances didn't quite mesh. It's worth noting that the Lyric paid homage to the show's original symphonic score and Jerome Robbins' kinetic choreography—sometimes playful, often combative, forever memorable. The show's dance captain Amanda Castro had her work cut out for her honoring the original material.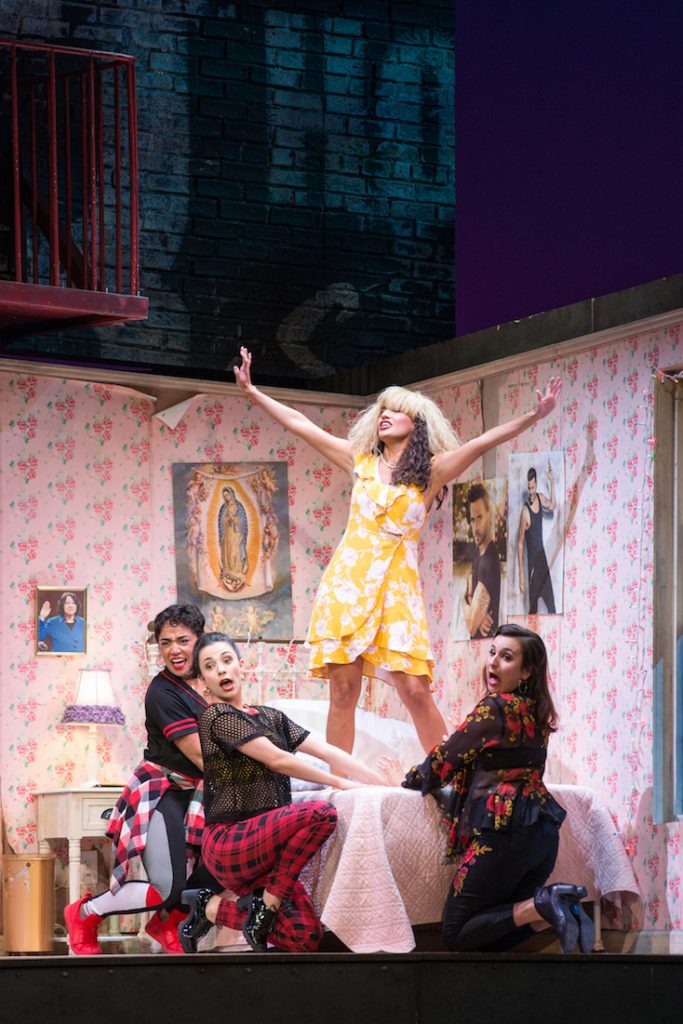 A part of what makes this particular rendition striking is the original choreography paired with modern costuming. (Little known fact: Jerome Robbins put the show through its paces for almost a decade before materializing on stage. At the time, the interpretation of narration-through-dance was groundbreaking.)
The epic, well-known score swells throughout. Popular numbers like Maria, I Feel Pretty and Somewhere immediately jog patron's memories. Through each scene the lovelorn Maria and Tony do their best to find love in a hopeless place.
The leads deliver some of musical theater's most recognizable and beloved songs. Becerra is a welcomed embodiment of the sweet, innocent Juliet with her gorgeous vibrato. But Tony, oh Tony. What a voice. Everyone will want to change their name to Maria, just to have Bidlack sing to them. It's exactly the kind of voice that makes a girl fall in love with her big brother's sworn enemy.
Meanwhile, superstar mezzo-soprano Gabrielle McClinton and her gang burn down America—breathing life into a piece meant to commemorate the centenary of one of Story's most impassioned creators. At intermission many people were still humming the syncopated beats—and its infectious, ear-worm lyrics.
While Tony—alongside his best friend Riff (Brian Vu)—rules the roost as the enigmatic leaders of the Jets, he yearns for a life outside his gang-riddled block of a backyard. Maria, meanwhile, tends court with her best friend Anita (again, the show-stoppingly clever Gabrielle McClinton). Anita dates Maria's brother, Bernardo, who heads up a rival street gang the Sharks.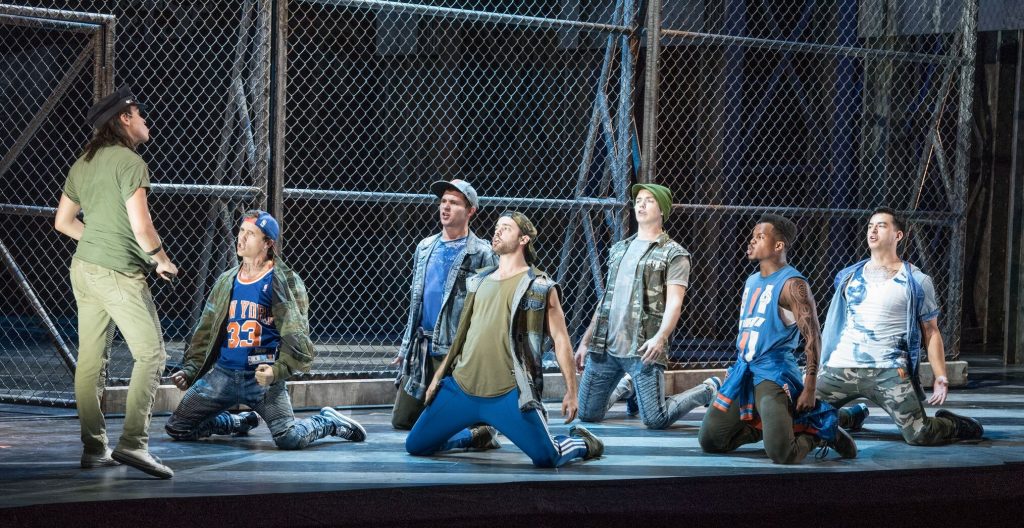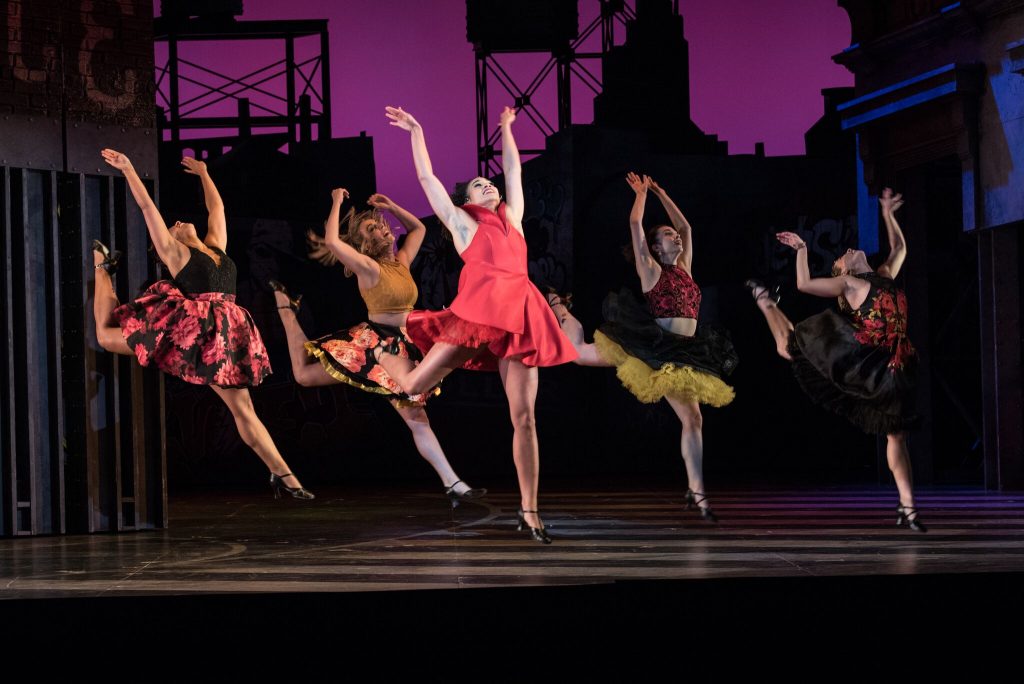 The female performers—by and large—seemed game for anything. They offered up flamboyance and panache throughout the show. Case in point: even though Castro's character Consuelo was mostly an ensemble character, Castro was commanding. The joy in her step was evident. Add her with McClinton, Becerra, and the rest of the women, it's clear where the fire was. The male troupe, meanwhile, will need to step up their game both energetically and vocally. They were enjoyable from the strength of the piece, but not necessarily the delivery of it.
As the relationship between Maria and Tony does a slow-burn and subsequently blossoms, it ignites the two gangs. The two leads are seemingly unaware their budding affection for each other will soon be the catalyst for a turf war. The fight quickly goes south and both gang leaders are killed. Tony is killed as an act of revenge. The devastated Maria ends the show inconsolable.
In taking on such a composition, the Lyric Opera further extends the invitation for diverse audiences to appreciate both classic and modern music. To go to the theater and be swept away in tragedy, in longing, and in hoping. For audiences, it's timeless and a tale as old as time.
West Side Story at the Lyric Opera
September 26, 28, & 30
Director: Francesca Zambello
Conductor: David Charles Abell
Principals: Vanessa Becerra, Andrew Bidlack, Gabrielle McClinton, Brian Vu and DJ Petrosino
Lyric Opera General Director and CEO
Deborah Sandler