Presented by Equity Bank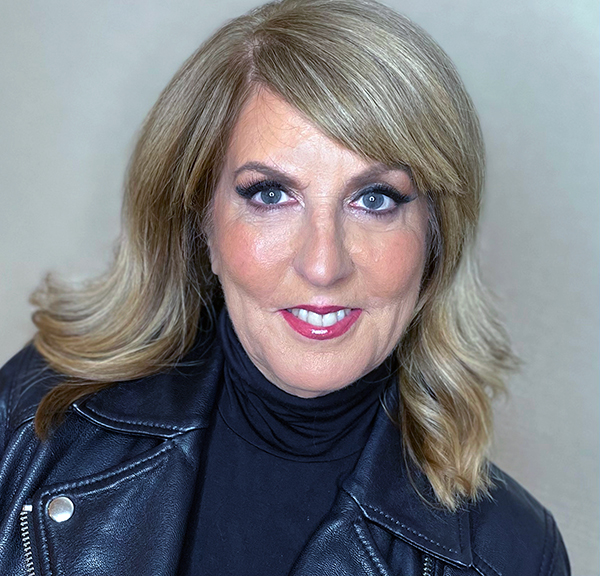 The Elder Flag factory in Oak Creek, Wisconsin, may not sound like the ideal setting for a film, but it was. In 2019, as America was roiling with divisive political issues, Sharon Liese saw an opportunity. She and co-director Cynthia Wade filmed 200 immigrants, refugees, and locals working side by side, hand-producing five million American flags a year. The result was The Flagmakers, a documentary film for National Geographic, shortlisted for an Oscar nomination, and streaming on Disney Plus.
"It was exciting to me to be in the conversation," says Liese of her brush with the Oscars.
A critically acclaimed and award-winning filmmaker, Liese directs and produces documentary projects that air on major television networks and screen at many prestigious film festivals.
Liese's award-winning feature documentary Transhood premiered on HBO in 2020 and was featured on The Ellen Show and Good Morning America. She also created and executive produced Pink Collar Crimes, a true crime series for CBS. She is currently directing and executive producing a limited series for Starz and directing a film for National Geographic that has already been optioned for a Broadway musical produced by Mark Gordon.
Liese created and directed the award-winning documentary series High School Confidential filmed over four years that broke ratings records on WEtv. She also directed and produced charming, quirky The Gnomist (CNN Films) which had its world premiere at the 2015 Tribeca Film Festival and went on to win 15 festival awards, including the Jury Award for Best Short Documentary at LA Shorts Fest, qualifying it for Oscar consideration before being acquired by CNN Films.
Some documentary films deal with sad truths and stark reality. Yours do, too, but with heart and hope. What is your secret?
I tend to be drawn to stories that remind us of our humanity and the most relatable aspects of sharing this world with others. We all share a need for connection, joy and understanding. When I reflect on my work as a whole, I realize that I start with an intimate story and usually expand the scope to a broader and larger topic. For example, my film Transhood (HBO) follows four young people in Kansas City for five years. While audiences are invited into their lives in an intimate way, they also learn about the growing outside forces that threaten their safety, health, and emotional well-being. When you meet and fall in love with subjects in a film, it's easier to take an interest in the social and political environment that they are up against. I believe that finding the heart of the story is key to engaging viewers.
When did it hit you that documentary filmmaking was your creative path?
When my daughter was about to start high school, I owned a marketing consulting business which allowed me to dabble in video production for some of my clients. I had this idea to follow a group of girls for all four years of their high school experience. It evolved into a documentary series that aired on WeTV. I was then hooked on storytelling and became a filmmaker.
On the business side, what was your big breakthrough to getting your work on major networks?
After I filmed for four years with 12 girls at Blue Valley Northwest, I secured an agent in Los Angeles (which was not as easy as it sounds). I went out to LA with a box of raw tapes and met with three studios. I had three offers to partner on the project. It was shocking and amazing.
After making The Flagmakers, I realized I would never look at the American flag the same way again. It was shortlisted for Oscar consideration and was not nominated.
What is it like going to major film festivals like Sundance?
My film Parker, which I co-directed with Catherine Hoffman, premiered at Sundance.
Sundance represents a huge goal for most filmmakers, and I was honored to premiere Parker there. Receiving the call from the Sundance programmer inviting the film to screen there was thrilling. Sundance received 11,000 short submission and chose only 64 short films, ten of which were unscripted (like Parker).
I had a lot of wonderful support from Kansas City patrons of the arts here, which made it possible to complete the film.