Whether it's a painting, photograph, or hand-painted ceramic tchotchke from your Aunt Doreen, most everyone has one piece of art that truly resonates with them. We're putting out the call to ask, "What's your favorite piece of art?"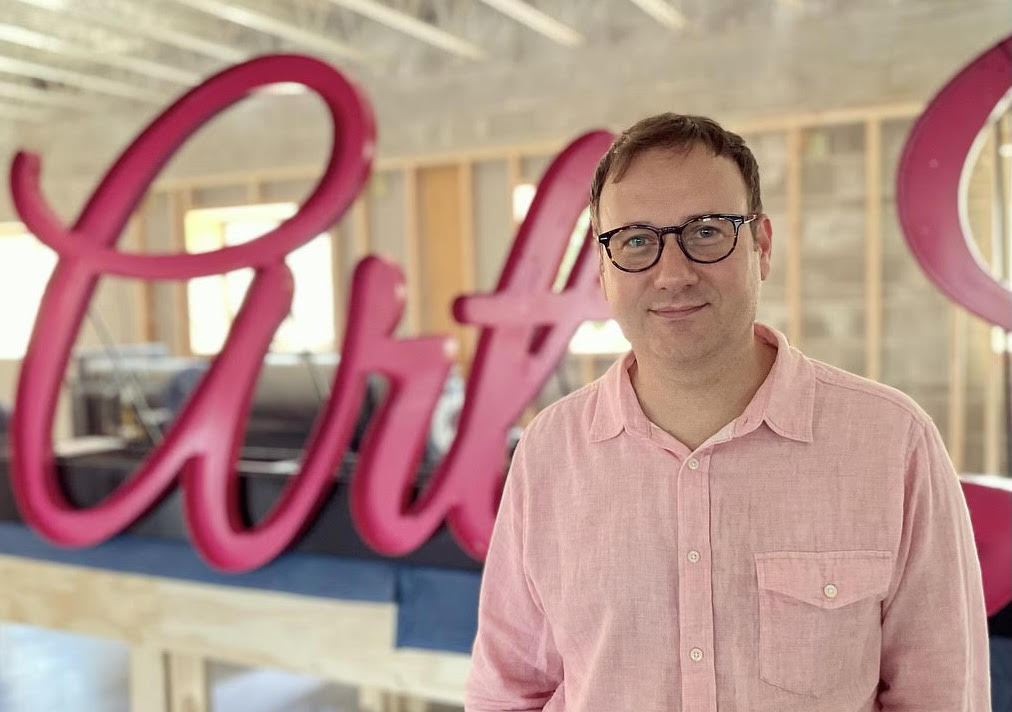 Up next, Michael Baxley, director of the non-profit Englewood Arts, chooses a piece he calls timeless. Baxley, an artist and arts advocate for over 20 years, says his current role involves renovating a 30,000-square-foot former medical building into a community-based arts center and developing affordable and sustainable housing for artists and community members. He adds his favorite piece of artwork offers "a subject many can relate to—a moment in time."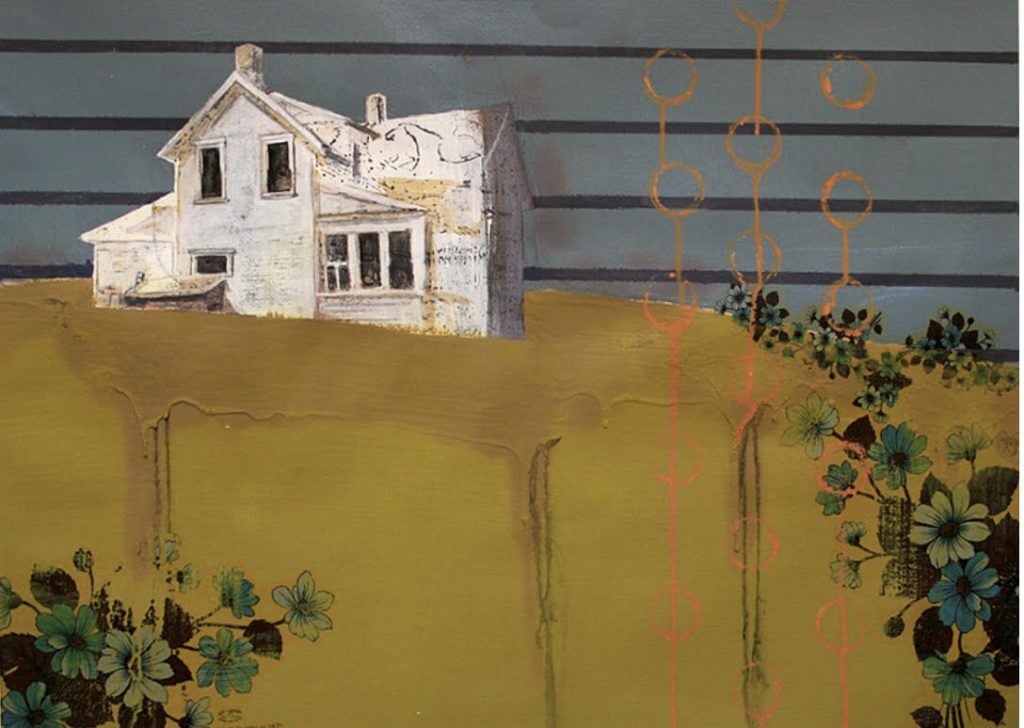 What's your fave piece of artwork?
Neighbor by Jessica Brandl; heavy watercolor paper, latex and acrylic paint, and ceramic decals  21″x38″—2008
What's the appeal/allure of the artwork to you?
"It's a moment in time so well captured that I never tire of looking at it, having a new thought, or seeing new subtle details every time I look at it. It has brought me many years of joy and is undoubtedly one of my favorite pieces in our collection."
Is there a backstory to the artwork?
"One of the things that connects me so strongly to Jessica's work is how personal it is. This piece is a depiction of an old, abandoned house on her Nebraska family farm. Jessica lost both parents suddenly and tragically as she was starting college. This loss challenged her emotionally, mentally, and physically.
To be a young person that has to navigate school while also navigating an estate and the emotions that come with it are unimaginable. Most teens would get derailed entirely from their goals and dreams. Instead, Jessica pushed forward and persevered in one of the most challenging times of her life. She earned a BFA from the Kansas City Art Institute, received her MFA from Ohio State University, and currently resides in Helena, Montana.
The other interesting thing about this particular piece is that it is one of her few works ever done on paper. Most of her works (post-2011) are paintings or clay sculptures.  I think that is just one more thing that makes this piece so unique."
Finally, describe what catches your eye, please.
"Just like every good piece of artwork, nothing is accidental. Every detail and every choice of texture and color have deeper reasoning. In this particular piece, Jessica chooses to use some ceramic decals, most unconventionally, on top of the layers of paint. A nod to what is to come in her future works. Drips of paint run down the farmhouse's front lawn, juxtaposing cheerful colors and patterns in the background—as if we are looking at the past and present simultaneously. Honoring the past, yet acknowledging the present is a lesson of living in the now, no matter how difficult it may be."