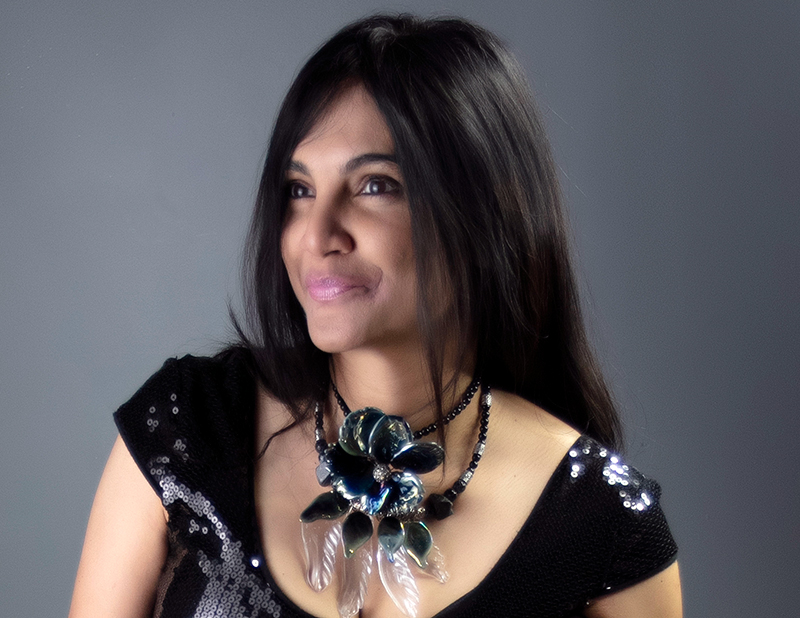 When travelers walk through the new Kansas City airport terminal, they will soon come upon a marvelous 20-foot wall of glass from artist Hasna Sal. "Kansas City is not any average Midwest city," says Sal. "It is cutting-edge; and I am proud to be part of its community." 
A native of Kochi, a port city on the Malabar Coast of India, Sal's restless spirit led her to study journalism in London and architecture in Boston with post-grad at Harvard. She has taught architectural engineering at the University of Kansas. Sal's glass jewelry sparkled down the fashion runway as part of designer Archana Kochhar's collection for New York Fashion Week.  Now a resident of Overland Park, the well-traveled Sal founded her company Glass Concepts 360 in Olathe. 
With installations in restaurants in Lawrence and Topeka, Truman Medical Center in Kansas City, and a Nativity Triptych in Lawrence, Sal also has a permanent exterior installation going up in March at Independence Plaza Park funded by a grant from Northeast Kansas City Chamber of Commerce, and another by the Kansas City Museum.
You've recently been commissioned to do a 20-foot glass wall at the new Kansas City International airport. What can you tell us about it?
The theme is "extraordinary in the ordinary." It's a series of ten painted-glass panels, illustrating the momentous simplicities of Midwestern life. It celebrates the unity, diversity, and versatility of our lively communities, rooted in land, vegetation, wildlife, and seasons. It's an explosion of color that communicates emotions, relationships, and connections, both transient and permanent. 
You've written Poems in Glass, a memoir. How does your past influence the present work that you do?
The past is always in the present. As an architect, I am trained in building materials, spatial planning, programmatic needs, site analysis, client communications, structural design, etc. This applies to everything I do—whether it is writing a book, making wearable sculpture, or large public art installations. Architecture is not a profession, it is a way of life, and it disciplines you to be process oriented, not product oriented. Process involves identification, connection, communication, introspection, meditation, conceptualization, design development, budgeting, and construction. These disciplines apply to life in general. It's about structuring the mind a certain way; it's about disciplining one's approach to creative place-making. 
Why select glass as a medium for your art?
While pursuing my five-year professional degree program in architecture in Boston, Massachusetts, I studied glass for my architectural materials elective. I continued with it in my final year. I thought I would specialize in glass buildings in professional practice. But in Kansas, there wasn't much opportunity for that. When I went back to Cambridge to pursue my post-grad studies at Harvard in landscape architecture, I presented in glass. My professors said I had created a benchmark for Harvard. That's why I decided to pursue glass full time and started my business Glass Concepts 360. 
How has Kansas City nurtured your creative spirit?
Kansas City has been very welcoming to me as an immigrant and nurtures my ideas and vision that I bring from my years of training as an architect and artist from Massachusetts and the United Kingdom respectively.  An example of this is when I wanted to create the first exterior memorial in the nation for victims of human trafficking, all the local agencies I approached—Habitat for Humanity, Kansas City Parks and Recreation, Lykins Neighborhood Association, Art Commission of Kansas City, St. Michael the Archangel in Leawood, Rotary Club—all supported the project wholeheartedly. The glass memorial is in Lykins Park.