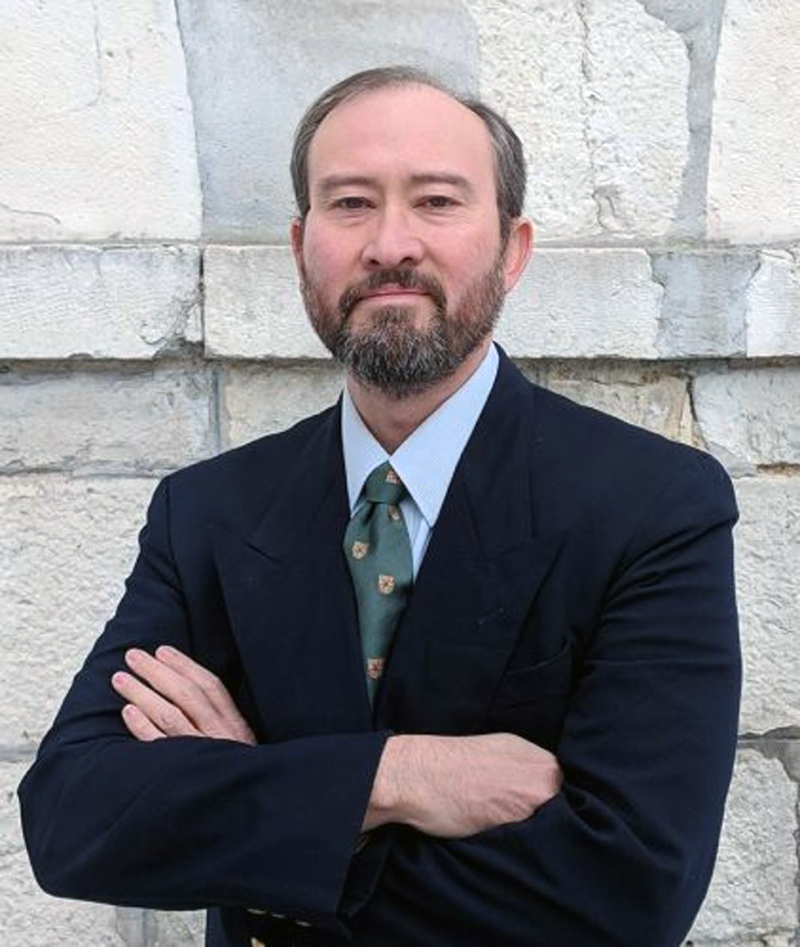 Born in France, raised in Hawaii, educated at both Harvard and Cambridge University in England, and once employed as a hedge fund and technology finance executive in London, Sean O'Harrow brings a very unique perspective to his new position as executive director at Kemper Museum of Contemporary Art. He comes to Kansas City from the Honolulu Museum of Art, trading surfboards for ice skates. Previously the director at the University of Iowa Museum of Art in Iowa City, he does know how cold it gets here—and decided to take this new post anyway. We like him already.
So does Mary Kemper Wolf, chair of the museum's Board of Trustees, who says, "Sean thinks creatively about how to do things differently in order to make a positive impact for institutions and their communities. He has the unique ability to dream big, thoughtfully assess risk, and make things happen."
INKC: That's quite an accolade! Can you share some of your big dreams for Kemper Museum?
O'Harrow: I believe that the world today is incredibly dynamic and exciting, and very different from only a few years ago. Communications, the internet, media, politics, so many aspects of our lives have changed and are continuing to change. I also believe that the arts play a key role in this fast-paced, constantly changing landscape, and institutions like the Kemper Museum of Contemporary Art are at the epicenter of this energy. Add the fact that Kansas City is one of the great American cities critical to our country's future development, and I feel this is an unbelievably exciting time to work here. In speaking with the museum board, staff, and citizens in Kansas City, I have learned that many people want this institution to be a catalyst for change and stewards of cutting-edge culture in the community, in the region, and in the country. People want energy, they want excitement, they want to expand their understanding of the world and of issues that are relevant to their lives and futures. They want an institution that brings people together, celebrates diversity, and at the same time reminds us of our common humanity. And our museum is in a perfect position to do this for the people of Kansas City and beyond.
INKC: You've been many places, but while at the University of Iowa Museum of Art you organized a worldwide tour of the work of American Abstract Expressionist artists, featuring Jackson Pollock's Mural—his first commission from notable art patron Peggy Guggenheim. Mural is considered the "genesis" of modern American art, a movement brought about in part by the destruction of two World Wars. What are some of the influences on modern American art today? How does modern American art approach ideas differently than representational art?
O'Harrow: I know that many people in Kansas City enjoyed visiting The Nelson-Atkins Museum of Art in 2017 to see Pollock's Mural when it was part of Pollock and Motherwell: Legends of Abstract Expressionism; this was essentially the homecoming for this masterpiece at the end of the global tour. What Jackson Pollock, the artist, and Peggy Guggenheim, the art patron, helped initiate and develop was a uniquely American cultural movement that promoted artistic liberty and a vision of the future that was not necessarily beholden to the past. Their achievements set the tone for artists today, giving them the freedom to create whatever they want and to address whatever issues are important to them. By moving away from more representational approaches, the modern art movements in the U.S., such as Abstract Expressionism, were able to focus on ideas such as emotion, energy, action, multidimensionality, form, and change. The diverse nature of the American art scene today has added even more to this exciting mix, and this is exactly the sort of art that you find at Kemper Museum of Contemporary Art.
INKC: What do you look for in an artist's work before you decide to bring it to the museum for an exhibition?
O'Harrow: All top museums operate very similarly, particularly when it comes to the logistics of presenting art exhibitions. The very first part of any conversation is about the public and what the audience wants and needs. What art and artists excite them? What will bring them to the museum? What art will expand their viewpoints and show them new ideas?
INKC: How long is that process, from consideration to opening night? Can you give readers a behind-the-scenes look?
O'Harrow: Many exhibitions take years to develop because they involve research, working out hypotheses, making new discoveries, getting to know new artists and audiences, figuring out logistics such as how to move certain artwork, designing presentations, creating new programs and activities for the public, partnering with other organizations such as schools and other museums, raising the money to pay for all of this, etc. Putting on an art exhibition can be a very complicated endeavor, and I am excited to meet again after I start my new role for a more in-depth, back-of-the-house, behind-the-scenes tour of what goes into creating a great art exhibition at Kemper Museum of Contemporary Art.