Sponsored content:

There's been substantial blood, sweat, and fabric swatches going on behind the scenes of Kansas City's beloved casual clothier, Charlie Hustle. The retailer's designers have been diligently working on a new line of women's apparel for the past couple of years—and they're finally ready to unveil their soon-to-be-coveted wares. "The women's line is something we've tried to perfect over the years because we have such a strong women's customer base," says Katie Martincich, chief marketing officer. "Our unisex products have a comfy fit, but this line is a bit more fitted look for women."
The KC-centric apparel company has 18 products they're rolling out this month—each geared to their savvy female clientele. "I'm most excited about expanding and enhancing the collection. We make high-quality garments and have really great designers," says Martincich. "Now we'll have a more well-rounded offering specifically for women. I'm excited for all the options that our customer base can now choose."
The clothing company has divided its new line into four looks. If you're in need of retail therapy, here are some pieces you'll want to check out.

4) Collegiate Wear
Yes, Charlie Hustle is known for their perennially popular KC heart logo, but at its core, the company is a sports-themed powerhouse, specifically regional themes. Their new line of women's collegiate wear encompasses everything from KU to MU and more.
New eye-catching designs will be sure to turn heads. "We wanted to have new game-day attire women could wear for watch parties on the town or on the couch!" says Martincich. "We've seen such great success with our Arrowhead collection and wanted to run with it.  From March Madness to graduation season and beyond, we want to make sure women are well represented in our collection."
Don't be surprised if you see a healthy smattering of KU offerings first. "Just in time for a long March Madness run," she says. "Fingers crossed."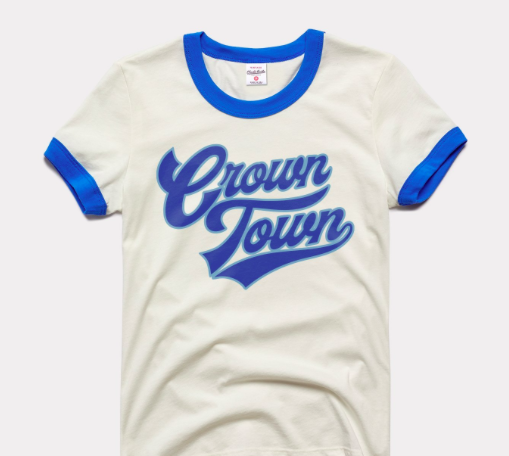 3) Kansas City Collection
Fact: Kansas Citians love Kansas City—so Charlie Hustle upped the ante and threw more unique items into the mix—including "adding some cheeky KC themes on shirts. Plus, we want to make sure the iconic KC heart can be worn in multiple ways on multiple garments," says Martincich.
And while middle-of-the-map states Illinois, Nebraska, and Iowa are well represented, Charlie Hustle is determined to stay true to its KC fan base. "Since we're located in the heart of KC, we want to celebrate that," she says.

2) Essentials
Charlie Hustle's new women's line of non-printed garments promises to be a hit. Why? "Blank T-shirts can be paired so many different ways—dress them up, dress them down. Do as you choose," she says.
Martincich is betting on the aforementioned crop tops. "These are mandatory. So comfy and so soft, which women have come to love, but the cut is a bit higher," she says. "It's not your standard baggy T-shirt."
We suggest pairing it with jeans or a leather jacket. Or go uber-casual and toss on a pair of gym shorts to run and get coffee. (After this winter, we can't wait to be able to wear shorts again.)

1) And finally, speaking of shorts
We've saved the best for last. For the first time in the company's history, Charlie Hustle is launching shorts—specifically women's terry-cloth shorts—into their product line. Women can choose from gray, ash gray, red, and navy. With spring right around the corner, these shorts can be perfectly paired with the company's vintage-inspired T-shirts.
This came straight from the top. "Our CEO, Chase McAnulty, always wants to try innovative products and he saw the need for shorts," says Martincich. "He's been integral in making these additions come to life."
The new line is sure to be a dream for women who want to mix-and-match accordingly. "Our red terry shorts would go great with a KU shirt, or pair our gray shorts with an MU top," she suggests.
And before you ask, be assured that Charlie Hustle has plenty of game with a wide variety of sizes available. "Our new line is fully inclusive," says Martincich. "From a teenage girl who wants to rep her fave college to a grandmother of four who enjoys KC pride, there's something for everyone."
The Charlie Hustle designers are eager to see their handiwork hit store shelves. "I think we're excited to reveal all the hard work our product team has put forth in creating these new pieces. A lot goes into getting the size, fit, coloring, and fabric blends. There's so much behind-the scenes work that goes into getting it just right, and at a fair, affordable price for our customers," she says. "Our goal is to evoke happiness in everything we do, and these pieces are meant to be fun and playful. It's a way to feel good, look good, and support the Kansas City clothing company that we are."