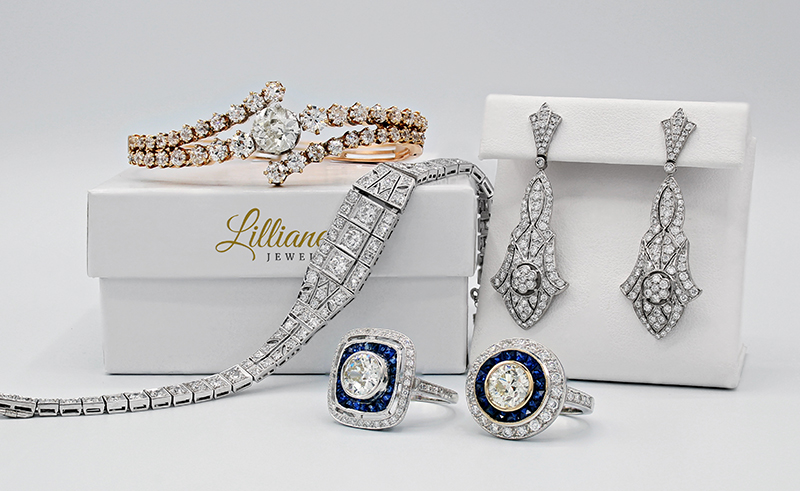 Sponsored Content
Leawood-based Lilliane's Jewelry is celebrating something special this month: nearly 60 years in business! And during the festivities, the stunning sparkle and deep savings have never been bigger. 
Shop Lilliane's anniversary sale throughout the month of August and save up to 60% (!) across the family-owned business's exciting mix of contemporary, estate and antique jewelry. Not only will customers enjoy unprecedented savings; they'll also shop the largest selection of inventory in the store's history. 
"Our family just finished a significant buying trip that took us all over the country to hand select gorgeous creations specifically for our enthusiastic Kansas City customers," says Alex, grandson of Lilliane's Jewelry owner Jerry Chaitman. "In fact, we had to substantially expand our gallery cases to display everything." 
The Evolution of a Family Business
Jerry's parents, Abe and Lillian Chaitman, started their antiques business in 1965. And during those early days, they frequently traversed the country—from Los Angeles to New York 
City—exhibiting at more than 40 shows each year.  It was an exciting time for the young entrepreneurs.  
Nearly a quarter-century later, Abe and Lillian had established a thriving, family-owned enterprise and loyal following, but the demands of constant travel were slowing them down. Their decision to establish a brick-and-mortar location in Overland Park was made. Abe passed away in 1988, leaving Lillian, Jerry, and Jerry's brother, Marty, to carry on at the helm of the family business. 
The 1990s saw two significant changes: a move to Prairie Village and an exclusive focus on antique jewelry. The business's new motto was born: "Life is too short to wear ordinary jewelry."
Jerry's well-trained eye and knack for understanding the pieces and styles that resonate with customers has made him a highly regarded jewelry-buying expert—and it's one of the things he loves most about his work. 
"We have something for everyone, and we're adding new jewelry every day," he says. "The jewelry we offer is unique, not cookie-cutter. People come in and are amazed by the remarkable selection." 
Shop Now for Fall and Holiday
One of the best things about a big August sale? You can shop a dazzling array of jewelry—from estate-sourced antiques dating back to the early 19th century to modern classics by Tiffany & Co. or David Yurman—and add some sparkle to your fall and winter wardrobe. 
Alex and his cousin, Austin—both 4th generation Lilliane's family—also notice people enjoying the anniversary sale to get a jumpstart on their holiday shopping. Lilliane's offers a 12-month layaway program with 0% interest, making it easier than ever to treat the special person in your life (including yourself) to a stunning piece of jewelry. 
If you feel overwhelmed or intimidated by jewelry-buying, you're in for a pleasant surprise when you shop locally at Lilliane's. Jerry, Diane, Alex, and Austin are all waiting to welcome you, understand more about the person you're shopping for, and help you select a truly special gift. 
"You should know what you're buying and who you're buying from," Jerry says.  "Jewelry is a very personal purchase and that's how we approach our customer service."
Adds Alex, "Come in and get a feel for what we have to offer. Sometimes customers come in with only a small notion of what they want and quickly discover a piece they love, or conversely, they have a good idea of what they desire and instead find something completely different and unexpected. That's the beauty of our collection—it's constantly changing, so you can come back and encounter a fresh selection each time."
Lilliane's Anniversary Open House just wrapped up, but the stunning savings continue the entire month.
"We love hosting our open houses," Austin says. "And we had a great turnout, including loyal customers we've known for nearly 60 years, as well as new customers who will quickly become friends."
Adds Alex, "Our great-grandfather's legacy lives on in his philosophy of making customers, not sales. It's wonderful that customers develop into friends, and even feel like family. They come in and share details of their life.  We really enjoy the privilege of knowing them.  Jewelry is personal and that's how we live out the Lilliane's tradition."
What treasures will you discover this month while you support a local, family-owned business? Visit www.LillianesJewelry.com to browse the online selection and strategize your in-store shopping.