Sponsored content:

Meet Todd Reed' a revered jewelry designer with an eye for intricate detail and ornate craftsmanship. Reed is bringing his award-winning artistry to Mazzarese Jewelry in Leawood on May 10th and 11th. Don't miss the chance to see some bespoke wares from his latest Spring collection.

Reed's signature style incorporatesraw and natural-colored diamonds alongside recycled metals. He's singlehandedly created an entirely new category of jewelry and rebranded the notions of "luxury" in the process. "His designs are organic," says Veronica Mazzarese, the president of Mazzarese Jewelry. "He has made rose-cut and raw diamonds popular in the jewelry world."
What sets him apart from other designers, you ask? Todd and his talented team pour gold by hand and use hammers and anvils to create shapes. Every "hand-forged piece" is created by the hands of a single master jeweler. "These are one-of-a-kind pieces crafted around diamonds and colored stones Todd has found," says Mazzarese. "Most pieces cannot be replicated because of the uniqueness of the stone the piece is built around." It's this simple dedication to craftsmanship that heightens the intimacy and experience of Reed's work.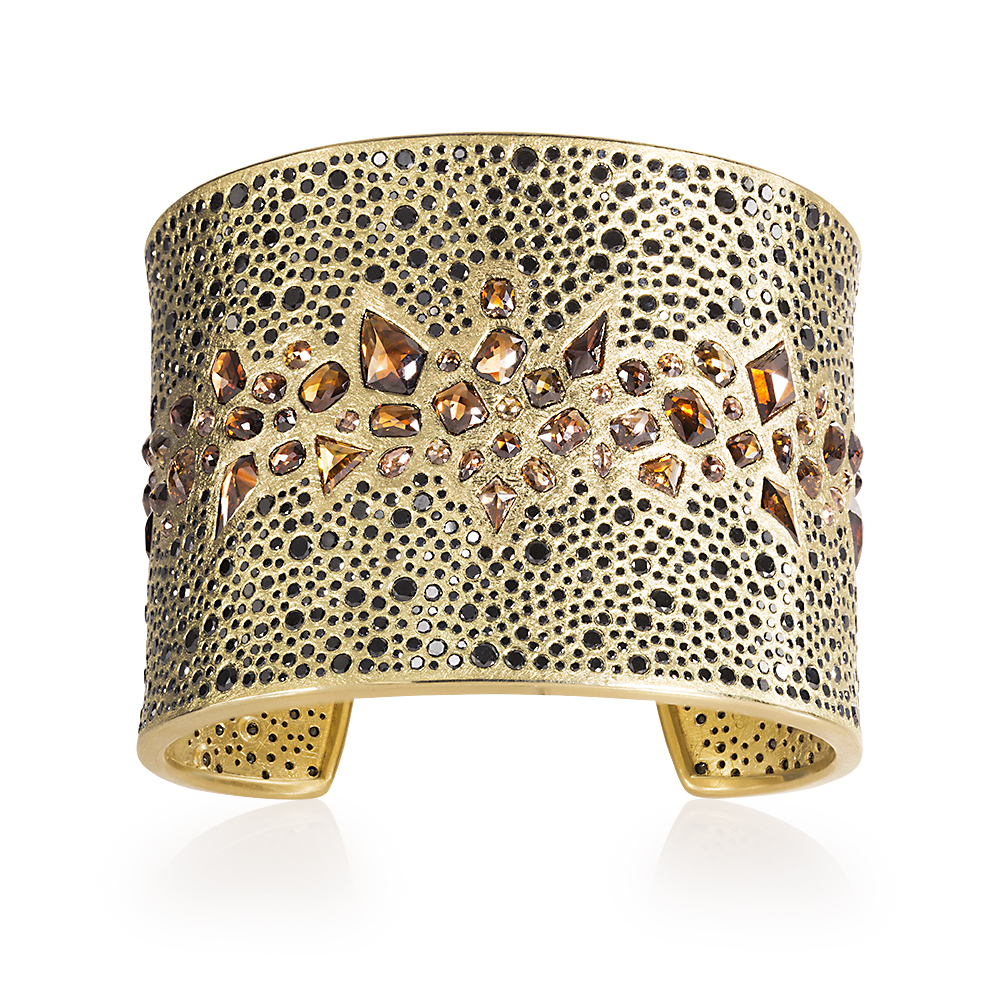 Reed—who hails from Boulder, Colorado—uses only the finest materials and ethically sourced, conflict-free stones. Because of the sheer individuality of each piece, many of Reed's clients find his work to be "highly collectible" and "high art." It's that alchemy of precious metals and stones that enhances each piece's naturally rugged, opulent beauty.
Not only has the self-taught artist worked hand-in-hand with Mazzarese Jewelry for the last seven years, he's thrilled to be unveiling some of his latest work from his Spring 2019 collection at the store. Even better? He'll be on hand for appointments if guests have questions about his stunning wares. For Mazzarese, she's been thrilled to watch as his singular style blossomed over the years. To say she's a fan of several of his eye-catching baubles would be an understatement. "I love the entire collection, but the stack rings and cuffs are my favorite," she says.
Speaking of, what should patrons expect from his latest line? "Lots of yellow gold for spring and very feminine chandelier earrings and open geometric bracelets," says Mazzarese. If you'd like to meet Reed on May 10th, call 913-491-4111 to schedule your appointment.  Or for more information, visit mazzaresejewelry.com.