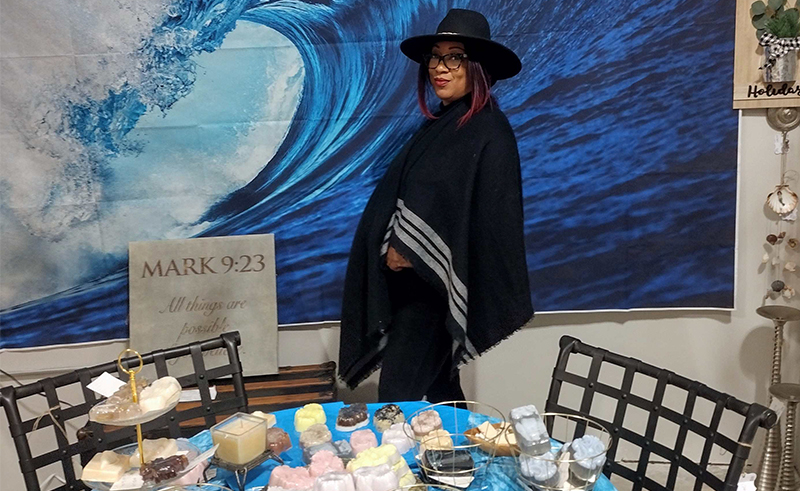 If you walk through the doors of Merchant Square in Independence, head toward the back of the store. There's a chance you'll meet Salenha Coleman in boutique booth B46, a local vendor whose booth, Oceans by Salenha, is filled with fresh scents from her handmade, intricately shaped, all-natural ocean soap bars and hand-poured bath and body spa products.
Strike up a conversation, and Coleman might tell you that she's sold her soap to celebrities, including Stevie Wonder and Steve Harvey, or that she's launching a foundation to support women experiencing domestic violence.
After growing up in the Kansas City metro, Coleman has moved to West Coast a few times, but this city in the heartland always seems to call her back. After moving back to the area a few months ago, Coleman is focusing on taking her handmade bath and body product business full-time and using the revenue to start the foundation.
In January of 2000, Coleman was struggling to find a soap she could use that didn't cause her to break out in a rash, when she met a maker at a farmers market in Calabasas, California, who was selling handmade soap. Coleman struck up a conversation with the woman and ended up attending a class the soap maker was teaching the following week.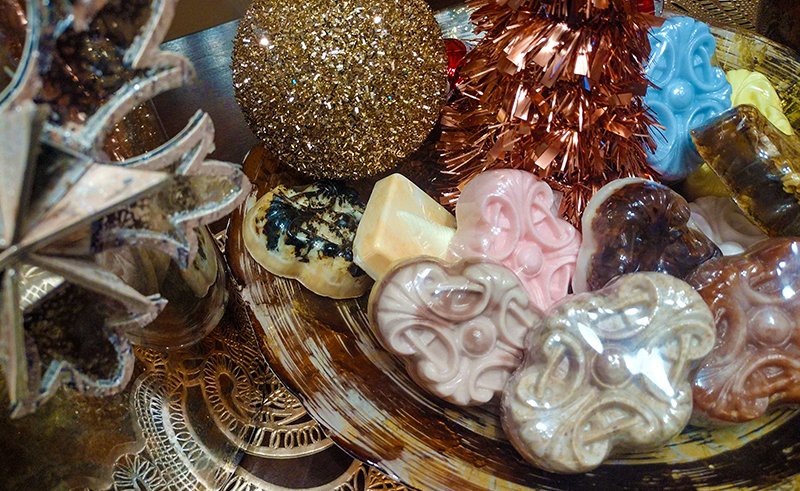 "I took her Tuesday class, and it was everything I needed to hear about natural soap," Coleman says. "At the time, my cousins performed with Stevie Wonder, and I brought a bar from my first batch to him. I asked what fragrance he liked, and they told me lemongrass and lavender. I sent some to him, and he was my first paying customer."
From there, business picked up quickly. Before Coleman knew it, she was selling her handmade soap at salons and boutiques in Malibu, Calabasas, and Los Angeles. Plus, Yvette Browser, an executive producer at LA's Sunset Studios, invited Coleman to be a vendor every Friday at the studio.
"The next thing I knew, I was getting calls from Steve Harvey's radio show, and I got my product into the gift baskets he would give to radio guests," Coleman says. "It just really took off."
Wondering how she caught the attention of so many Hollywood stars? From the 1990s to the mid-2000s, Coleman worked as a freelance stylist for music industry artists and models, as well as regularly appearing as an extra in film and television—including Charmed, 90210, Melrose Place, and The Wayans Brothers. 
After a strike in the film and music industry, Coleman moved back to Kansas City in 2004 before moving to Washington D.C. in 2006 and Las Vegas in 2012. Over the years, she continued making the soap for personal use, still making sales from time to time, but less so due to what was happening in her personal life.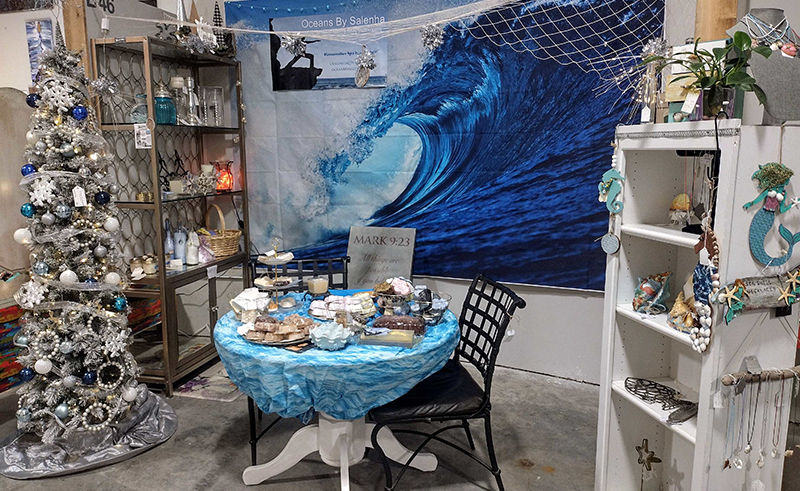 Now that Coleman is back in her hometown, she's returned to focusing on her business and foundation. Ask Coleman what's inspiring her to launch a domestic violence foundation, and here's what she'll tell you: "I was raised in domestic violence. My father was violent and throughout the years coming into adulthood, I experienced domestic violence in my relationships too. Not so much in the physical sense—it doesn't always have to be physical. I experienced financial and emotional domestic violence."
Coleman has experienced the challenges many individuals face when trying to leave domestic violence. After breaking away from it herself and seeing her mother finally escape it at the age of 72, Coleman wanted to do more to help other women in similar situations.
"After going through that and seeing my mom come out of that—at 72 years old—I was thinking about how there's not enough done to help women get on their feet," she says. "Sometimes you just have to go right then and there, and you don't have time to plan. If women had more resources to go to on a moment's notice, it would make such a difference. So, I'm creating my own foundation and naming it after my mom. She's about to turn 82 years old, and she's never had one day of regret about leaving—it's never too late."
As Coleman reinvents her handmade soap and body product business, she's using 100 percent of the proceeds to start the foundation in 2023. Right now, she's in the process of partnering with local Kansas City domestic violence shelters and organizations to host events that not only raise awareness about domestic violence but raise funds to help individuals who need it.
Keep up with Coleman's business and news about the foundation at oceansbysalenha.com or on Facebook.