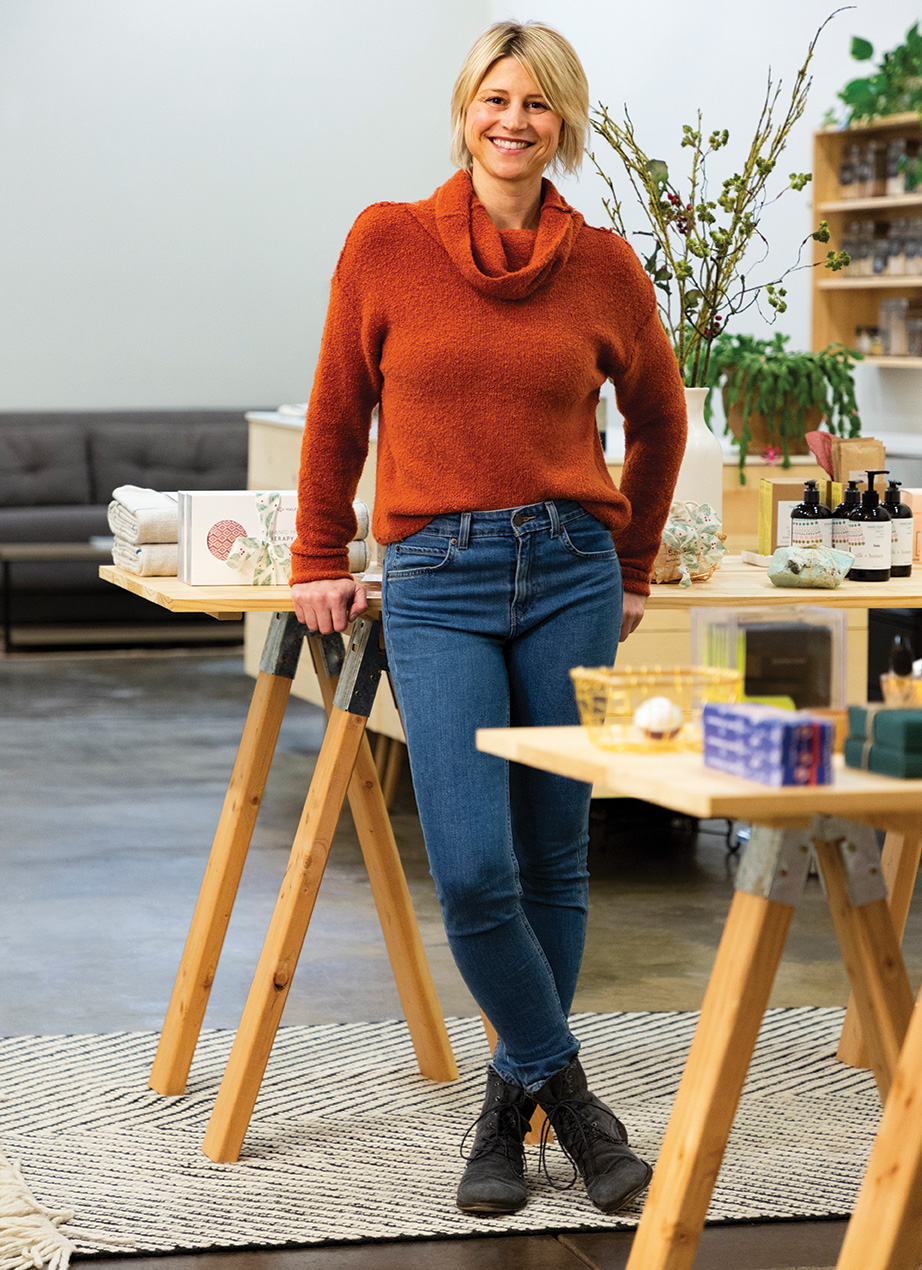 After attending KU for a degree in Exercise Physiology, the Iowa native channeled her life-long interest in wellness into studying chiropractic, yoga and ayurvedic training before founding Sage Center for Yoga and Healing Arts. The center, which offers many ayurvedic, chiropractic, massage, and skincare treatments and services, is also a yoga studio with a staff of 15. She lives and works in the Crossroads.  "I like the combined small town, big city feeling," she says. "Living in the city you can walk everywhere (I've been without a car for two years), but at the same time you can have authentic, genuine relationships." Kucera's book, The Ayurvedic Self-Care Handbook, will be released in April 2019.
Favorite Apothecary Product: Of the decadent skincare lines and body oils we carry, my favorite item will always be a Banyan Botanicals tongue cleaner. I know this isn't so glamorous, but it is such an important tool for carrying out an Ayurvedic daily routine. I don't know anyone who doesn't love their tongue cleaner.
Shop in KC: While I love all of the shops in (and the alley of) the Bauer, I'm more of a practical consumer. One of my favorite stores is Strasser Hardware. Though I didn't grow up in KC, being in Strasser makes me nostalgic for going to hardware stores with my dad as a child.
Most Admired Local Celeb: It was pretty incredible to have Queer Eye's Fab Five be "local" for a short period of time. Anyone with a message of joy, self-evolution, and inclusivity, such as theirs, is always a celebrity in my heart.
A Favorite Local Product: Lily Dawson's jewelry is at the top of my list. Not only does she have fun designs, but she's a thoughtful and caring being—you just know she's creating each piece with intention and mindfulness.
Favorite Mocktail: It's really rare for me to have a cocktail or any other alcoholic drink. My version of a cocktail is an oat milk matcha from Made In KC Cafe.
Dinner Out: I love to cook at home and I've come to realize that this is the best way to get healthy, nourishing food. However, I do love to nourish my soul with Black Bean Tofu at Blue Koi.
Why I Live in KC: I love the pockets of strongly knit communities. I work and live in the Crossroads, and I feel strong support from everyone here. This is something that could easily be overlooked, especially if you're not spending much time in one area of the city.