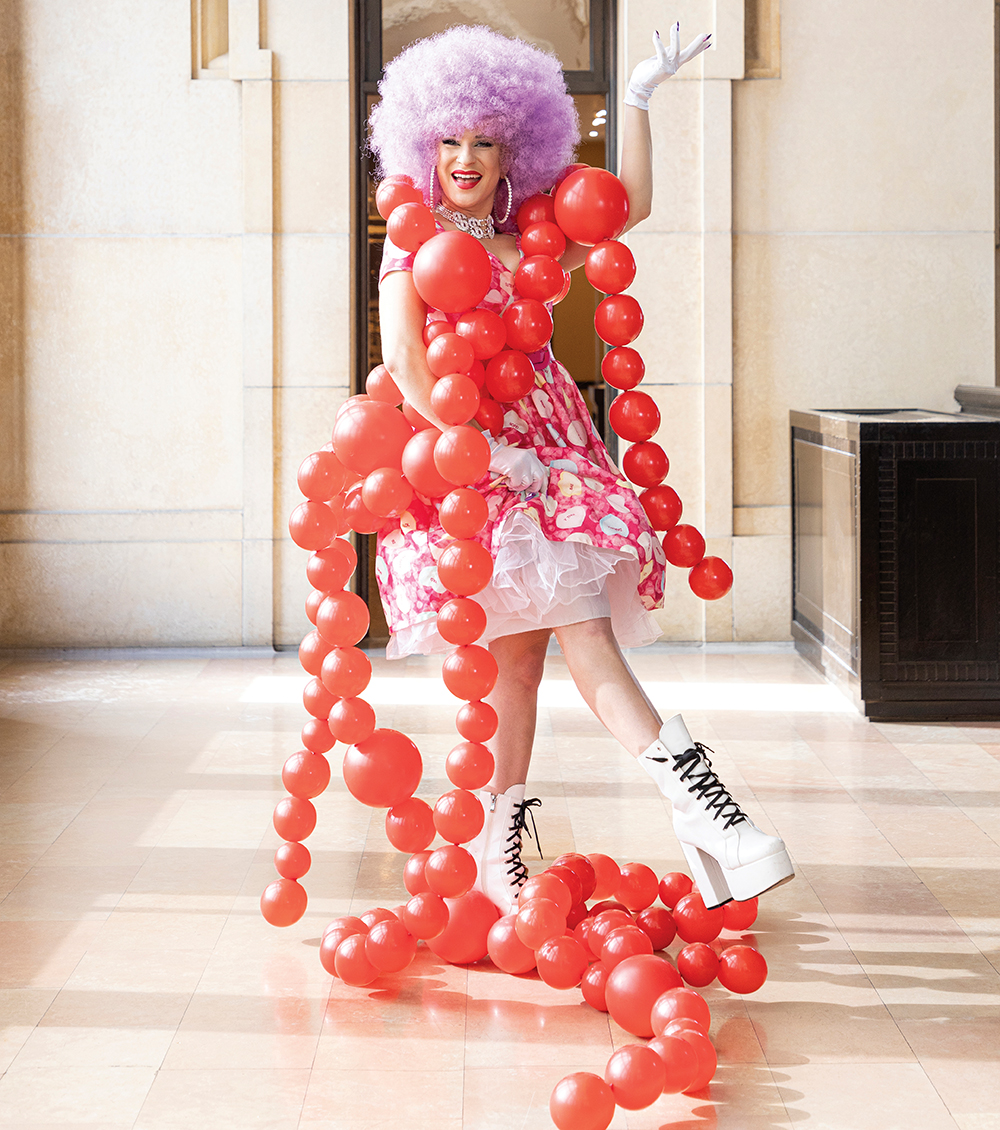 When Kansas City's own Molly Balloons walks into a room, she's impossible to miss—and not just because she's wearing an intricately designed balloon ball gown either. Rather, it's because she's a frenetic, kinetic, whirling dervish of energy. This local comedic performance artist has an exponential life force 14 times bigger than anyone in the room. Her balloon business—or as she calls it—a "fun ruckus"—has been booming. She's been known to jet-set all over the world showing off talented creations. Her specialty? Décor and dresses. "It's my jam," she admits. Oh, and her handiwork doesn't come cheap. "I've charged $300 and I've charged $30,000," she says. We caught up with the unstoppable and unpoppable balloon queen to find out her must-have essentials.
---
Molly 's essentials…
Favorite KC shop: Donna's Dress Shop! Donna and her dress shop are absolutely iconic. The petticoat version of me was definitely birthed at Donna's. Go in the spring for the best selection of Derby hats and fascinators.
Favorite Treat: An Aldi chocolate bar. It's always on the first aisle right when you walk in. It's, like, $1.38, and I'm pretty sure it's German—and it's what dreams are made of.
Local Guilty Pleasure: Probably arriving to MCI 90 seconds before my flight leaves and boarding with 30 seconds to spare. Big fan! Oh, and Tiki Taco at 2 a.m.
Date Night: Sensatia Cabaret by Quixotic. Sometimes I make guest appearances and perform my balloon burlesque routine. The first time I saw the show I literally cried because it was so beautiful and I was so overwhelmed with gratitude that we support the arts. It's a sexy, breathtaking experience.
Cocktail of Choice: There's some smoky, whiskey nonsense at the Crossroads Hotel that I've been really inhaling lately. Like it's actually smoking when the bartender presents it to you. It's so superfluous and theatrical.
Val Day Accessory: My freedom from the shackles of monogamy.
Why KC? We're like Austin, Texas was 20 years ago. We're not just convinced it's wonderful to live here, we're making it wonderful to live here. KC has a very strong collaborative backbone instead of a competitive backbone—like L.A. We're a Goldilocks city—not too big and not too small.