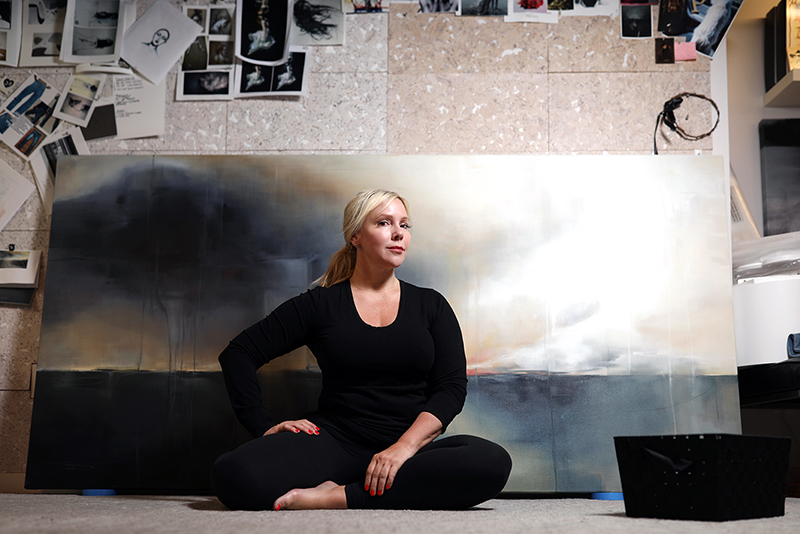 Artist. Jewelry Designer. Entrepreneur
Stop by the Crossroads Hotel or a local restaurant and there's a good chance you'll see the mark artist Jennifer Janesko has left on Kansas City through the art on display. The Kansas City native creates what she calls "abstract landscapes" using modern figurative and abstract art in her Kansas studio. You'll find her Janesko brand sterling-silver jewelry on the wrists, ears, necks and fingers of many a Kansas Citian (and beyond). "I have always said that Kansas City is one degree of separation," Janesko says. "The connectivity here means that genuine love for local is strong. My business has greatly benefited from local support and enthusiasm. I am humbled by my engaged community, and I am in awe of the talent and innovation that exists in my hometown. I love being centrally located when traveling in the U.S., and I am stoked by the positive feedback from people visiting KC from coastal cities. Living in the Midwest means more space and bang for your buck—but never underestimate our talent, drive, and creativity."
Local Scent: I have been snapping up the Dunes collection candles at Golden & Pine. They are a local/female-owned business that creates candles with clean ingredients like coconut wax. The fragrances always hit the mark for me, and the vessels are so sleek and modern—perfect for gifts. 
Self-Care Sesh: I go to an amazing massage therapist, Laura Monteiro, in Lee's Summit. She does cupping, lymphatic, and deep tissue. She always assesses you before the massage so that she can customize your therapy based on your current needs. Her three-hour sessions are a workout and I know when it's been too long.
Take in the Art: Haw Contemporary is such a perfect backdrop for artists. The lighting is beautiful, and the stark walls and clean concrete floors let the art shine. Another favorite is Studios Inc.—I always walk away inspired. The studios are spacious and filled with natural light and there is a diverse mix of artists and mediums.
Night Cap: I always love the Gin Fizz when I go to Rye in the summer, and the revolving menu crafted by Berto Santoro at Farina is a home run all year long. My current favorite is the Frozen Gin and Tonic at Earl's Premier—I plan on adding a burger to that next time on the patio there.
A Perfect Day: Well first, I am hanging with my favorite person—my mom. Our day probably starts with a medical facial at Monarch Plastic Surgery in Leawood, followed by a lengthy lunch at The Mixx, and Andy's Frozen Custard on the way home for sure! It sounds really simple, but just getting out of the house can reenergize my creative brain.