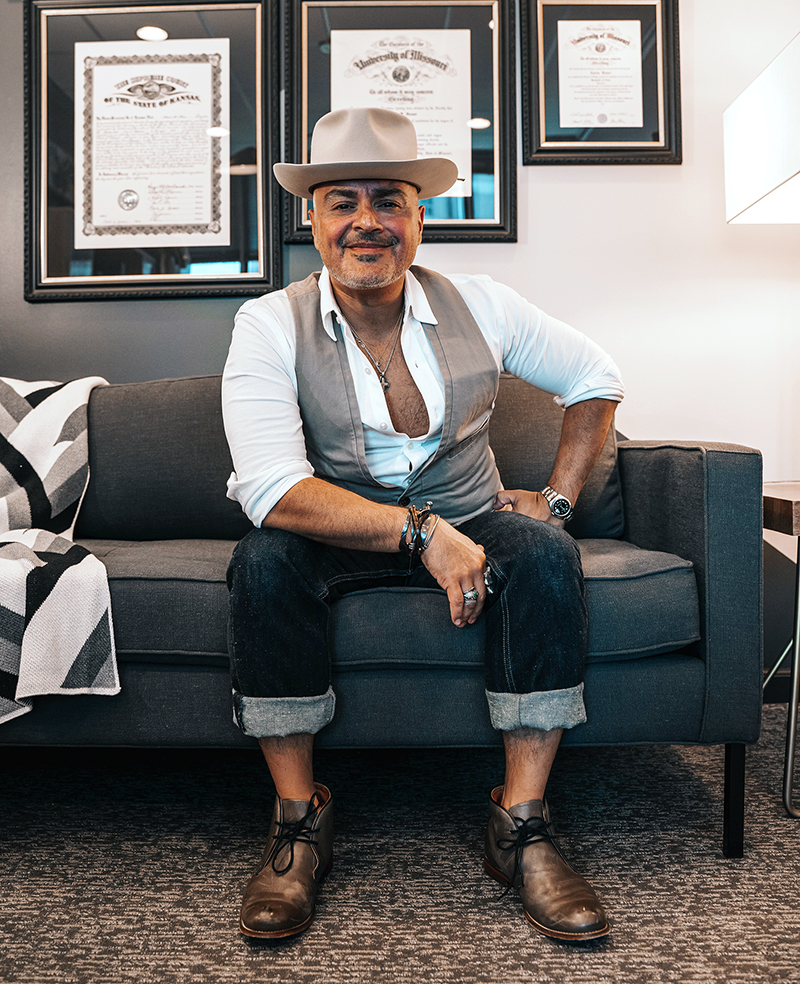 J. Josue Montes, who goes by Josh, calls himself a chapeau-wearing interior designer, fashion tastemaker, and food enthusiast. As a child, his favorite store was not a toy store but a home/interiors store. Fast forward a few decades and Montes—who is a gay Latino—is at the helm of 1 Dapper Latino, LLC. Interior design is his main focus, but Montes also dabbles in the world of influencing in Kansas City. "I find that interior design, fashion, and cuisine are like cousins. They are all a way to represent your individuality. Your home speaks to who you are, your ensemble defines how you feel at that moment, and a beautifully plated dinner is a work of art," he says. On most days you can catch Montes around the town, visiting his favorite spots and discovering new ones. "I absolutely love how much Kansas City has grown since moving here in 2008. The diversity I have witnessed along with the amount of people who have become entrepreneurs here in our city and are living their dreams. It's extremely uplifting." 
---
Josh's essentials…
Defining Style: When I'm at Woodside Village I hit up both Ulah and Luna. Ulah's perfect for an array of casual and dressier options. I am someone whose closet consists of about 30 percent of women's clothing, so Luna is also a go-to for me when I'm curating the perfect outfit for an outing. 
Made-in-KC Scent: My favorite candle is the Leather, Tobacco & Wood candle from Pickwick & Co. My favorite cologne, Saint Rita Parlor, is available at Finefolk. Funny story, the sweetest lady once told me, "Oh my goodness, you smell as good as you look on Instagram!"  
Nightcap: Currently, my fave is the One Dapper Martini at Verdigris. Do I really need to explain why? It really is delicious, beautiful, and strong. 
On Your Feet: Halls carries some of my favorite luxury shoe brands: Gucci, Christian Louboutin, Balmain, and Ferragamo. Shoes are where I really splurge when I am working on an outfit. Hey, I have to be on my feet for several hours, so my feet need to feel and look good.
Self-Care Sesh: I visit Sacred Chiropractic + Acupuncture inside the Ivy House on Main, and Hand & Land where I receive my massages and utilize their amazing infrared saunas.
Hidden Gem: Not enough people know about the growing Latin-owned coffee shops here in our city: Café Corazón and Café Ollama. As a Latino, it warms my heart to see representation in our community. 
Perfect Day: Unwinding by picnicking at Loose Park with my partner and our maltipoo, Austin, on the weekends—especially when the weather is beautiful. We will grab some goodies from The Better Cheddar and just relax. I am also a big movie buff, so you could also catch me at a matinee at the AMC Theater at the Ward Parkway Mall.