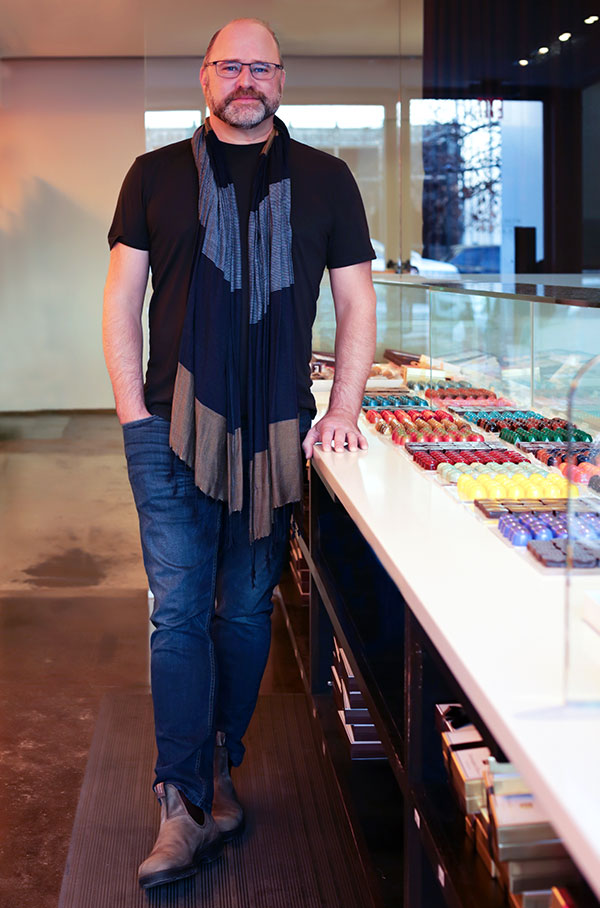 When Christopher Elbow left his hometown of Liberty, Missouri, he set off to work in kitchens across the country. One of those stops included the Las Vegas Paris Hotel and Casino, and that's where the vision for Christopher Elbow Chocolates was born. But the chocolatier almost didn't come to be. Right around the time Elbow found inspiration for the chocolate company, he was planning to return to school to study architecture. After returning to Kansas City, Elbow decided to give the chocolate company a year to get off the ground—and boy, oh boy, did it. "I really fell in love with what was starting to happen in the Crossroads at that time," Elbow says. "There was an energy and a sense of something big was going to become of this neighborhood. I never contemplated starting the business anywhere else." He founded Christopher Elbow Chocolates in 2003. Nearly two decades later, he's responsible for the ultimate Kansas City treat—perfect to enjoy any time of the year but especially enticing during the Valentine's Day season. The chocolatier shared his favorite Kansas City spots for a perfect day.
---
Christopher's essentials…
For your Valentine: We crafted eight beautiful heart-shaped chocolates and paired each of them with a famous literary or historical love story for our Love Stories Collection. It will be a delicious and fun journey to share with your Valentine.
Go-to cocktail: The Old Square at Rye is something I crave. It's a spirit-based cocktail like a Manhattan/old-fashioned with the addition of a few unexpected ingredients. It's the perfect drink to enjoy before diving into fried chicken!
Flower power: Studio Dan Meiners has always been my go-to in the Crossroads. When it comes to flowers, I'm somewhat of a classic for Valentine's Day—red roses all the way.
Place with a view: I have always thought the view from the WWI Memorial was the best way to see the downtown skyline. Having lived here for so long, it provides a place to really see how the city has grown over time.
Dinner date: I can't get enough of Farina. My wife and I like to sit at the bar and share multiple pastas and enjoy handcrafted cocktails and great wine—their carbonara pasta is one of the best I've had outside of Rome.
Staycation destination: It's always fun to go on a staycation and our go-to is The Crossroads Hotel. The hotel is fabulous, and from there we can walk to many restaurants and bars for a fun evening.
Must-shop: Made in KC is our go-to store—in particular, the Country Club Plaza location. You can find a vast array of goods from the talented and creative makers in our city—including our chocolates. The T-shirts from Charlie Hustle are always a great way to show off your KC pride, and they make great gifts for out-of-town folks.