Two sisters from Kansas City are making a big splash in the highly competitive New York design world. Hollister, 43, and Porter, 39, Hovey aren't twins but act like it. They shared an apartment for 16 years (!) in Brooklyn before Porter got her own place last year. And in a leisurely mid-morning telephone call with IN Kansas City, the sisters sweetly tossed back and forth to each other ("You go, Portie") as they wove their accounts of their intertwined paths, from graduating from Shawnee Mission East, to going off to separate colleges (Hollister to Washington and Lee in Virginia, Porter to Bard College in upstate New York), to moving to New York and pursuing separate careers from a shared loft before cofounding Hovey Design, a top-drawer real estate staging business. Their book Heirloom Modern (Rizzoli, 2013) and Instagram feed have gained the pair legions of followers. Their firm has been featured in national publications including The New York Times, The Wall Street Journal, and House Beautiful, and in the books Rough Luxe Design and The Birding Life. Brands such as Anthropolgie, One King's Lane, and Hendrick's Gin have enlisted the duo to collaborate on design projects.
What are your Kansas City roots?
Hollister: Our mom was from Lincoln, Nebraska, and our Dad grew up in New York. They got married in New York, lived there and then moved back to Lincoln. When I was 4 1/2 and Porter was a baby, mom moved the family to Kansas City. We lived in Overland Park and started school at Pembroke Hill. Our mom did PR for Hallmark and our dad was in management for a little manufacturing company. Mom was really the main inspiration in our lives about interiors and art. We spent every weekend antiquing. We'd go over to Waldo and the State Line antiques district and thrift stores—it was a constant hunt for fun bargains and beautiful things. We ended up moving to Mission Hills. Porter went to Belinder Elementary School and I went to Shawnee Mission East. Our parents really tried to raise us a little bit like New Yorkers living in a special place that had wonderful lawns and architecture. That's one reason mom picked it. She worked for General Foods in New York, so she had traveled all around the Midwest and thought Kansas City was the prettiest of all the Midwestern cities. It's a gift that we were able to grow up in a place of such beauty.
Porter: We spent a ton of time at the Nelson and the Kemper, amazing places that don't receive enough recognition on the national and international scale for the work they have curated. I think the Nelson is one of the greatest museums in the country.
Hollister: We were told from birth, "You go to school on the East Coast and go to New York the moment you graduate. If you move back to Kansas City, that's fine, but we want you to be in New York for a while." [New York] was such an amazing, formative part of their 20s that they wanted us to have that experience as well.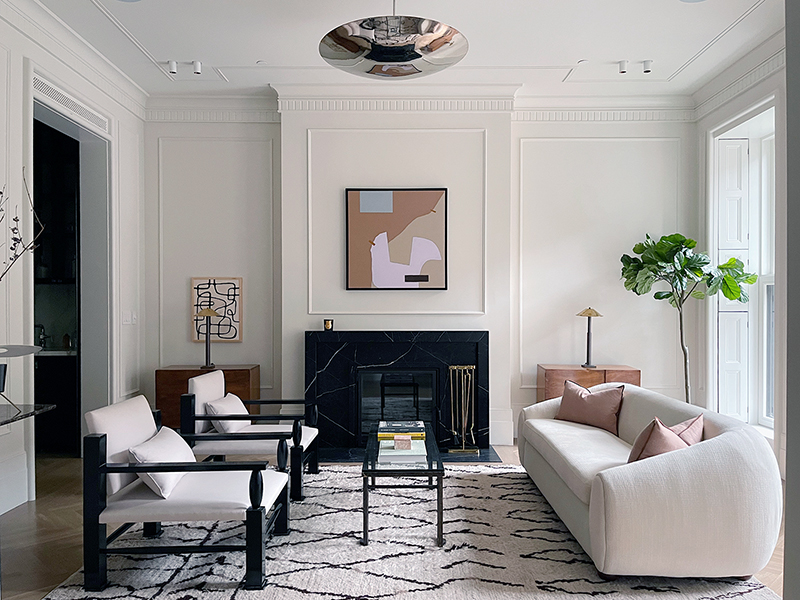 How did you launch yourselves into staging in New York, where everything is so competitive?
Hollister: We could never have plotted our path to becoming stagers because it wasn't a career! I was a business journalist and worked for Dow Jones. I covered pharma and biotech, but I had a blog along the way. 
I had a tiny, tiny one-bedroom on the Upper East Side, 85th and Third. The bedroom was six feet by eight feet and the radiator was positioned so that I could only fit a twin bed mattress in there—I couldn't even fit a twin bed frame. I didn't have a full-sized bed until I was 25.
And then Porter graduated in 2005, and she worked at art galleries and all sorts of stuff. We had this crazy loft apartment in Williamsburg that we shared. 
Porter: We stayed there forever. Hollister is still in it. I finally got an apartment of my own last year, also in Brooklyn. We obviously were too old to still be living together. We were like, "It's time. If we keep living together, people are going to think we're, ah, …"
Hollister: Weird.
Porter: People already think we're weird, but they'd think we were really weird.
That is a long time for two sisters to live together. Why do you think it worked?
Porter: I think it shows what great parents we had. Our little family unit was always so close. When I was born, Mom hammered home, "Oh, Hollister, you're going to get a new best friend!"
Hollister: And then she didn't talk for years. I was so annoyed. I'm promised a new best friend and it just sits there. [Laughs] 
Porter: I think it also worked for us when we started our own company because we were able to do even more work than normal people because we were living and breathing it together 24 hours a day. So, people were getting twice the work for the price. And on top of that, we have that Midwestern work ethic.
How did the Hovey Design happen?
Hollister: Go back about nine years, and we had these serious jobs but this very fun apartment, and we started getting media coverage based on the design of our apartment, even though we were amateurs doing it for fun. That led, after a few years, to being asked to do some decorating projects, and then Porter ended up in real estate. 
The staging in New York at the time was really slick, all white sofas, very minimalist look. It's very beautiful for ten-million-dollar properties that you see on the shows on Bravo. No one we knew lived like those apartments looked. Most people were buying in Brooklyn, and the townhouse look is a very different style. But the only other staging, besides the high-end slick look, was really junky stuff that you would rent piece by piece, and it's really expensive to cobble something together that way. And there's no cohesion.
So, we thought: We can create something that is the aspirational version of what people want in neighborhoods where it's not really the slick look. We wrote our book in 2013 and that kicked it all off.
Porter: The book really brought into focus that the way you display things tells the story of where you've come from in your life. Seeing these cold, austere rooms that looked like sub-par W hotels, that total lack of personality, was frustrating. We felt like we could do a better job and pull it together into a business and be successful, and we did.
I can't even imagine the logistics of staging in a city with the density and traffic congestion of New York.
Hollister: It's crazy.
Porter: It goes like this. Somebody goes, "We have a building with 500 cold heartless apartments that look exactly the same." So, we'll come and see it. We'll give suggestions. We'll send over a proposal. If they sign off, then we get started. We now have a big warehouse, so we can see everything that we have."
What goes into the psychology of staging?
Porter: We curate a specific look for who we think the buyer is going to be. For example, New York has become much more family friendly than it used to be. If we're doing a place in Park Slope, we assume the buyers either are talking about having kids, or they already have kids. So, you pull on the little heartstrings with adorable children's rooms and nurseries filled with oversized toys, bright Moroccan rugs, and picture books that we collect from around the world. In most cases, these have a warmer, happier reaction than, say, a home office.
Hollister: I think there's been a shift in what luxury is as well. There's been a mass migration into Brooklyn, even by the hedge-fund guys. You'd think they want a shiny glass tower apartment. No, they really love big, fancy townhouses. Luxury doesn't mean shiny and velvet anymore. It means handcrafted and well-made. And families want casual. Even in these beautiful 1920s apartments with soaring ceilings, people want the furniture accessible. You have to go more casual than you'd expect and sneak in elements of luxury. Even within the townhouse world, you've got the really family-friendly, cutesy ones and the very, very elegant ones, and something in between. Same goes for apartments. They all sort of have their own vibe. Lots of them are really generic white boxes, which can become completely non-generic, and then you have some architectural masterpieces. It's all over the place, and it's all aspirational, because anyone that owns property in New York City—even at the very low end, you're looking at $500,000 plus building fees on top of that. It's a luxury thing. It's so fun for us as curious people who love aesthetics to go into all these homes. I think we've done 500 homes.
Do you feel like you've found a sweet spot and you want to just keep doing what you're doing, or do you have plans for how you want to evolve your business?
Porter: We talk every day about how to keep growing. We've talked about doing hotels. It's about scaling in the right way.
In Kansas City, housing is very different than in New York. What are some staging techniques people can apply to their homes to make them more pleasing and comforting?
Porter: No matter where you live, the home you buy is usually going to be the number one financial decision of your life. Where the psychology of staging can be useful is, you want to create something you feel comfortable in and that you can relate to. You want a place that every time you walk into it you get that, "Ahhhhhhhhh!" feeling. That is what we do, and you can replicate that anywhere in the country. 
Hollister: When you're choosing what to buy, I'd buy two really cool lounge chairs and a really simple sofa from CB2 or Crate and Barrel. It doesn't have to be extraordinary, because sofas can cost $60,000. 
They can?
Hollister: Yeah! But if you have cool lounge chairs, it'll make the whole room look great. That's the first place I'd spend money. Also, don't fear art. I do all our paintings, and we use tons of them. Even if the furniture is pretty, the room does not look great and put together until the art is hung. It just is the glue that keeps things going. One tip that is the opposite of staging, because we use mainly white walls, is that immersive color—ceilings, all the moldings, everything—looks so good.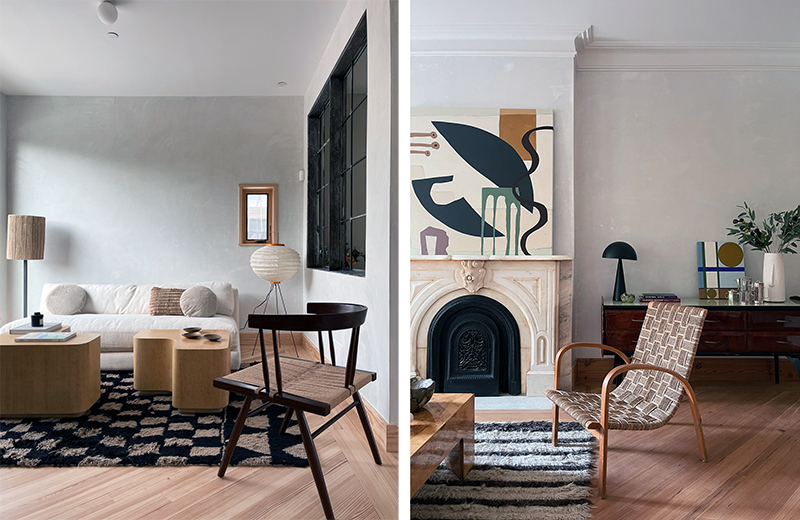 I always think an accent wall looks like you were afraid to commit.
Hollister: Right? We especially love dark color in really small spaces like a powder room. It looks like you have the confidence to make a decision. And it's just paint. You can paint over it if you hate it. 
Another thing we're really into, dealing with the bigger spaces like in the lofts that have all this room and hardly any walls is, don't be afraid to float your furniture. Pull those sofas away from the wall. Fill the center of the room, and commit to a really large rug that fits under the entire seating area. That is going to make it feel really nice. Or at least, go part way under the sofa and part way under the chairs because when you get beyond 10 by 12 feet, rugs get really expensive. So that's a good Johnson County tip. [Laughs] 
What are some specific paint colors that you love?
Hollister: Porter's place is solid pink. It's Mexican Tile by Benjamin Moore. It's so great. It just makes your skin look beautiful. All skin tones look fabulous against it. 
Porter: For paint, we really think Benjamin Moore is top notch. It's a nice price point. It's a high-quality product. We recommend it. Clearly the paint game has evolved and marketing is so good for some of these companies. When you're paying $200 a gallon, I don't think that reflects in the quality sometimes.
Hollister: The really dark paints also look great with skin tones. All those Dutch artists in the High Renaissance used dark backgrounds because they make skin tones just glow. One slightly bluish-tinted one is Raccoon Fur by Benjamin Moore. That is very beautiful. Vintage Vogue by Benjamin Moore is a deep hunter green that we love.
Porter: And if you struggle with color, white is always lovely. If a home has lots of wood, we do Benjamin Moore White Dove, it's beautiful. And if it's a brand-new home, we do Benjamin Moore Decorator's White. It's really clean and fresh.
Interview condensed and minimally edited for clarity.