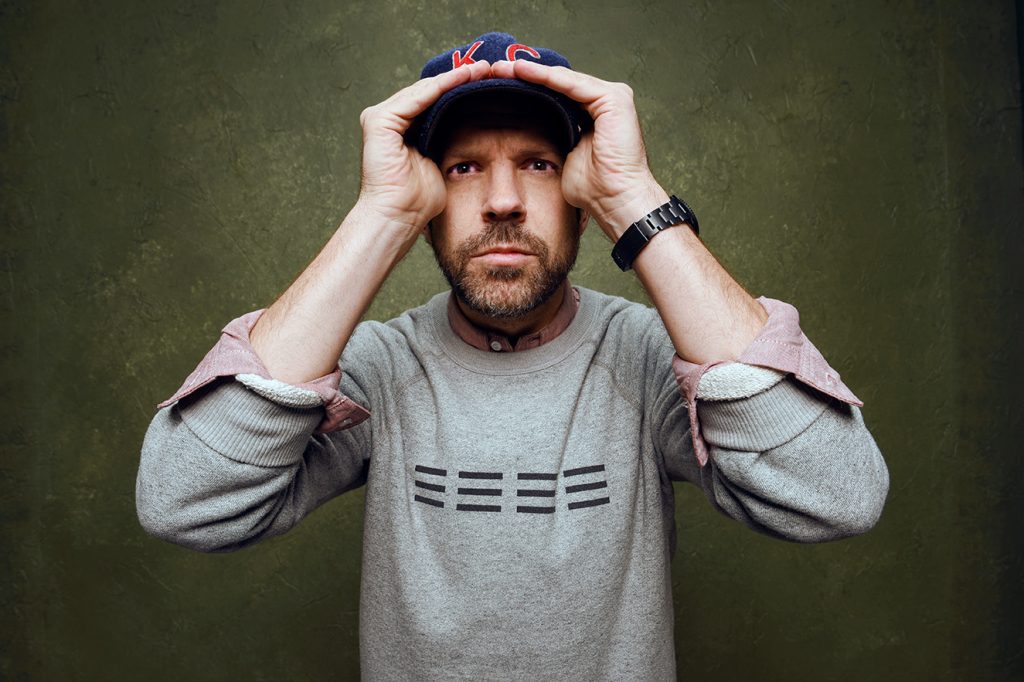 Actor and comedian Jason Sudeikis grew up in Overland Park, Kansas. After attending Rockhurst High School and graduating from Shawnee Mission West High School, Sudeikis received a basketball scholarship to a local junior college, but the classes he excelled at were the ones he took on weekends at ComedySportz Theater (now Comedy City) in Kansas City. Chasing the thrill of live audiences, Sudeikis relocated to Chicago, where he gigged with several comedy troupes before moving again to become a founding member of The Second City Las Vegas. His big break came in 2003, when his uncle, George Wendt, (Cheers) urged him to send a tape to the producers of Saturday Night Live. After two years as a staff writer, he earned a spot as cast member for eight seasons.
Sudeikis has gone on to star and appear in numerous films and TV shows. Recently he finished filming a thriller called Driven in Puerto Rico, and currently produces the Comedy Central comedy series Detroiters.
Sudeikis lives in Brooklyn with his partner, actress Olivia Wilde, and their children, Otis, 4, and Daisy, 2, and returns to Kansas City several times a year to visit friends and family. He is known for his many charitable works here, including co-hosting the Big Slick Celebrity Weekend, which benefits the Cancer Center at Children's Mercy.
On Nov. 3 Sudeikis will be in Kansas City for Thundergong, a celebrity benefit concert for Steps of Faith, which provides prosthetics for people who have lost a limb.
In a call from Los Angeles, where Sudeikis and Wilde are temporarily renting a home while working on projects, Sudeikis often pauses for a second before unspooling thoughtful answers in a soothing, modulated alto voice. Self-effacing and polite, he laughs only twice in 20 minutes and you get the feeling that this also is related to his Midwestern manners—not laughing at your own jokes.
The photos from last year's Thundergong look like a mash-up of a party, a musical concert, and an improv show. What is it, exactly?
Thundergong is a benefit concert that I and one of my dearest, best, oldest friends, Billy Brimblecom, throw together to help support a foundation that he started called Steps of Faith, which helps provide support, both emotional and financial, for people that need prosthetic limbs.
Billy is a talented drummer and he lost his left leg to cancer. Being an artist, he didn't have great insurance and so I and some good pals of mine and Billy's did an improv show at the Record Bar a few years ago that helped buy one of those pricey pieces so he could walk and live and work and all those things that are the pursuit of happiness. It cost a pretty penny, and he took that opportunity to find a way to give back and help people in similar situations.
The foundation now helps dozens and dozens of people each year get over this tremendous hurdle that they have when they find themselves in a situation where they have lost an appendage, and they don't have the means to acquire a new one.
Where did the name come from?
Billy came up with it. It's two words that just sound good together, like "Woodward and Bernstein." I don't even know if it's an actual real instrument—maybe we can patent it and sell it.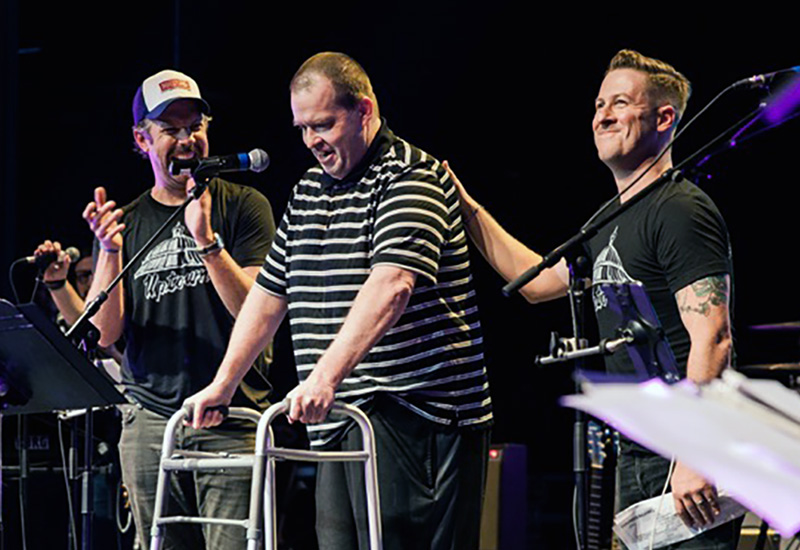 How is life in California compared to Brooklyn?
We're lucky, we've got actual friends out here, not just show business friends, and we've made sure we rented a house with a pool, because that is not a luxury that a lot of homes have in Brooklyn. It's a good way for the kids to learn how to swim.
Brooklyn is your home now, so what is Kansas City to you?
We try to make home wherever we are with the kids. Brooklyn is where the bills go. That's the family's home. It's not my home. Kansas City, and specifically Overland Park, is home home to me. It's where Nana and Papa live, to the kids. And it's where another great group of wonderful, lifelong friends—my extended family, my chosen family—continues to live as well.
That's a great thing about my hometown being in the middle—it's always on the way to somewhere.
What do you love to do when you come back to Kansas City?
First and foremost, catching up with friends, hanging out with them, and that usually involves going to eat at someplace local that either comes from my past, like Gates or Arthur Bryant's, or something more current like Jack Stack or Kansas City Joe's. Then there's Winstead's or Taco Via, Pyramid Pizza, just hitting the haunts with friends, and we're all a little bit older and wiser hopefully than we used to be.
Tomorrow I'm going to be in town to see the Foo Fighters at the Sprint Center with some pals, so I love fun things like that, too.
That's a great thing about my hometown being in the middle—it's always on the way to somewhere. It's a wonderful destination in itself, and it can always factor into other trips. Especially when you've got a mom who is a travel agent, it works out well.
What are you nostalgic for?
I get nostalgic just driving certain ways that I drove to high school or drove to Comedy Sportz. It's always just good to get back, shooting hoops in the driveway with my sisters if they're in town.
A really fun thing is, Daisy has never been to KC yet, but Otis has been a few times, so he has "Kansas cousins"—all my friends who have kids similar ages, so he gets to run around and catch lightning bugs and do all those wonderful things that I grew up doing.
Living in Brooklyn and working in LA, do you ever find yourself trying to convince people that Kansas City is cooler than they think it is?
Kansas City's doing a nice job all on its own. I try to do my best to be a good ambassador by the way that I go about handling my business and treating people.
I'm proud of the fact that I've been along for the ride of Kansas City's wonderful rise. Kansas City has raised people's awareness about the city, whether it be through athletics with the Royals and those great couple of seasons, culminating in winning the World Series, and everything going on with the Chiefs right now, and Kansas Jayhawks basketball.
One of the joys of Big Slick, and now Thundergong, is letting people come see the city and it really sells itself.
One of the joys of Big Slick, and now Thundergong, is letting people come see the city and it really sells itself. It's not so much the structures, although there's lovely architecture and all that good stuff, but it's also the people and the vibe there.
For all the divisiveness in the country right now, it's nice to see people who still treat people with manners and listen with curiosity as opposed to maybe with an agenda.
As a comedian you are an acute observer of people. What have you learned about how people in Kansas City are different than people on either coast?
It might be little things like an inherent kindness. I think I was surprised my first few years living in New York that when I hold a door open, which is second nature to me, people would be like, "What are you doing? What do you want?" (Laughs.)
Not everyone, of course, and there's plenty of people back home that you hold the door open for and they don't say thank you—that energy exists everywhere in the world, but I think it's less prevalent where I'm from.
I say, just try to be the change you want to see in the world, and I don't judge people for being one way or the other when it comes to manners. Well, maybe a little bit. That's one thing I definitely had instilled in me by my parents and also by the people I was fortunate enough to grow up around.
Of all the work you've done on stage, TV, and film, what is the most fun, and what direction do you hope your career takes you in?
I try not to do anything I don't find fun, to be honest, and that included homework, back when I lived in Kansas. I didn't do much of that because I didn't find that fun. And that hurt me and helped me in different ways.
With Detroiters, my involvement is simply that I'm working with and supporting two guys, specifically the stars of the show, Tim [Robinson] and Sam [Richardson] who are from Detroit, and who love their hometown. I empathize with that feeling. When they look at it with such glowing affection, it's like Detroit in a way is a place like Kansas, where there's a perception by those outside that may not be the full truth. So it's interesting to explore those truths that people from those places actually know and feel.
I just want to try to keep being the dumbest person in every room I'm in, so I can just get better at being a man, an artist, a partner, a dad, a human being.
As far as my career goes, I don't know. I just want to try to keep being the dumbest person in every room I'm in, so I can just get better at being a man, an artist, a partner, a dad, a human being. Whatever trends in that direction, I'll lean towards that.
What is a truth for you about Kansas that people not from here don't get?
For example, I was on a horse for the very first time just a couple of months ago and it was, uh, scary. (Laughs.) That's why I've always got to explain to people, "I'm from Overland Park. I'm not from Kansas. In Overland Park, we didn't have a lot of horses."
Daisy, my 2-year-old, rides a horse. There's a little park right by where we're staying in LA, and they have pony rides, and she rides this pony, like, every day. She's really taken to it. It's something else to watch your little girl do something so casually and easily that, when I tried it made me extremely nervous. So the kids are already doing stuff I can't do. That keeps you grounded. 
Interview condensed and minimally edited for clarity.