Lawrence's own Harry Herington is kind of a big deal. Not only does he hold a doctorate from the University of Kansas School of Law, he's also the CEO and chairman of the board for the Olathe-based NIC Inc. (Turns out they're the dominant provider of digital government solutions—processing a whopping $20 billion for state and federal governments annually. Who knew?)
We caught up with the local community leader (and married dad of three kids) to find out five things you might not know about the civic-minded CEO.

5. I am Batman.
"Several years ago, employees started referring to me as Batman because of my background in law enforcement—combined with being a businessman and very focused problem solver. What began as an office nickname has morphed into a way for me to give back to children and charity. I have several Batman costumes and a Batmobile, and I love to transform into the role of Batman for events where I know children, or charities that support children, will benefit."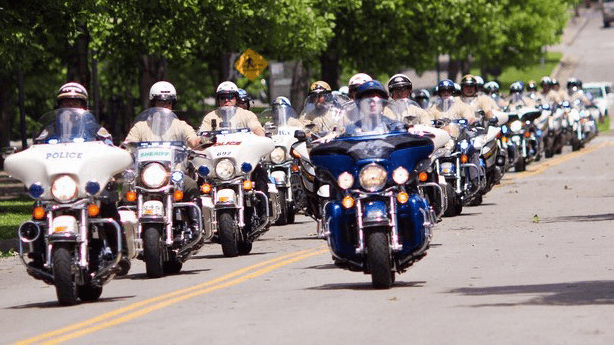 4. Law enforcement officers and their families are the real superheroes.
"As a former law enforcement officer, I know firsthand the dangers faced by our first responders and the impact it can have on officers and their families. I started a personal foundation called Ride4Cops that has raised over $1 million since 2009 to help provide services, scholarships, and support for families of fallen officers. As part of this mission, I have ridden the memorial Ride4Cops motorcycle to 28 state capitals to hold rallies and raise awareness."

3. Health and wellness are my core foundation.
"I prepare for each day with early morning exercise. I'm most proud though, of the passion for wellness and health at NIC. NIC employees challenge me to wellness events across the country, and I do as many of them as possible. I've already committed to three half marathons and several other wellness events in multiple states for 2020!
This past November, 65 employees from across the country traveled to run the Las Vegas Rock 'n' Roll Marathon as a NIC team—many participating in their first half or full marathon. In the end, we were able to raise close to $250,000 for St. Jude Children's Research Hospital."

2. Halloween is my favorite holiday
"Halloween is my favorite holiday for one simple reason—it is the one holiday where all children are the same. Other holidays are measured by the number of gifts or the size of the meal, but Halloween is the great equalizer for children. Several years ago, we moved our annual company party to the week of Halloween. We rent out Dave & Buster's and include the entire family in costume contests and fun."

1. Family and community are the most central part of my life. 
"Our mantra at NIC is we give 110 % at work and 120 % at home. Spending time with family and giving back to the community is at our core. I firmly believe if your priority is your family and giving back, the rest will fall into place!"