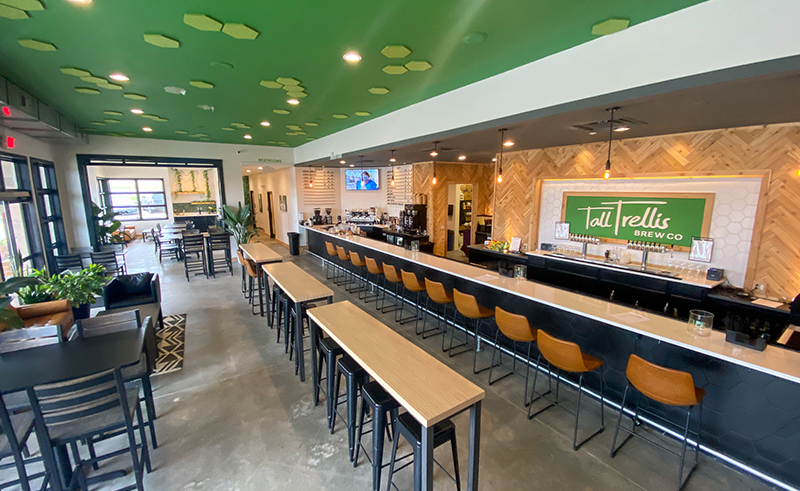 You'll soon be able to see the hops used to make some of the beers on tap at Tall Trellis Brew Co., a new brewery that opened in Olathe in mid-March.
Owned and operated by the owners of the Kansas Hop Company, around 75 breweries across the Midwest use the Kansas-grown hops to make beer. With 16 taps, Tall Trellis is showcasing local beers—many of which are made with hops supplied by the Kansas Hop Company—with new options on tap each day.
Even better? Tall Trellis just planted hops from Kansas Hop Company's farm in Ottawa, Kansas, in the brewery's outdoor space. In two to three months, you'll be able to sip on a beer surrounded by 20-foot-tall trellises of hops.
"Kansas isn't a traditional hop-growing region, and a lot of people aren't really familiar with what they are, what they look like, or how they grow," says Ryan Triggs, co-owner of Tall Trellis. "We're growing hops in our outdoor space where people can sit out there and have drinks in a very unique environment for this part of the country. I'm excited to use it as an educational tool."
While it will be a couple of months until the hops are at full height, there's still plenty to experience at Tall Trellis until then. The brewery's 16 taps are ready to go with new options every day, and Tall Trellis has a full cafe menu with tea, hot chocolate, and a range of coffee drinks made with locally supplied Thou Mayest coffee beans. 
Stop by on a weekend, and you'll find food trucks in the parking lot to enjoy with your favorite drink.
Not sure which brews to try first? Triggs has some advice.
"We always have a selection of 16 beers on tap from breweries we either supply hops to or appreciate," says Triggs. "There are usually a few beers on tap at a time that include our hops and that's how we're bringing things full circle. I'd recommend requesting those beers—especially when our hops start to take off outside so that you'll be able to sit amongst the hops used in the beer you're drinking."
Next on the docket for Tall Trellis? Triggs says the brewery is working on getting its kitchen up and running in the next few weeks with a regular menu for lunch and dinner. Then, in the next few months, Tall Trellis plans to add three to five beers on tap that will be brewed on-site.
"A month in, things are going really well," says Triggs. "We figured it would be somewhat busy, but it's gone beyond expectations. A lot of people bring their families and their dogs and just hang out for a couple of hours. Our guests are so excited to have something like this in this part of town that they can call their neighborhood place."