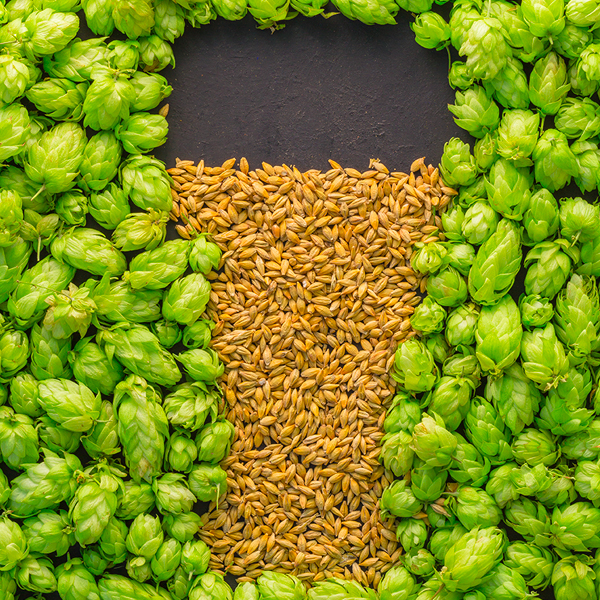 Kansas City's craft brewing scene continues to grow with a wave of spots opening this spring and summer. We caught up with the owners of three new beer destinations to get a first taste.
River Bluff Brewing Co.
Several years after opening in St. Joseph, Missouri, River Bluff Brewing Co. has made its way to Kansas City, opening a new brewing facility and taproom in the River Market this spring. 
"Growing up in St. Joe, Kansas City was the big city," River Bluff co-founder Chris Lanman says. "All of us would go to the city on the weekends for activities, so Kansas City has been a big part of my life."
River Bluff was set to start distributing its beers in Kansas City back in March 2020. Instead, Covid-19 forced many restaurants to close or dramatically reduce their capacity and put the brewery's plans on hold. There was still a demand for its beer, so a new idea emerged: Opening a KC brewery, one that would serve not just as an extension of the St. Joe facility but as a place for River Bluff to experiment and try new things.
Based on customer preferences, River Bluff focuses on filtered, crisp beers at its original location—it didn't even brew a hazy IPA for the first two years.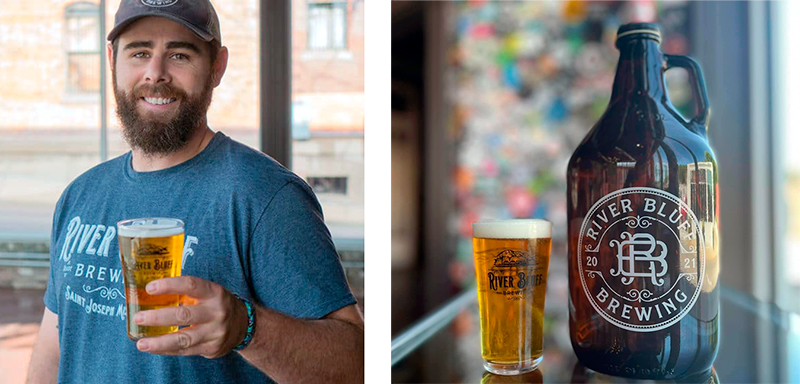 "In Kansas City, we definitely want to push out of that realm," Lanman says. Although half of the beers served on the menu in Kansas City come from St. Joe, the other half is brewed on-site and are more eclectic, with options ranging from stouts and porters to fruited chili ales. Lanman says the River Bluff crew is also viewing the KC location as a collaboration house and already released a Weizenbock with local brewer Sterling Holman.
The beer menu isn't the only difference between the two locations. While the St. Joe space serves as a tribute to St. Joe's past, with everything from tables and doors to neon lights reclaimed from around town, the River Market brewery has a more modern aesthetic, complete with massive windows and a covered patio. However, both feature pinball machines—which became a hallmark of the original taproom—and Speedliner boats, a nod to one of River Bluff's signature beers, the Speedliner IPA.
Soon, Kansas City patrons will also be able to enjoy food from a spot familiar to fans of the original brewery. Huckleberry, formerly a neighboring business in St. Joe, is subleasing a portion of River Bluff's building. The restaurant is tentatively set to open in late May or early June, serving casual fare like smash burgers, salads, tacos.  
---
Tall Trellis Brew Co.
How much do you know about hops, the flowers that have helped flavor beer for more than a millennium? Probably not a lot. 
But Tall Trellis Brew Co., which opened this spring in Olathe, is hoping to change that. The brewery concept comes from the owners of the Kansas Hop Company, which grows the hops used at more than 70 breweries, including many local favorites, says co-owner Ryan Triggs. 
"Hops aren't traditionally grown in this region," he explains. "Typically, they're found in Germany or the Pacific Northwest. I feel like there's a lot that's unknown about hops in general."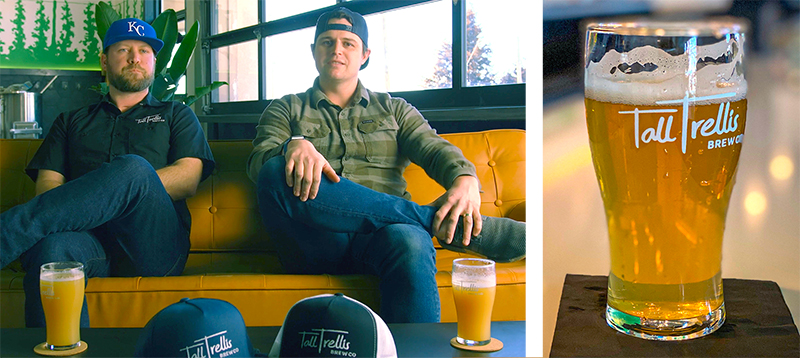 Tall Trellis largely serves as a showcase for the beers made with Kansas Hop Company's hops by other breweries, with many of the 16 taps featuring partners' beers. But at the beginning of May, Tall Trellis started working on its own small-batch beers, which will also be available soon. 
"Coming from the hop-farm side, we're not huge IPA fans, just hop lovers," Triggs says. "We will probably once a month be brewing an IPA, but we're going to experiment with lots of different styles. We just have a small, one-barrel system, so we can get a little weird with what we're doing and not have to worry about sitting on a batch for a long time."
Live hops also feature prominently into the brewery's concept, with the plants grown on trellises in the inviting outdoor space—hence the name Tall Trellis.
"They're majestic plants," Triggs says. "They grow 18 to 20 feet tall, they're these huge walls of vegetation. We get to experience that all the time at our commercial farm down in Ottawa, and our thought was always, 'Man, it would be awesome to have the public get to experience what it's like to sit in a hop field.'"
The plants started emerging from the soil in April, and by May they were already two to three feet tall and starting to grow up strings. Over the next few months, they'll continue to climb up the trellis, allowing guests to watch as the hops evolve. Meanwhile, the brewery is doing some growing of its own and working to build out a food program, which Triggs says will likely include flatbreads, salads, pretzels, charcuterie, and kid-friendly options guests can enjoy along with their beers. 
"We're just really excited for craft beer drinkers to be able to sit in the hop field and drink beer that's made from those hop plants while they're sitting right next to them."
---
Vine Street Brewing Co.
Kemet Coleman discovered a passion for beer while working at Boulevard Brewing Co.
"I just kind of fell in love with the craft of it because it's like art and science at the same time," he explains. "It made everybody happy." 
Coleman is getting in on the happiness with Vine Street Brewing, which he co-founded with homebrewers Woodie Bonds and Elliot Ivory. When Vine Street opens later this summer, it will be Kansas City's first Black-owned brewery and one of only one percent of Black-owned breweries nationwide, according to estimates. 
Many factors contribute to the industry's lack of diversity, Coleman says, from Black and Brown entrepreneurs struggling to get access to the capital needed for a business where startup costs can be upward of $500,000, to marketing that targets Black communities with domestic beers rather than locally made breweries.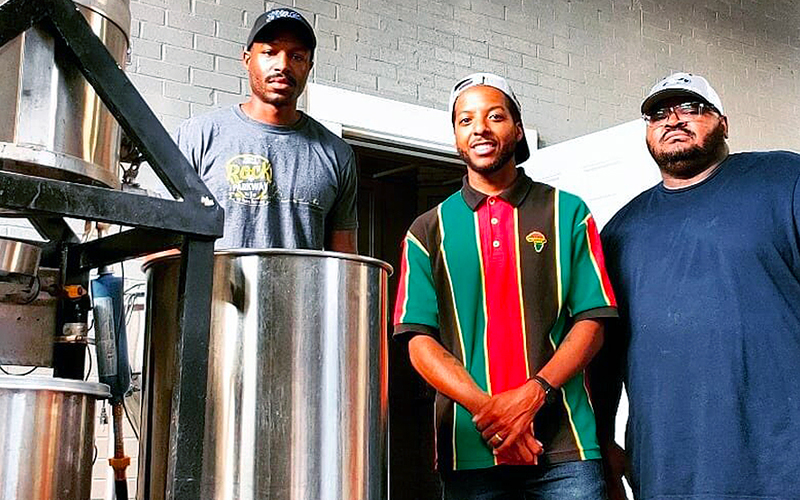 "I do think the industry is changing in a way where the industry is ready for this diversity to come in, and I'm starting to see that even people who didn't think they would like beer are starting to open up to it," he says. "There's a lot of opportunity here, and I'm happy that we're at the helm here in Kansas City."
Vine Street Brewing is tentatively slated to open in mid-September at 2000 Vine Street, a historic structure that was originally the city's first public works building. The stone and concrete space will include a taproom and ample outdoor space where Coleman looks forward to hosting musicians and celebrating the history and cultural significance of the 18th and Vine neighborhood.
"We're hoping when people see Vine Street Brewing, they're seeing the heart and soul of Kansas City," he says.
Coleman, Bonds, and Ivory plan to offer an array of beers rather than focusing on a single style, and feedback on early beers has been positive. Coleman says Vine Street Brewing has received a warm welcome from the local brewing community and already collaborated with breweries including Strange Days, Pathlight, and Diametric. 
"As folks that have been homebrewers for several years, it's a pretty big difference going from homebrew to a commercial-sized brewhouse," he explains. "We've been blessed that Woody and Elliott have been able to experience all these different, bigger brewhouses so that when we open our doors, it'll be a much smaller learning curve." 
And this month, another collaboration will bring Coleman's journey full circle as his brewery releases a beer with Boulevard Brewing Co. ahead of Vine Street's appearance at Boulevardia's Taps and Tastes Experience June 18.
"It's a surreal experience," he says, "but it also feels like it was part of the plan."
---
Now Trending
You're probably already well-acquainted with the next big thing in craft brewing: lagers. Although trendier beers such as hazy IPAs likely aren't going anywhere, River Bluff Brewing's Chris Lanman says more and more drinkers are wanting light, clean lagers. 
"I love that trend because you can go across the board with what you're brewing and offering to people," he says. "For a long time there, there were tons of breweries that only had all IPAs and stouts, and there wasn't much choice." 
Tall Trellis Brew Co.'s Ryan Triggs has also seen craft lagers taking off, but naturally, he shouted out a hoppier brew gaining in popularity—West Coast IPAs, which are typically more bitter and more boldly hoppy than their hazy cousins. 
"I love juicy, hazy, New England-style IPAs, but I also like to mix it up from a brewing standpoint and a consumption standpoint, so it's been great to see IPAs balanced out again with more hop bitterness and traditional IPAs coming back into the limelight," Triggs says.
---
Also new to the KC Beer Scene:
Opened Within the Last Year
Broken Hatchet Brewing, 422 Main Street, Belton
Located in the heart of Old Town Belton, Broken Hatchet has been serving handmade craft beers since summer 2021. Stop by for a beer and get in a game or two of cornhole.
ExBEERiment Brewing, 925 E Lincoln Lane, Gardner
From oatmeal stouts to mango sours, ExBEERiment's beer list has been offering up new drafts to try since spring 2021. Can't choose just one to try? Order a flight of four beers for $10.
Iron Kettle Brewing, 508 S Main Street, Grain Valley
Inspired by Scotland's famous pubs, Iron Kettle Brewing brought a taste of the Old World to America in summer 2021. Enjoy a lineup of Scottish, Irish, English, and German-style ales.
Range 23 Brewing, 13400 Donahoo Road, KCK
Range23 opened at Due West Ranch in July 2021 with six styles of handcrafted, canned beer year-round: Pale Ale, IPA, Blonde Ale, American Porter, Kolsch, and Dunkelweiss.
Red Sash Brewing, 406 E 18th Street
This veteran-owned brewery opened in the Crossroads in summer 2021 with something on tap for everyone: IPAs, Pale Ales, Stouts, and California Commons.
Station 7, 9418 MO-7, Lee's Summit
Martin City Brewery's newest concept opened in spring 2022—and it's perfect for breakfast or a late-night hangout. By day order coffee and baked goods, and by night order pizza and beer.
Coming Soon
Friction Beer Company, 11018 Johnson Drive, Shawnee Mission
After four years of home brewing and popping up at beer festivals, Friction Beer Co. is taking its brewing operations to the old Hartman Hardware space and adding a taproom slated to open this summer.