Because he's been a constant presence in television and movies since 1957, it's easy to believe that Kansas City native Ed Asner would never go away. When episodes of The Mary Tyler Moore Show ran on MeTV, Asner himself would be there to plug the series during the commercials, decades after it left network TV.
Yesterday Asner died at the age of 91. If his name is unfamiliar to you, you shouldn't have much difficulty recognizing his stocky build and balding pate or his gruff but expressive voice. On The Mary Tyler Moore Show, he played Mary's spunk-hating boss Lou Grant for seven seasons and later played a more serious version of the character for five more on Lou Grant.
Despite his distinctive features and easy to identify drawl, Asner's range was formidable. He could be as tender as Lou Grant was cranky. Every Christmas, you can see him as the real Santa Claus in Elf or hear him as the voice of the balloon master Carl in Up. He even played Johnny Lawrence's cruel, belittling stepfather in Cobra Kai. Asner is so delightfully odious in the role that you can see why Johnny (William Zabka) might mistake the sadistic John Krese (Martin Kove) for a role model.
Asner was president of the Screen Actors Guild for five years during the 80s, but he never really left the city where he was born. When I was in 7th grade, we learned about the actor who was born on the Missouri side but spent the lion's share of his youth in the Sunflower State. He graduated from Wyandotte High School, and he was in our Kansas history guidebooks just like Dwight Eisenhower or Dennis Hopper.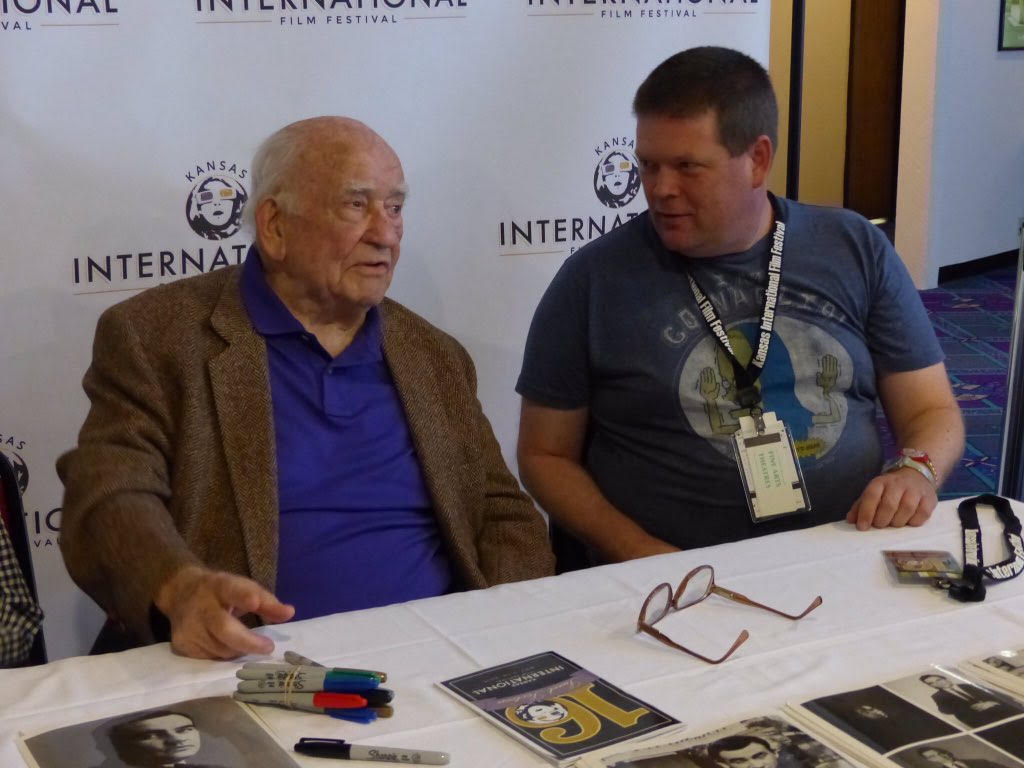 I briefly met the actor when Sharon Baker's 2014 documentary My Friend Ed debuted at the Kansas International Film Festival. It was obvious his roots here were still strong. His family members who still live here understandably got to meet with him first.
A few of them told me that one of the downsides of having a relative who has won seven Emmys is that Tinseltown bottom feeders would occasionally bother them hoping they could send scripts to him when agents had better things to do.
He'd just finished his book, The Grouchy Historian, and apparently missed the memo that he was supposed to "shut up and sing" when it came to politics during the Q&A.
When I had my brief visit in the autograph line, I asked him to sign a copy of his audiobook of Carl Hiassen's comedy thriller, Lucky You. His eyes lit up because he loved recording it, and it was evident in the recording. Hiassen's novels featured misadventures of Florida Man long before they became a meme. Hiassen and Asner were both unrepentant lefties, so the pairing was a divinely inspired match.
This was hardly the only time he'd come back. He'd occasionally return to play Clarence Darrow in live readings from the Scopes Monkey Trial. Asner felt the play Inherit the Wind wasn't as intriguing as the notes from the actual court case, and that its value as a First Amendment issue was more evident in the original words. Friends would tell me that they'd met him in elevators during his visits and act as if it were almost a normal occurrence.
Asner was proud of his Jewish heritage. Near Yom Kippur he called the "Atone Phone" on The Colbert Report to deliver an apology to host Stephen Colbert that sounded more like a tongue lashing. His parents immigrated here from Lithuania and ran a junkyard and a secondhand store.
Because he kept in touch with his relatives and frequently returned, it was perhaps a little unfair of the textbook to tell me that he was part of local history. He was very much a part of our present as well.