More than a year after Jonathan, Bobby, Antoni, Karamo, and Tan rolled into town to film seasons three and four of Queer Eye, Kansas City still has Queer Eye fever.
Chances are you or someone you know had at least one Fab 5 sighting. Then there's the magic of seeing Kansas City on the small screen in all its glory. Yet nothing compares to the local heroes featured on the show. A little over one year after their episodes were filmed, IN Kansas City caught up with a few of them to get an insider's look at the show and how their lives were changed forever.
Deborah "Shorty" & Mary "Little" Jones |

Season 3
How could Queer Eye film two seasons in Kansas City without a barbecue connection? Now, the world knows our hometown barbecue queens, Deborah "Shorty" Jones and her sister, Mary "Little" Jones, owners of Jones Bar-B-Q. Take a trip back to season three for a closer look at what Deborah calls, "the most exciting week of my life"—well, except for when she gave birth to her daughter, Izora (who nominated her mom and aunt for the show).
What did you think when you found out you and Mary would be on Queer Eye?
I'll be honest with you—I'm not a TV watcher, I read a lot of books. When they came to the restaurant, I didn't recognize them! My sister turned around and said, 'Oh, D, you won't believe it! Do you know who that is? Those are the people from 'Queer Eye!'
And then you put them right to work!
They all stayed in there for a minute, but Tan said, 'It's hot in here! And you're not even sweating!' I said, 'Honey, it just comes with the territory.' Bobby's the tough one. He got on the register like he'd been working there for years!
How did it feel to see your family business transformed during that week?
When they did that, I felt like our blessings tripled. They did the one thing that I had struggled with but had promised my dad I would take care of—getting our sauce in the store. When we pulled up to [Original Juan], that did it. I told them they were going to make me take another heart pill! Something came over my soul. If there was anything we could ever do for them—I don't care how big or small—we'd be at their front door the same day. I said, 'Daddy, I'm working on it, and I think we're going to get it done.'
Now your sauce sells to customers worldwide! That's huge!
They come from everywhere! I don't even know how to explain it. I just knew that things blew up and I guess I never thought they would blow up like that. They've done more for us than I could have imagined.
Tell us about life as a local celebrity.
I always stop when people recognize us and want a picture—except when I'm on the freeway! I was driving in the right lane and this man kept trying to get my attention. I thought he wanted me to speed up. I rolled my window down and he yelled, 'Are you from 'Queer Eye?' I said, 'Yes! Pull over at the next exit!' So we pulled over and talked for a few minutes.
What did it mean to have Izora nominate you and Mary for the show?
She said, 'Mom, I got tired of you every day just battling it, going through it. Let me see if I can do anything.' I was working, trying to get her through college. We had a deal. I told her if she got the grades, I'd take care of the rest. That's what happened, and now she's graduated from Mizzou and is a nurse at the Veteran's Hospital.
And on top of that, you now share this once-in-a-lifetime experience.
They did something for me that I'd been struggling with—bottling the sauce—and I just want to say thank you to everyone.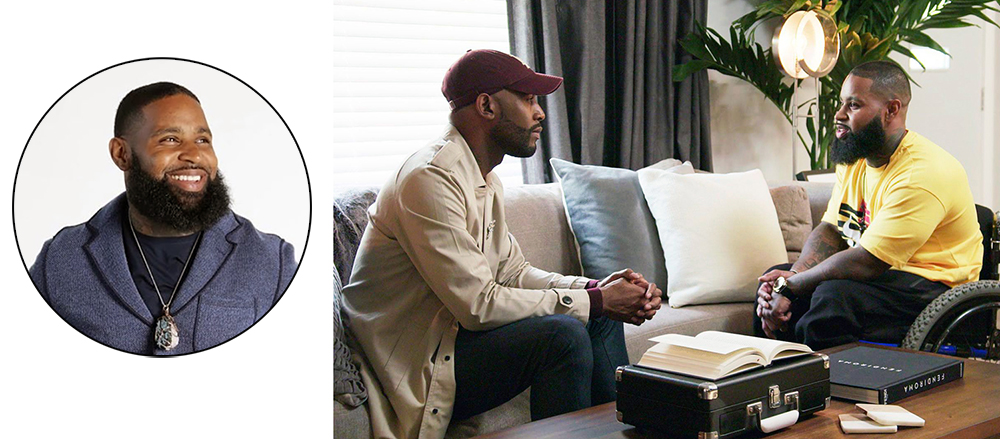 Wesley Hamilton | S

eason 4
There's no doubt that Wesley Hamilton coming face-to-face with Maurice, the man who shot and paralyzed Wesley, will go down as one of the most powerful moments in Queer Eye history. Fresh off of a speaking appearance at Rutgers University, Wesley shared what's happened in the year since—and how that powerful moment almost didn't happen.
How did you feel when you were confirmed for the show?
That it wasn't real! This doesn't happen to someone like me—is this a scam? The community and environment I come from—these stories don't happen in the inner city. I had all the doubts in the world.
During your episode, you told the Fab 5 that they taught you "the true meaning of being yourself." Does that continue to resonate with you?
Knowing yourself gives you a sense of not only peace, but also freedom. I think that aligns so well with all five of them and watching their work. They're being themselves, they're able to do the things they're doing. That's what I do now. I can collaborate with others to make a bigger impact. Now that I'm true to myself, what does my heart say?
We loved watching you in the kitchen with Antoni. Are you still cooking?
I cook all the time. Before the show, I was always cooking, even though it was complicated. On my Instagram (@iamwes.personal), I show what I'm making.
And that trick to peeling garlic?
It's magic!
How has being on the show amplified your community activism, especially your non-profit, Disabled But Not Really?
That's my baby that I started in 2015. Prior to the show, I was just investing into it myself. I can say that I've seen my ROI come back substantially to impact the donations, the things we're able to do now because of my story getting out there. Donations come in from all over the world, and I still feel like we're just scratching the surface.
I started another community program in March, called The District. I collaborate with several other local entrepreneurs and we came together to truly affect the lives of inner-city youth and teach them how they can be more. That's one of the things I believe that the whole 'being true to yourself' message has given me the opportunity to not only help the disabled community, but also the community I came from.
Can you share more about the powerful moment when you met Maurice?
Two years ago, a friend asked me what I would do if I faced the man who shot me. I was taken aback because I hadn't thought about, but I wrote a blog for my site and forgave him. I had an awesome producer [on Queer Eye] and she asked if I would be willing to meet him. The day it happened, a lot of things happened. I had lost my cousin earlier that morning from diabetes. But I couldn't grieve, because that was the day I cut my hair. I blocked it out until I had a break and called my mom and told her I didn't want to go to the meeting. I texted the producer, told her I wasn't feeling this. She told me to go to the back and pray about it, so I prayed for strength. Then I went in there, and it was easier than I thought. I hope that people were able to reach out to Maurice and hear his part of the story. The power of accountability is what's going to uplift our community.
The Fab 5 agreed you were one of their biggest inspirations. How did they inspire you?
Honestly, just to keep going after it. The avenues they're entering and seeing how they come together to change lives. If you have tomorrow to open your eyes, you have a second chance. Go after it. If you're focused on yesterday, yesterday isn't worried about you. I feel like everybody should always move forward. We can become better.
Deanna Muñoz |

Season 4
How could you not burst into tears when Fab 5 member Bobby Berk surprised Deanna Muñoz with the gift of office space for her arts-focused non-profit? "In the heart of the city—that is where you and your foundation belong," Berk told Deanna. Now, one year later, Deanna's led three seasons of mentorship programming and has a Board of Directors in place. No stranger to a busy schedule, Deanna recently caught up with us while on route to her daughter's marching band practice.
What was the most important lesson you took away from the experience?
You almost gain this family, this whole other life. For me, they gave me a center that they put inside of you. You can do whatever you want with that center—they gave me courage. My responsibility was to use the courage for myself but also be vulnerable enough to give that courage to others. I want to keep sharing what they gave me.
We hear you're a fan of reality TV! Did anything surprise you about the actual filming process?
I'm a big fan of Jersey Shore—that's probably the worst reality! [laughs] And Real Housewives of New Jersey. We knew there would be cameras but didn't expect the amazingness and craziness at the same time. The crew is so professional, but also like family. The hours they put in, you literally become best friends.
How's the hair? Still loving Jonathan's cut and style?
My hair only has a little hairspray now! I asked my friends, 'Why didn't you tell me how big my hair was?' And they said because that's how they knew me!
The Queer Eye crew revealed one of their biggest surprises in your episode. How did you react?
My episode was a little different because I ended up getting a space for the work that I was doing in the community—my non-profit, the Latino Arts Festival [which has now grown into the 501-c3 Latino Arts Foundation]. For them to even think about that and go so far as to create that space—I think I was in shock. A group of people that didn't know us but knew that this was something important—it was beyond what I would have imagined. Now we can have events, host workshops, do what we need to do to further our community.
Have you had any revelations since the show was filmed?
In the moment, and even when it ends, you think something magical is supposed to happen. And it does, but then everyone leaves. It's up to you to reflect on what happened and help others. I don't know if I would be where I am right now—in the mental state and with the courage enough to help others—without the show.
Editor's note: To stay up-to-date with the Latino Arts Foundation, visit latinoartsfoundationkc.com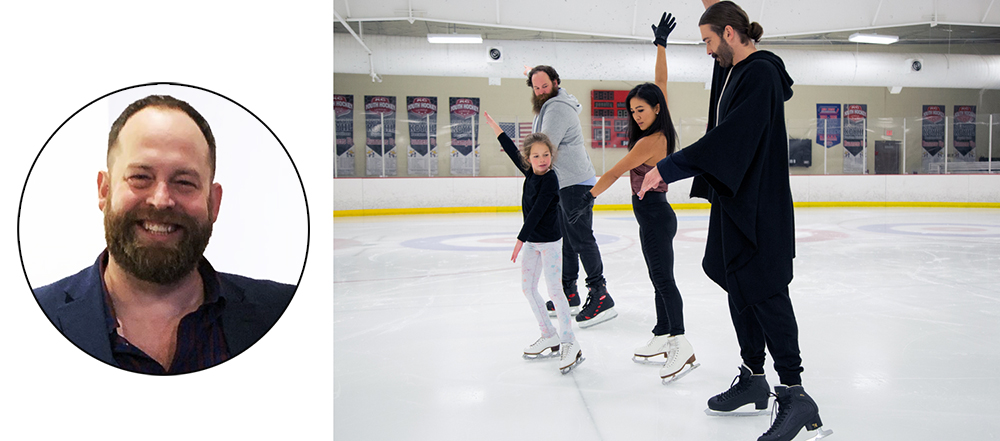 John Stoner |

Season 4
John Stoner isn't shy about admitting the true star of his season four episode—his bubbly and charming daughter, Lucy. Brace yourself: Lucy now lives in Washington, D.C. (more on that in a moment). And John says he wouldn't have been able to cope with that and other recent life changes without the Fab 5 and the transformations they prompted. Read on to learn more about John's life after Queer Eye. Oh, and spoiler alert? He still has the catsuits!
How did you become a potential Queer Eye candidate?
The producers started by calling the ice rink to organize the appearance by Michelle Kwan. They wanted to know if any skater dads needed cleaning up [laughs]. Julie, my ex-wife, said, 'Oh, yeah! Do we ever!' They interviewed Julie and Lucy and fell in love with Lucy, so that's how it started. They came to my house and recorded some interviews, then it was a long waiting game. They'd check in once a month or so and then finally I got the 'OK! You'll be on the show! Here's your date!' We filmed the week of Halloween last year.
Which part of the transformation was most meaningful to you?
They all went together, but the mental health thing—I was really in a bind on all of that. After the show, I've had so many big life things happen. I've been eating better, working out, cutting out the fast food—all of those pieces together really helped me keep my head clear.
Like what?
Lucy moved to Washington, D.C. with her mom, who got a wonderful promotion at Cerner. They offered to relocate me, too, but I wasn't in a position to move, so they put me in a position where I go back and forth from KC to DC. They really worked to keep us together.
How is Lucy adjusting to the change?
She loves it! She's on an ice-skating team, and they use the same rink where the Washington Capitals practice. Everybody at her new school and on her team asked about the show, so it was like having a built-in network of friends.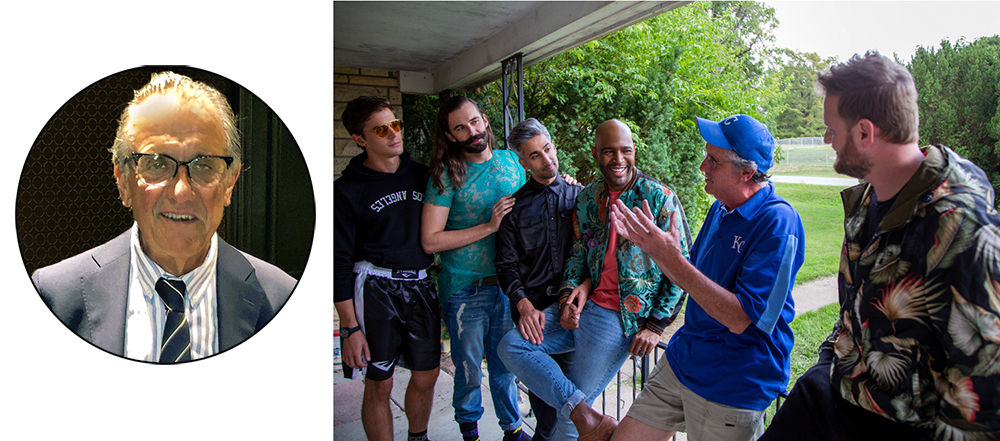 Kenny Yarnevich |

Season 4
First thing's first: Fab, Kenny Yarnevich's lovable, 3-year-old dog that he adopted from KC Pet Project, is thriving! Oh, and Kenny's doing great, too. Fab accompanies Kenny wherever he goes. And when we caught up with Kenny, he was in a familiar place: the St. John's Catholic Club in Kansas City, Kan., home to the legendary basement bowling alley. He took a break from resetting the club to share a glimpse into what he calls, "the best week of my life."
How would you describe the overall Queer Eye experience?
It was a really neat opportunity. I don't really go a lot of places, and the guys took me to so many places in Kansas City I hadn't been, like The Antler Room. They're good guys who do good work.
How is life different since Queer Eye?
Everywhere I go, I get a lot of pictures taken. We went to see Jonathan and Antoni when they were here for their book signings, and before Jonathan arrived, we were in a bar across the street. I couldn't believe the line—it was going down the street. It's the coolest thing. And the St. John's Catholic Club—the phone rings off the hook every day down here. It's been great for business.
And you're on Instagram now, right?
Two days before the season aired, the producers called me from Philadelphia and said, 'You have to open an Instagram account.' I didn't know what Instagram was! My nieces, who sponsored me for the show, helped me open the account.
What part of the transformation has stayed with you the most?
It all did. I went in just to have fun with it. I was open to everything—I needed change, needed an uplift. If you want to really get to know who I am, just watch the show. It describes me from head to toe. I went on worldwide TV and showed myself, and people appreciated that honesty.