Cozying up with a glass of wine in hand along with your favorite book sounds like absolute bliss, doesn't it? The comforts of the wine and book duo inspired two Kansas City sisters to found Bliss Books & Wine in 2019, and now they're taking their business from online to a location in Midtown.
"This was my dream baby for quite some time. I'd be at work reading a book and get to the climax of the book, but my lunch was only so long. I'd read up to that point and have to go back to work," says La'Nesha Frazier, co-owner and founder of Bliss Books & Wine. "I was getting really frustrated that I couldn't sit down and finish reading, so I was trying to figure out how I could read and decompress the stress from the world and have a glass of wine."
Frazier went to her sister, La'Nae Robinson, with the idea for Bliss Books & Wine, a bookstore and wine lounge combo business she wanted to start in Kansas City. 
The sisters went to work and started popping up around town with book and wine pairings. They were close to securing a brick-and-mortar location when the pandemic hit, so instead Frazier and Robinson pivoted to an online bookshop and virtual book club to continue fostering community.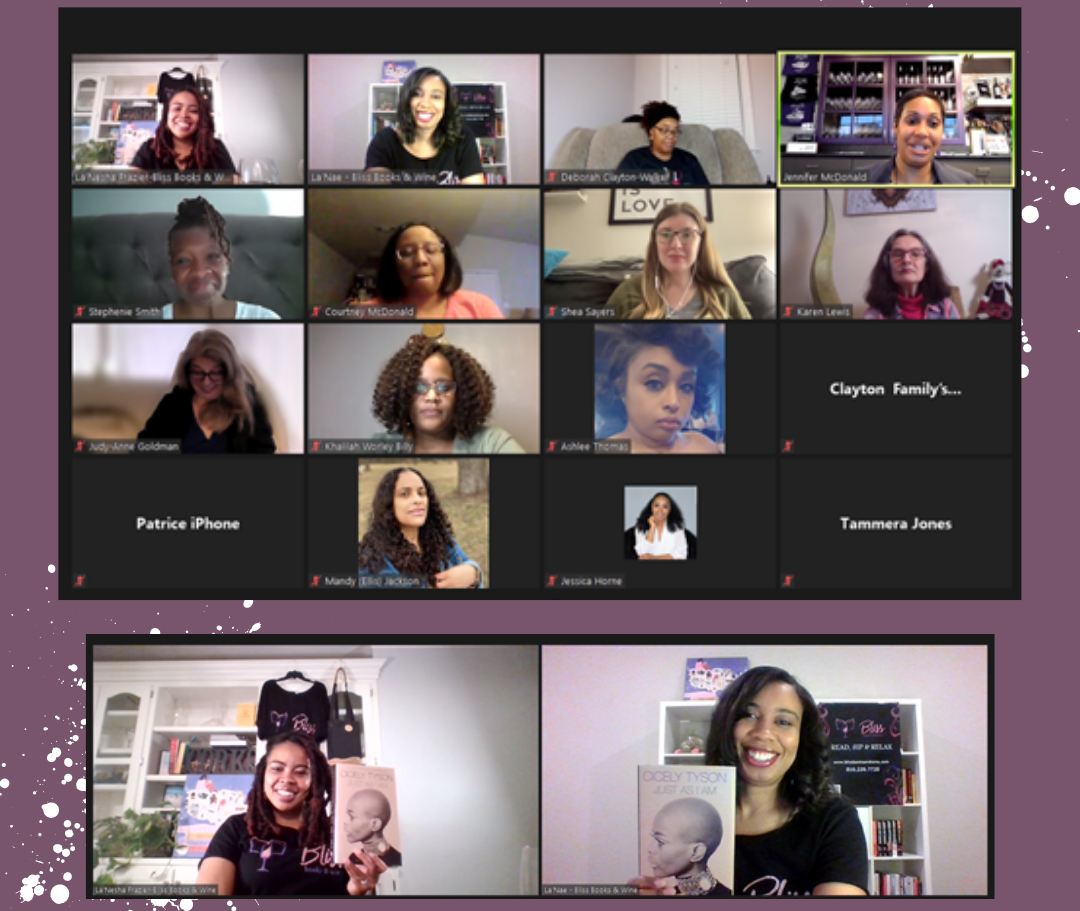 "We kept having our events online to keep everyone engaged, and that turned out to be a huge blessing because then we started bringing in people from all over the country," Robinson says. "When we start meeting in person, we'll still have to keep a virtual aspect because these people have been with us for over two years, and they're super engaged with what we do. The growth has been tremendous from where we started."
That growth has been noticed. In August 2020, Bliss Books & Wine was featured on a list compiled by Oprah Daily of Black-owned Bookstores in America That Amplify The Best in Literature. Most recently, Bliss Books & Wine was named the 2022 Emerging Small Business of the Year by the KC Chamber of Commerce.
Currently, the sisters are busy readying a brick-and-mortar location at 3502 Gillham Road in Midtown—an address that formerly housed Native Digital and is located next door to Mother Earth Coffee. At this location Bliss Books & Wine will offer a bookstore within a wine lounge and community space that will carve out spots for working, creating podcasts, and hosting events with wine on tap—including selections from local wineries.
"There are tons of bookstores and libraries so we had to figure out what sets us apart," Frazier says. "Combining our two love languages—books and wine—just felt like a great combination, and it brought in a lot of book lovers and wine lovers under one roof. We've found our community, we've found our people, and we're super excited to have it all under one roof they can go to."
Frazier and Robinson will choose the books to stock in the shop based on customer feedback and recommendations. But ask them what their ideal pairing for books and wine is and here's what they'll say:
"If it's summertime and I'm out on my patio I'll probably be drinking a riesling. I'm a fiction girl, so I'll be reading something like Legendborn or Harry Potter. Those types of books are my go-to happy places. Take me back to my fantasy land of witches, warlocks, wizards, and magic," Frazier says.
"I'm the opposite," Robinson says. "I love romance novels, and I love when everyone is happy and in love and swooning. In the summertime, I'm a red wine girl and pinot noir is my staple. Give me something nice and red with a romance, and I'm great."
Bliss Books & Wine is slated to open by the end of the year, but until then you can catch Frazier and Robinson in person at Mid-Continent Public Library's Romance GenreCon 2022 Fan Fest from August 5-6 along with opportunities to sign up for sessions and book signings with romance authors from around the country.