Sponsored content:

Remember when the Royals won the World Series and Kansas Citians collectively lost their minds? Well, a majority of those celebrating were smack dab downtown raucously cheering at Kansas City's epic Power & Light District. That's because anytime there's a major sporting event—or, really, any big to-do—the District is hands-down the ultimate place to be for revelry, celebratory shenanigans, and camaraderie. "It's such a dynamic neighborhood. The heartbeat of Kansas City," says Rachel Waller, the director of marketing for Kansas City's Power & Light District. "There's always excitement, and the Chiefs going to the Super Bowl only adds to that."

From Italy to Iceland, the Power & Light District has been featured on TV screens around the world for its frenetic, fun fandom. And with this Sunday's big game looming, you can be sure the team at the District is sparing no expense on the festivities. Here now are the Top 5 Reasons You Need to Celebrate at the District on Super Bowl Sunday:

5) Carbo-loaders, unite! Super Bowl Sunday is always a day of excess and if you're starting the party early with mimosas and Bloody Mary's, you'll also need to get some tasty grub before you get hangry. "Head over to Meshuggah Bagels first thing that morning!" says Waller. "It is a great, locally owned bagel place, and they have a new location here in the Power & Light District." Even better? Their red and yellow-swirled bagels are bound to be a conversation piece—you know, right before you inhale it. "I'd order it with a savory spread—like a jalapeño schmear or a dirty martini schmear made with olive juice," she says. Later in the day, if you're jonesin' for a sugar rush, Insomnia Cookies is ready with some fancy-schmancy football-shaped cookies. "You can load up on carbs and sweets. It's perfect!," says Waller.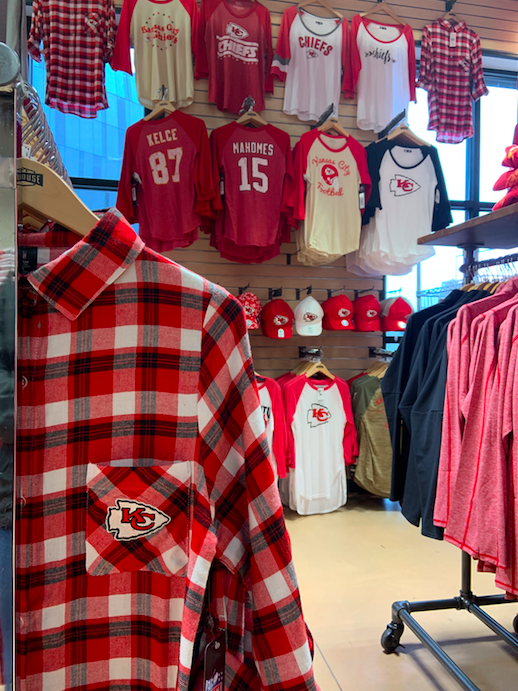 4) Rally at Rally House! The local sports-apparel mecca has a location in the heart of the District—which is quite handy if you want to add to your Chiefs ensemble. "They have tons—tons!—of Chiefs gear," says Waller, "So when the Chiefs win, they'll have Super Bowl gear ready for you to wear seconds after the game ends." And you know how fickle Kansas City weather can be. If there's inclement weather, you can pop in for extra Chiefs scarves, hats, gloves, earmuffs—you get the idea. Waller expects a sea of red. "We want to paint the city red and gold—and what better way to do than shopping at Rally House to be decked out head-to-toe in Chiefs swag."

3) Tailgate-orama! Who doesn't love a tailgate? Miami may not want to tailgate, but the Power & Light District is inviting Chiefs fans to KC's biggest tailgate on Super Bowl Sunday. They'll be closing down Grand Boulevard and throwing a super-party with live music, tailgate games and a giant 15' x 8' screen, right next to KC Live! McFadden's will have grills out, grillin' burgers, hot dogs, and more! And with ample parking and the streetcar running on hyperloop, it's an easy jaunt. No 'fuss, no 'muss, no kidding.

2) So. Many. Sports. Bars. "There's a place for every sports fan in Kansas City here. We have more sports bars in one area than any other place in the metro," says Waller. "You can hop around McFadden's, Johnny's, No Other Pub, Leinie's Lodge & Beer Garden, and the list goes on and on. It's a crazy-fun atmosphere!" Waller counted more than 200 TVs to make sure you don't miss a single big play. "Each venue will have plenty of featured menu items and drink specials," she says. "Wings, burgers, pizza—we've got it all here in the District."

1) KC Live! Is Pulling Out All The Stops. Fact: There is no better watch-party atmosphere in KC. From Big 12 to the Men and Women's World Cup, zealous fans show up in droves to furiously support their local teams. "This is the place where KC celebrates" Waller says, laughing, "as does Oklahoma, Iowa, Texas and more." Knowing that "all eyes will be on KC" this Sunday, Waller says to be ready for "an all-out blitz for the weekend. Nate Bukaty from Sports Radio 810 is hosting. KC Wolf is on the roster. And there's swag and giveaways galore to hand out to our fans." Prepare for an extravaganza that has to be seen to be believed. The party starts on Red Friday, with Tech N9ne and the KC Streetcar joining the celebration for a Red Kingdom Rally. "There's no place like this in the country. ESPN comes here. Fox Sports always joins us. It's electric. The indoor-outdoor atmosphere adds to the vibe. For games like this, being at the Power & Light District only heightens the experience. You can cheer alongside thousands of other people. It's part of the fabric of Kansas City," says Waller. "This is—without a doubt—the place to watch the Chiefs and celebrate with the whole city."