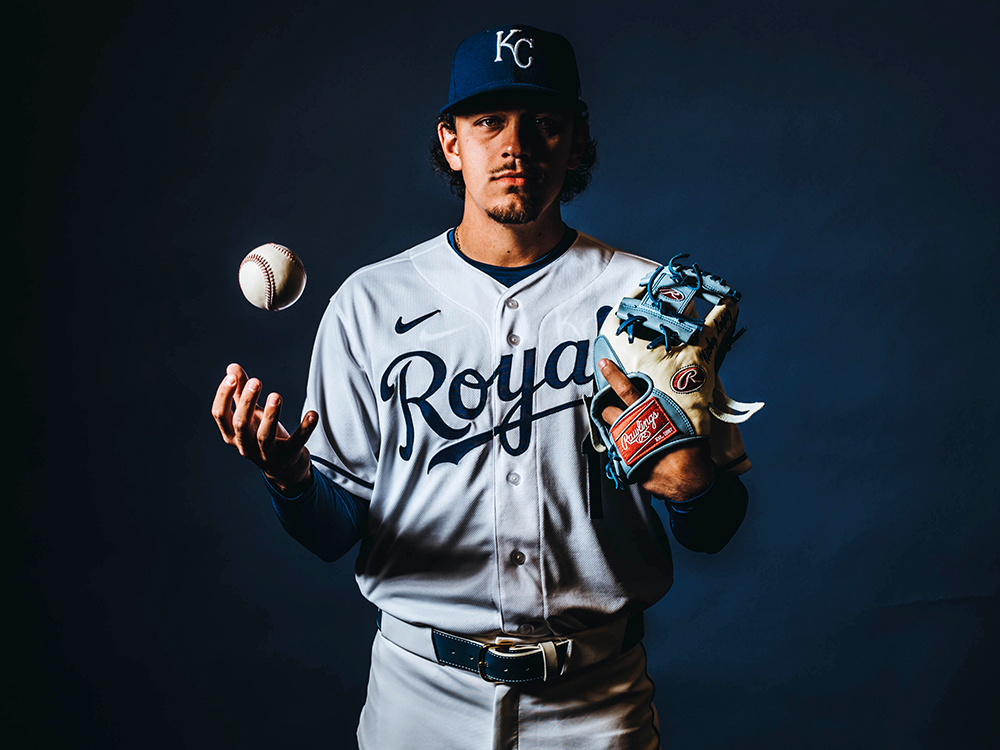 Of all the things nobody expected in this spring of coronavirus, getting cheated out of your first-ever Major League Baseball season opener as a young player ranks right up there.
Second baseman Nicky Lopez, 25, got called up from Omaha last year by the Royals a month and a half into the season. Lopez was extra psyched because the opener was supposed to be in Chicago, his hometown, in front of all his friends and family.
Instead, he's living a warm-weather version of Groundhog's Day, waking up in Surprise, AZ every day since Sept. 30. Lopez chose to spend the off-season there working out and adding muscle weight, never imagining he'd be trapped there by a pandemic.
Between workouts at the outdoor practice facilities, he hangs out with pitcher Brad Keller, his roommate. The weather's nice, their rented house has a pool and hot tub out back, but he misses his family and his teammates.
"This year I was looking forward to taking time to explore Kansas City, get to know more of it. I hope I'll be able to do that soon."
In his partial season last year, Lopez quickly fit into the Royals clubhouse. Teammates say he's always smiling and has a fierce work ethic. In a phone call with IN Kansas City between workout sessions, Lopez reflected on his fairytale rise to the majors and the strangeness of the current suspended-dream situation.
What do you hear from Chicago? Is your family OK so far?
My family's OK. I have two older brothers, they're still working, and my parents are still working. They go in periodically throughout the week. They're healthy, so I thank God for that. But I know that COVID is kind of crazy there, and the hospitals are slammed. I'm so appreciative of the health care workers, and I hope everyone is. Hopefully we can get everything under control soon.
It's got to be tough. This is probably the longest you've been physically separated from your family.
It is tough. I would love to be able to go home. I was looking forward to the beginning of the season because we [would have] opened in Chicago. This is kind of putting a little damper on that. I know that once we've got this figured out, in the off season, I'll go home and spend some time with them for sure.
You're rooming with pitcher Brad Keller. What have you learned about Brad Keller that you didn't know before?
[laughs] Yeah, me and Brad are getting to know each other very well. The guy is from Georgia, loves water, loves Georgia, loves the Georgia Bulldogs. We were making a little plan. I might go visit him this offseason and maybe catch a Georgia Bulldogs football game, which would be cool. I don't think I've ever been to a college football game, other than one Northwestern game. He's a good roommate, a very clean guy. But we just really, really want to play baseball again.
Korea started playing baseball games May 5th with masks and no fans. ESPN is televising the games. Have you watched any?
I did watch one. One night I stayed up kind of late and I turned on ESPN—that was before I had seen that they were televising them—and I was like, "Wow!" and I started watching it. It's a little different not having the fans, but it's baseball and I know that a lot of people were tuning in. Just seeing live action is something a lot of people have missed.
When did you start playing baseball as a kid?
I was 3 or 4 years old. I was super young. I was always the smallest guy growing up. Still am. I skipped coach pitch and went right into kid pitch. I had two older brothers that played, and I was always playing with them, always playing up.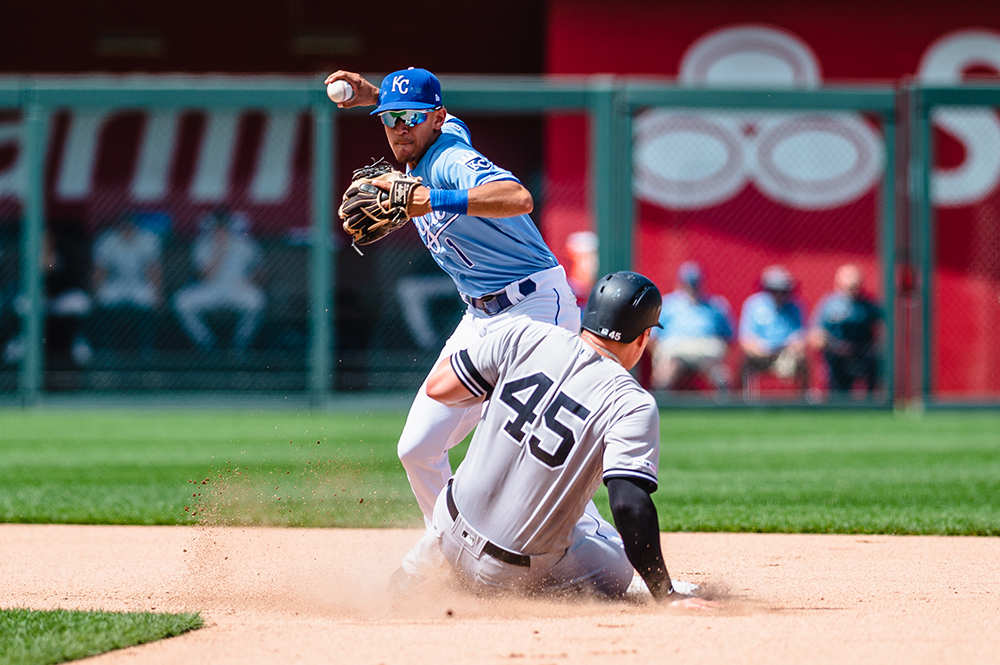 Did you play a lot of sports?
I played football all the way up until high school and also basketball all the way through high school. Senior year I had to decide if I wanted to put all my focus on baseball, because I wanted to do that in college. But I wanted to do one more year of basketball, so I played basketball senior year.
Creighton really liked that I was a two-sport athlete, because having another sport in the off-season, I was able to keep that level of competition up. And a lot of baseball scouts I talked to liked that as well. But I knew baseball was going to be my longer lasting sport.
Every guy that plays minor league ball wants to make it to the Big Show, but a lot don't. What makes you different? Why did you make it?
Kids always have those dream jobs of being a firefighter, policeman, astronaut, whatever. Mine was always baseball player. I wanted to be a baseball player since I was 3 years old. I'd watch baseball on TV then go in the backyard at 3, 4, 5 years old and imitate players' batting stances, the greats like Derek Jeter, Barry Bonds. I would run, I would slide, I would argue with fake umpires.
Ever since I was very young, I was all in on baseball. There was also the motivation of always being the smallest kid, always being written off, people saying I didn't have a good enough arm, or I wasn't strong enough. So I had that chip on my shoulder.
I learned from my dad because he played 16-inch softball, so I grew up on a baseball field. He had a little chip on his shoulder when he played, and I instilled that into my game. When I got into professional baseball, I kind of smelled it, and I was like, it's not that far away, and I'm not going to stop until I achieve my dream.
What is 16-inch softball?
The ball is 16-inches around. They come out of the box hard and get softer and softer as they are played. It's really impressive and my dad [Bob Lopez] is in the Hall of Fame in Chicago. It's a really big deal in Chicago. He played second base. He was number one. He was also a big semi-pro football player. He got a letter from Mike Ditka to be on the '85 Bears.
Let's go back in a time machine. A little over a year ago, in May of 2019, you were playing minor league ball in Omaha when you found out you were being called up to the Royals. How did that go down?
We were in Des Moines, Iowa, when I got the call. It was Mother's Day weekend. I had an off day and then I played on Mother's Day and then I had another off day. That was unusual because I usually played three or four or five straight games.
Me and the skipper down there, Brian Poldberg, had a pretty good relationship. I went into his office when I had that next off day, and he made up an excuse that I didn't get a hit with the pink bat or I didn't hustle in the pink shoes—some other guys also wore pink for Mother's Day, but I was wearing majority pink. I didn't really believe it, but I had to, because I was getting benched.
I had to sit through the whole game watching my team, not understanding why I wasn't playing. Then after the game, [Poldberg] told me to grab my phone and come into the office. When I did, he grabbed my phone and put it on speaker phone and called my mom and told her the story of how I wasn't playing because I didn't get a hit with the pink bat. Then he said, "But, your son is going to Kansas City." That's when she started bawling, and that was the beginning of my dream coming true.
Now fast forward two days to May 14th. What was it like waking up knowing you were going to be taking the field at The K?
There was a ton of emotions. I was very anxious to play. I wanted that first ground ball to come to me. I wanted to get my first at-bat out of the way so I could just start playing baseball.
There was a lot of stuff I had to do before the game. Once I got on the field, there were fans cheering my name. There were posters made. It was pretty crazy. The Royals are so great. They were great to my family, too. They got them a suite in the upper deck. That was unbelievable.
When I got my first hit, I just remember standing on first base, scanning the whole stadium. Everyone was giving me a standing ovation. I was kind of taking mental pictures. It was like it was all in slow motion. I looked up and my girlfriend and my parents and my agent and my brother were up there jumping up and cheering. It was awesome just to see their excitement, as well as feeling mine. That is a day I will never forget.
It was a remarkable first game: You had a hit, a walk and an RBI. Did you celebrate afterwards?
Yeah. We got some food around there. It was just so cool to be able to spend time with my agent, my girlfriend, my parents, my brothers and just kind of chill and relax after that first game.
What veterans on the Royals do you look up to and learn from?
Whit [Merrifield] has only been here for three or four years, but Whit's been really good to me. And Gordo [Alex Gordon] has been really good. [Danny] Duffy, Salvy [Salvador Perez], [Ian] Kennedy. They've been really good to me.
I remember once we were in Seattle, when I was hitting kind of a down streak, Gordo pulled me aside in the outfield—we were shagging during BP. He told me he struggled, and that people struggle, and that it takes time to get used to the big leagues. And that everything was going to be OK and I was going to have a bright future. He told me Moustakas and Hosmer actually had to be sent down and then got called back up.
As a new guy, talking to somebody that's had ten-plus years in the big leagues just eased my nerves and really helped me out. It was really cool, and it's something I really look up to him for.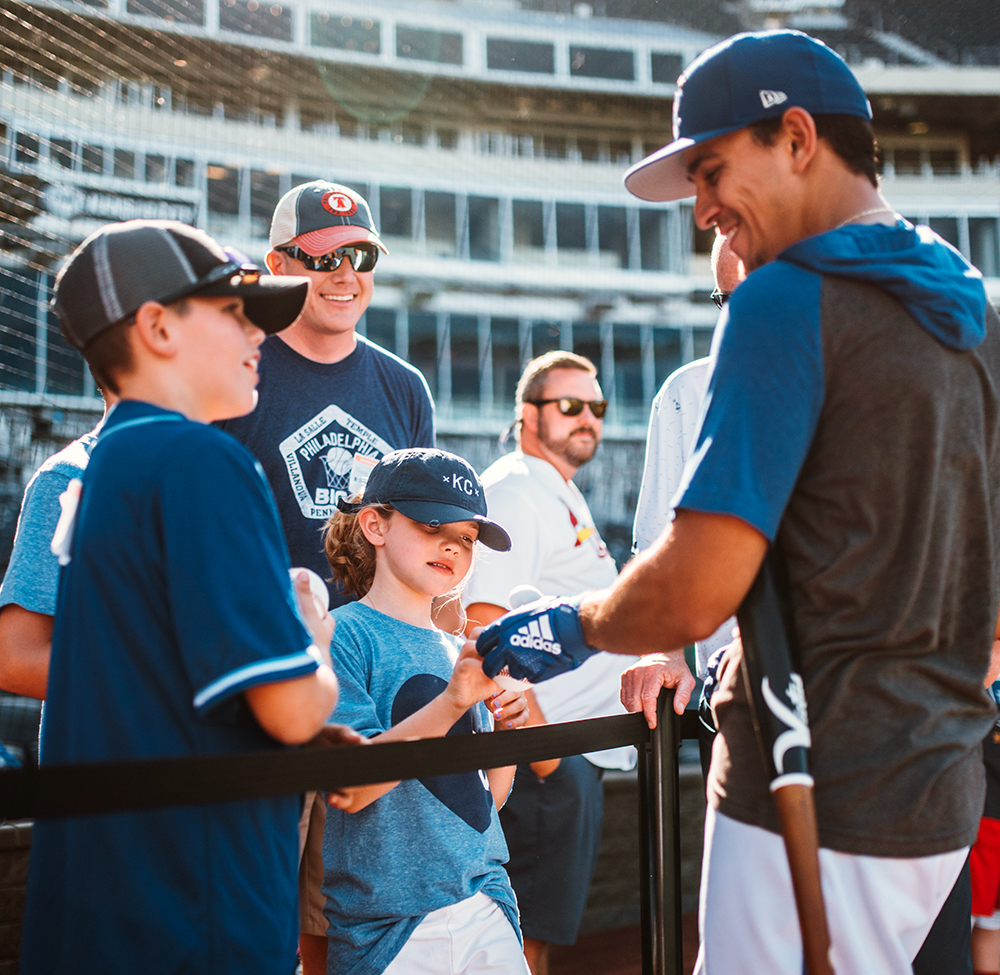 You weren't in Kansas City for very long. Did you get to know the city at all? Do you like it?
I love the city. I love the people. They are so nice, and they were so welcoming. I'm fortunate enough to live near the Power & Light District, and I loved being able to just walk there and enjoy some food. I also really enjoy the Plaza.
Last year, I was the rookie, so all I wanted to do was go to the field, go get some food and go home. This year I was looking forward to taking time to explore Kansas City, get to know more of it. I hope I'll be able to do that soon.
You're obviously very single-mindedly focused on baseball. Do you have any hobbies or interests outside of baseball, stuff you geek out on?
Definitely. I like to golf. I like playing video games—that takes my mind off baseball, that's my me-time and allows me to catch up with friends. Right now, my favorites are Call of Duty and MLB The Show.
How do you handle the uncertainty of not knowing how the season will unfold?
Skipper Mike Matheny is doing a good job of keeping us mentally focused; we're just assuming we'll be playing soon. Whenever it is, we'll be ready. It's not hard to stay focused on wanting to play ball. We all want to play really bad, and we're prepared.
Has this strange experience of coronavirus revealed anything to you about life in general?
My biggest takeaway is how important it is to truly sit back now and appreciate life, appreciate the people around me, appreciate what I have, and appreciate how fast something can be taken away. We never thought that baseball would be taken away from us. We do it for a living, we do it at the highest level, and baseball was taken away from us. We just have to sit back and wait till we're called. And I hope that when we can play again, everyone will appreciate it that much more.
Interview condensed and minimally edited for clarity.