Sponsored content:
With 40 years of giving under its belt, The Greater Kansas City Community Foundation remains a beacon of insight on charitable contributions in the nation. Their goal? To make giving convenient and efficient for donors through donor-advised funds—which are charitable giving accounts that maximize and organize philanthropy. From humble beginnings, the organization has grown into a unique, supportive infrastructure for donors. In fact, it's one of the largest community foundations in the country, says Debbie Wilkerson, the president and CEO of The Greater Kansas City Community Foundation. "When our community foundation was formed 40 years ago, we started out seeking unrestricted donations, so we could identify the needs in Kansas City and address them with resources we collected from the community," she says. "But we quickly learned that donors in Kansas City were having a great time giving their money away, and they wanted to stay involved in decisions surrounding their charitable dollars."
The organization then shifted gears a bit to put their efforts towards building a platform for donors to give to the causes they care about. "Once we did that, we leapfrogged over other community foundations designed as that big, unrestricted pot handling all of the community's giving," Wilkerson says.
As the Greater Kansas City Community Foundation blossomed in the '80s and '90s, so did its acclaim—including, in the 1990s, receiving national recognition for its ability to accept gifts of complex assets. One donor in particular helped put them on the proverbial map. "Ewing Kauffman donated the Kansas City Royals to the Community Foundation, in order to ensure the team would remain in Kansas City after his death. We are still the first and only charity to ever receive, hold, and sell a major league sports team, and today we work with donors across the country to convert their complex assets to charitable dollars," says Wilkerson. "But more often than that, donors choose us because of our service. Kansas City is truly a center for philanthropy, and the generosity in this community is why our expertise is unparalleled in our field."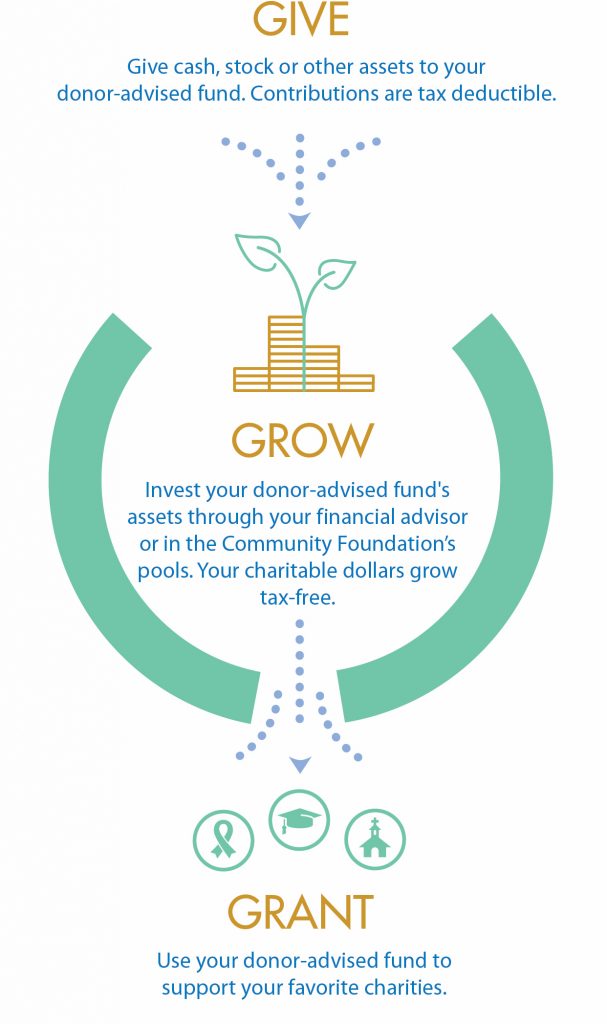 Given that donor-advised funds have been around since the 1930s and are now the fastest-growing charitable-giving vehicle in the U.S., the organization is doing its best to get the word out and reinforce its ongoing mission. "People are becoming more familiar with the concept, but the advisor community [wealth managers, CPAs, attorneys] knows donor-advised funds very well. We love that, because they are our most important referral source," says Wilkerson.
How does the process work? Effectively and efficiently, she says. "Donors appreciate the flexibility donor-advised funds provide. They receive the benefits of a private foundation without the administrative burden, and it's easy for them to create and pass down their charitable legacies," Wilkerson says. "We're incredibly lucky to work with donors during one of the most joyful times in their lives—the point where they've made the decision to set aside assets for charitable giving."
Many of the metro's most worthwhile charities—the Kansas City Art Institute and Children's Mercy, to name a few—have been the recipient of donated funds. It reinforces the civic-minded nature of people in the community. Donors have a say in what cause will benefit from their hard-earned money. "Kansas City is unique in that we have a robust ecosystem fostering philanthropy. For example, Nonprofit Connect works to build the capacity of the nonprofits," says Wilkerson. "Our role at the Community Foundation is to provide donors with a great infrastructure that allows them to make an impact wherever their passions call them."
In addition to their donor-advised funds, the Greater Kansas City Community Foundation takes an immense amount of pride in its out-of-the-box education programs and events. "The work we're doing for donors is more than just transactional. This year we brought in a nationally recognized expert in multigenerational engagement for a series of events to help donors and advisors understand how charitable families can come together and develop strategic, collaborative plans for their philanthropy," Wilkerson says.
Regularly scheduled donor-to-donor events, meanwhile, allow guests to connect with one another and learn about landscapes within the charitable sector—everything from pediatric cancer research and human trafficking to arts and education. "Additionally, we offer behind-the-scenes experiences at charitable organizations, like the MLB Urban Youth Academy and the Truman Presidential Library and Museum. And, we regularly provide volunteer opportunities with local charities to engage donors and their families," she says.
Wilkerson says the organization is here to help Kansas City's philanthropic community in any way possible, and her team welcomes the chance to answer any questions you may have. New for 2020? The nonprofit will focus its energies on impact investing. "Donors invest their charitable assets in a particular investment vehicle that is focused on social or environmental good, but at the same time provides a return on that investment. It is really a triple benefit," she says. "Donors receive a tax deduction for their contributions to donor-advised funds, they're investing their charitable dollars to make an impact, and they provide grants to their favorite charities."
Sounds like a win-win-win to us.