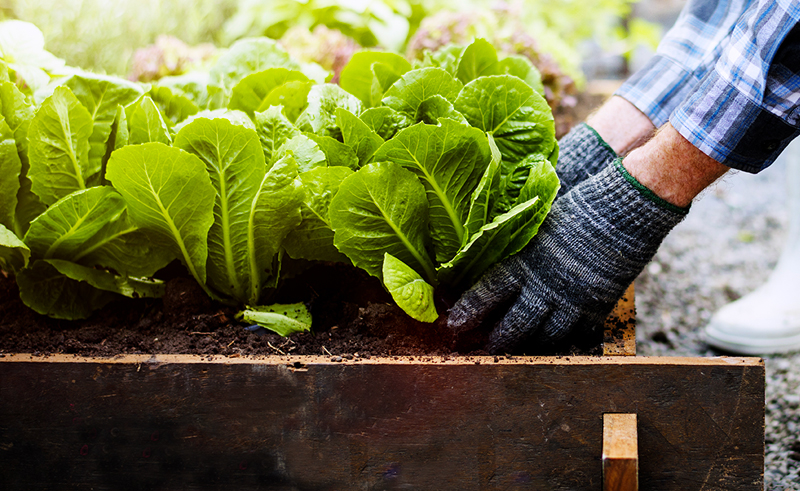 If the contents of your grocery bag have shrunk, but the price of your purchase has swelled, you're experiencing one of 2022's most disturbing trends—food price inflation. The USDA predicts that farm-level fruit and vegetable prices will increase up to three percent in 2022, after rising five percent from January 2021 to January 2022. It's almost enough to make you want to grow your own.
The Kansas City Community Gardens (KCCG) thinks that's a great idea. The not-for-profit, started officially in 1985, was initially envisioned as a way to provide healthy food for lower-income families, says the executive director, Ben Sharda. Sharda has been with the organization since 1985 and has seen tremendous growth.
KCCG was an offshoot of another food-oriented organization—Harvesters–The Community Food Network. When Harvesters started working to rescue food going to landfills and put it into the hands of the hungry in 1979, it was one of only 40 food banks in the country. In its first year, it distributed 155,000 pounds of food. It also distributed packs of vegetable seeds to individuals. An idea, pardon the pun, began to take root.
The small community garden project began seeing more interest—and more need. "They started thinking about what else they could give to people, like fertilizer, vegetable plants, etc.," Sharda says. "Then groups started to approach them, wanting to start gardens for group homes."
As word spread, KCCG spun off into its own organization in 1985, providing low-cost seeds, fertilizer, and starter plants based on income level, as well as schoolyard garden programs, orchards, and community gardens on leased land. The organization has grown over the last four decades, but never more than during economically challenging times, especially the 2008 recession and the beginning of the pandemic in 2020.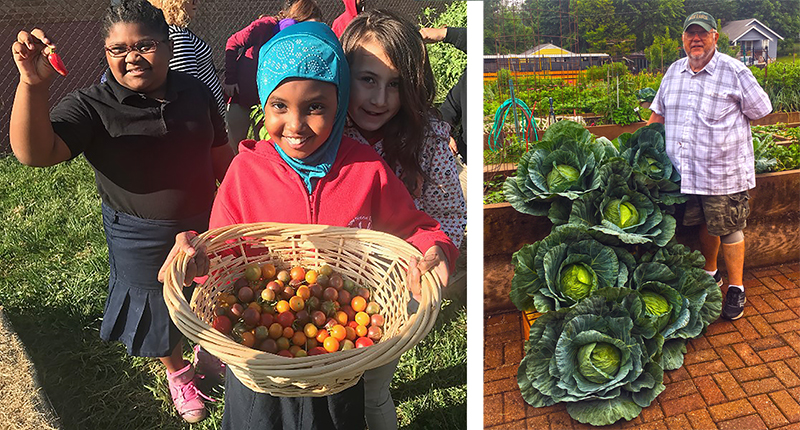 Not Just Growing But Saving
There are many gardening clubs and organizations in Kansas City now, but KCCG distinguishes itself by saving money for its members. The director of development, Jennifer Meyer, says that the financial impact for families is enormous. Memberships are offered in three tiers based on income—the lowest tier is a mere $2 a year and comes with ten packets of seeds, a bag of fertilizer, and starter plants for .50 cents for three plants.
"It's highly, highly subsidized. All in, our cost to help support that garden [for a green card member] is about $150. If you were doing that on your own—getting tilling on your own, buying plants at retail costs, it would be even more expensive—at least double that to garden through three seasons," Meyer says.
She says that their lowest-income clients, who fall below the 50 percent line of the Kansas City area median household income, typically invest around $25 per year in their gardens and get almost $500 worth of produce from their gardens. With nearly 3,000 households serviced across three membership levels (green and yellow are income-based, while blue is available without restriction), KCCG helped grow more than 700,000 pounds of produce in 2021 alone. At $2 a pound, that's $1.4 million worth of produce.
Fitter, Happier
The financial impact of KCCG is undeniable, but health outcomes are also significant. With low-cost materials and training and guidance from KCCG staffers, 98 percent of gardeners successfully harvested food from their garden last year. That success rate not only means that they increased their servings of vegetables (by 98 percent as well), but nearly all gardeners also reported that they stayed more physically active because of their gardening efforts.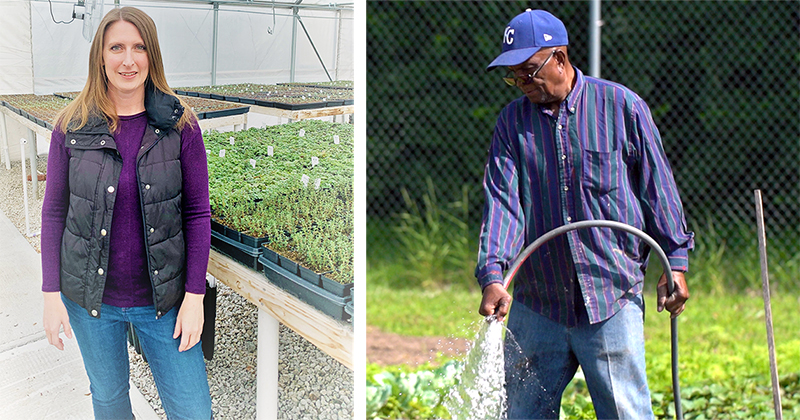 Learning in the Dirt
Sharda says that he understands how growing your own food can help encourage healthy eating. He's a living example. "I didn't like vegetables at all when I was a child. By the age of 12, I ate raw carrots and mashed potatoes. My dad asked if I wanted to help grow a garden. He got me all the seeds and then pretty much walked away. He traveled a lot, so I planted the garden, and believe it or not, the seeds came up, which was amazing," he says.
His gardening experiment led to trying some of his bounty—red peppers at first. This sneaky parenting trick led to a subscription to Organic Gardener magazine and later a degree in horticulture.
Knowing how impactful seeing the entire life cycle of your food can be led to the Schoolyard Gardens project. The Schoolyard Gardens project launched in 2008, building raised-bed gardens on school grounds. Students are involved with every aspect of the gardens, from planting to weeding to harvesting and cooking.
With more than 200 schools in the metro area involved, Meyer says it's not only an excellent opportunity to teach horticulture but to introduce healthy eating habits from an early age. There are schoolyard gardens at every age group, from preschool to high school, with some developed as after-school programming for youth gardeners.
The organization also plants and maintains the Beanstalk Children's Garden on the grounds of KCCG at 6917 Kensington Avenue. The garden is a destination for field trips, self-guided tours, and the organization's major fundraiser, Gardens at Sunset, in September, as well as the free Fall Family Festival. It features many of the organization's more unique plant offerings, as well as sections for vegetables, fruits, herbs, seeds, and grains, water gardens, and insectary gardens.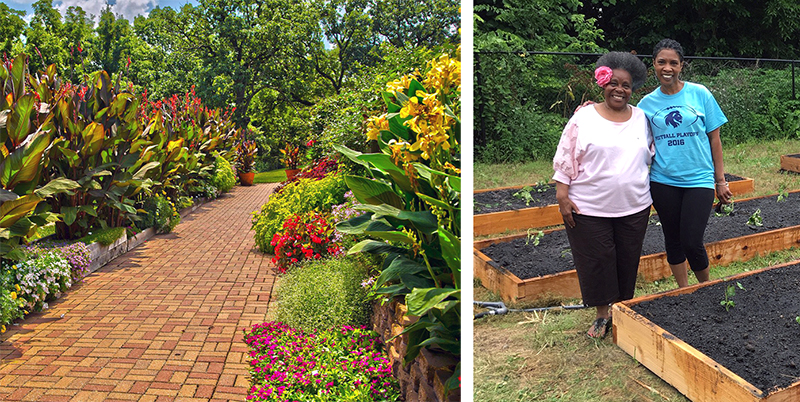 Old Gardeners, New Tricks
As the pandemic hit, mere weeks after the beginning of another year for many Schoolyard Gardens participants, the organization pivoted to at-home learning with video support, which eventually revolutionized their online content.
"We stayed in close touch with many of our teachers, and rather than just shutting down programming, our team did a phenomenal job of figuring out how they could support teachers in the predicament they were in," Meyer says. "Ultimately, what that looked like was a whole lot of video content so the kids could garden at home."
That video content, featuring short lessons on gardening basics such as thinning, pruning, and cooking lessons, has become a digital library of content available for free for anyone, regardless of membership status.
Teaching is another focus of KCCG. Sharda says that while many of the volunteers don't have formal training, they all have a passion for gardening and they have practical experience in the garden. While they used to offer in-person workshops on Fridays, they now record them for viewing at any time on their YouTube channel, Kansas City Community Gardens.
That education isn't just for the kids. KCCG member Cheryl Wyrick has been a member for several years and says she has learned how to extend her growing season using row covers from staffers at the gardens. "My goal is to have enough broccoli and cauliflower to put in the freezer. I learned about row covers from them, which a lot of people aren't aware of. With mild Kansas City winters, you can put in broccoli and cold weather crops super early and not worry about it," Wyrick says.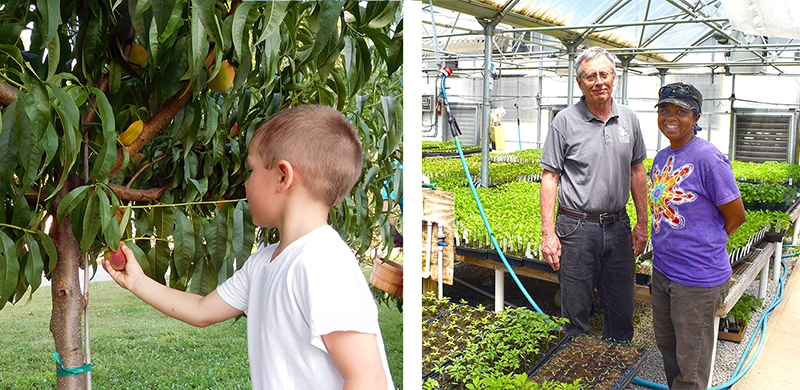 A Tree Grows in Midtown
While packets of seeds may be how KCCG started, their project offerings have expanded, not just in Kansas City but across the nation. Their 2013 offshoot, the Giving Grove, has grown to 20 cities across the country, planting mini orchards in food deserts.
When the Giving Grove started in 2013, they knew that orchards were larger projects that required more community involvement. Within a few years, the program had planted more than 100 orchards featuring fruit and nut trees, with all produce available for free to the community.
"When we started The Giving Grove, there really wasn't anything like that across the country," Sharda says. "Now we have over 200 small, medium, and a few large community orchards, sometimes in particular neighborhoods, some associated with a school or community partner, and they are growing lots of fruit."
Outside of The Giving Grove's organized orchard efforts, trees, berry plants, and brambles are available for low prices as well—only $25 for green card holders, $35 for yellow cards, and $45 for blue cards. Sharda says they try to focus on trees that not only thrive in our unique environment but that are also disease resistant, decreasing the need for chemical pesticides.
Up the Beanstalk
Looking for the best producing and most disease-resistant plants have helped boost those productivity numbers—and keep gardeners growing. While every membership includes ten packets of free seeds, KCCG has also started specializing and now cultivates its own Beanstalk Seeds line, available for retail purchase.
Named for the Beanstalk Children's Garden, the seed line features lesser-known varietals and what Sharda refers to as "interesting" plants. The Beanstalk line features some of the trendier fruits and vegetables, such as ground cherries, yellow doll watermelon, Easter egg radishes, and more for the culinarily minded.
"These are a lot of the special plants that people saw in the Beanstalk garden, like the Bright Lights Swiss Chard. It's a mixture of all different colors, so it's really great for kids and a great garden variety to grow," Sharda says.
Even with the Beanstalk Garden Seeds' higher price point—a whopping $2.50 a pack—they far undercut most big-box stores and garden centers. Better yet, they introduce children and adults to more unique varietals, increasing enthusiasm and keeping gardeners growing.
Kansas City Community Gardens has grown from a relief effort for the hungry to a community of growers in every part of the city. With a tightening economy, they expect to see even more participation as families find ways to cut grocery costs. And with their programs setting the standard for community-based food advocacy across the country, they are leading the way to healthy families, one seed package at a time.