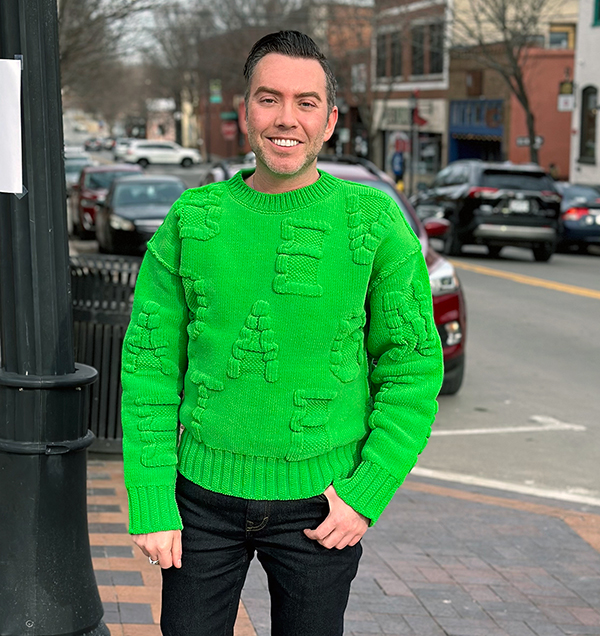 A Different Downtown
On what was a cheerfully mild but still wintery day, I met up with two great friends and charted our way to downtown Lee's Summit for a day of spirited wandering and unplanned adventure. Each time over the years that I've been to LS for distinct happenings, I've found myself saying that I really need to come back and spend a whole day. So, this was the day.
Our date of escapades was to center around the downtown Main Street district. First, however, brunch at a favorite downtown-adjacent restaurant, Pearl Tavern. We got things goin' with their fresh-juice "crush" cocktail of the month—a golden pomegranate crush with rum, pomegranate liqueur and juice, lemon juice, and Sierra Mist. Fresh and scrumptious. We meandered around the menu, ordering plenty to share, including the hush puppies, blue crab dip, crab rangoon, and Nashville hot popcorn shrimp. Because Pearl Tavern is known for its rotating menu of fresh fish delivered daily, I went with the fish and chips (Alaskan cod—and perfect), but I didn't mind helping myself to samplings of my friends' Belgian waffle and B&G. When the dessert tray arrived, we couldn't pass up the key lime pie or the peanut butter pie. Ooof—already loaded and only stop number one!
After a bigger-than-planned brunch, I needed caffeine. Fortunately, as we were parking on Main, I spotted the chic Frost Coffee and Tea. Just a cappuccino for me, but I would note that their case of pastries and breakfast sandwiches looked awfully enticing. 
We next popped into A Thyme for Everything—a specialty grocer and gift shop—and simultaneously ran into an old friend of mine, Jennifer Pine. Jen showed us around the shop, which carries numerous gourmet food items (think dried pastas, soup mixes, cocktail accouterments) as well as an array of fun kitchen gadgetry and other gift items. With spring on the horizon, I was in the mood for some lighter scents for the upcoming season. Out with the firewood and in with the Hedgerow (I'm immediately transported to the Hamptons) from my all-time favorite candle purveyor, Mixture, and a citron geranium one from Linnea. Oh, and I filled a box with Christopher Elbow Chocolates. Perfect for snacking later. In addition to retail items, the shop also features a full kitchen where they host (BYOB!) cooking classes conducted by local chefs. Upcoming classes include sushi, Sicilian, prime rib, and Mardi Gras feast courses. Note: all were already sold out, so get your tix fast.
Next, we dropped into Cameron's, a home-furnishings store that focuses on the Norwalk line of custom upholstery furniture, as well as a bevy of home accessories. Aside: my very first sofa was a custom mushroom velvet number that held up beautifully. 
Did someone say time for another cocktail? No, but we walked by the incredibly stunning Hand in Glove, and found it impossible to resist the magnetic pull. We saddled up to the solid Carrara marble bar, mesmerized by the soaring, library-like shelves of obscure bottle after bottle. Straight to business. One glance at the menu, and I knew I was getting the Toki-Doli-Parton martini, made with Toki Japanese whisky, pineapple, and burnt sugar. Oh, and a floating wafer on top with the one and only Dolly. The menu is a dizzying array of whimsical ingredients, from breakfast cereal to mole-spiced coffee, artichoke liqueur, and Nutella foam. Incredible creativity, invention, and talent here. And the space is just plain gorgeous. Upstairs, there's a nighttime speakeasy bar called The W. But, sadly, it was not open yet for the evening. Another trip. . .
We then stumbled upon another unique shop, Embers Candle Bar. It's a candle-making experience center where you choose your own combination of scents to create and pour a custom candle. There are also pre-poured candles and other gifts, to boot. With a shopping bag already full of candles, I picked up a stack of watercolor note cards. You can never have enough cards on hand. I will admit, though, the candle-making looked super fun. 
Across the street, a small, nondescript hanging sign with a single hot-pink elephant, caught our eye. Why not drop in? It turned out to be—a bar. Who knew this day would turn into a pub crawl? We were greeted by the super warm and friendly owner. We had a relatively quick round of drinks in this gentleman's den-like space before we were told that we had to check out another nearby bar belonging to his friend. So, out of obligation for this thoughtful neighborliness, we made one final stop at Bricks Pub & Grub. We arrived, somehow, at happy hour. Ready for some food to balance out the booze, I ordered one of everything on special—chips and queso, white cheddar-cheese curds, soft pretzels, you name it. And a margarita, because the entry sign had a big lime on it, and it just seemed logical. Looking around—every table full—I remarked how there was just about every kind of person in the room—families with little kids running around, single young friends whooping it up (ahem!), gay/straight, black/brown/white—I'll admit, it wasn't the mental picture of Main Street Lee's Summit I had when I walked out my door that morning. But there it was, a rich tapestry of people connected by the hard-to-describe midwestern hospitality that confronted us at every stop. We got the "you must not be from around these parts" looks followed by a slap on the back and suggestions for what spot we should check out next on our journey. It was a really fun day. And I encourage everyone to give it a similar, unplanned try.
---
Tempest Tossed
Call me an invitation snob, but I can usually tell how good a party is going to be from the printed invitation. And giving credit where credit is due, my heart went aflutter when I received and opened my luminescent invite for The Heart of America Shakespeare Festival's Romantic Revels Gala. The event annually coincides with Valentine's Day weekend, and this year's theme was full of tropical island flair. The gala is the primary source of funds for supporting not only the beloved three-week Shakespeare Festival in Southmoreland Park, but also summertime camps for children and year-round educational programming in Kansas City area schools. Curious about this year's festival? I got you! 'Twill be The Tempest, June 13 through July 2. Plenty of time to get your picnic basket ready.
At this year's gala, hosted at the Intercontinental Hotel, silent auctions kicked off the evening. The signature Tempest cocktails were flowing, and—as always—it was so great to catch up with all the people I can count on seeing at this event every year. Inside the ballroom, candelabras flickered, and chandeliers sparkled in Shakespearian fashion. The always bubbly HASF executive artistic director, Sidonie Garrett, welcomed the gala revelers. Honorary chairs Drs. Susan and Charles Porter were on hand to graciously bestow the Founder's Award to Linda Word. Meanwhile, I nibbled on the surprisingly delicious surf and turf meal, chatting the night away with the lovely Paul Gutiérrez (adorned with two faux white macaws perched on his dinner jacket) and Lisa Yansura. "O brave new world that has such people in't!"
Spotted: Congressman Emanuel II & Dianne Cleaver, Barb Bloch, Ed Milbank, Michael Fields, Bernie & Scott Ashcraft, Ursula Terrasi, Suzanne McMeel Glynn, Carmen Sabates, Dan Nilsen, Alex Cole, Don Loncasty, Dr. Terry Anderson & Michael Henry, Deirdre Devine, David Jimenez, Loretta & Tom Mentzer, Garrett Toms, Laurence & Edward Bate, Linda Lighton & Lynn Adkins, Guy Townsend, Tere & Dr. Matthew Naylor, Courtney Gonzalez, Kathryn & Chris Bannister, Meghan & Andrew Schulte, Janney & Josh Polsinelli, Lindsey & Brad Heinz, Taylor Smith, Jon Fulton Adams, Carol & Fred Logan, Sally Nelson, Jay Nichols
---
Who Are You?
It had been years since I last visited Vulpes Bastille Gallery for an art show. So, when I learned that my friend Mark Allen was assembling an anthology of his works, I got my chance to return for opening night. Mark's solo exhibition, You Are Not Who You Once Were, is an assemblage of photography, paintings, sculpture, video, and installations created by the artist over the past 15 years of his career as a visual creator. 
Like a beautiful invitation, even the exterior of the building is draped with deconstructed and shredded images printed on vinyl, offering a taste of what's to come. Inside, guests are confronted with a home's facade, with a door by which the viewer enters this temporary residence, complete with bed, bath, living, and dining rooms. Hundreds of images are presented in an overwhelming display of encasing the interior space.
I spoke with Mark about this exhibit, which is a personal one for him because it's the culmination of his life as an artist thus far and the final big splash before he packs up for Brooklyn to obtain his MFA in photography at the illustrious Pratt Institute. (Notable alumni include Jeremy Scott, Betsey Johnson, Robert Redford, and Ellsworth Kelly.)
And about the show's title? It's not directed toward you or anyone else. "This statement is self-directed and acknowledges personal evolution and growth—a requiem for a former version of myself." The use of his archive was an opportunity for Mark to revisit old work with a fresh perspective, comparing and contrasting working methods, messaging, and processes. In doing so, he found that he no longer recognized the person he once was. He became disinterested in what he once considered his "best work," and discovered a new, larger interest in the mistakes made along the way. 
The works include hundreds of photographs—many never exhibited before—printed from Mark's digital archive, ranging from 35mm negative scans from his early days of analog experimentation to more recent digital photographs. He used various forms of bleach baths and sprays to alter some of the images, removing some of the contexts, and bringing out new forms and compositions. It's the actualization of the MGMT lyrics from the song Kids: "Memories fade, like looking in a fogged mirror…"  The process not only creates beautiful marks, textures, and colors but also comments on our own memories and how they fade over time, tasking our minds to fill in the missing pieces. It's the exhibition form of digging through an old box of saved but forgotten mementos. Through the lens of time, the objects take on different meaning as well as the memories associated with them. Never static. Always changing. Ever evolving. 
Spotted: Rep. Mark Alford, Mayor Quinton Lucas, Caranne Camarena, Lauren & Jack Merriman, Lacy Gordon, Amber Botros