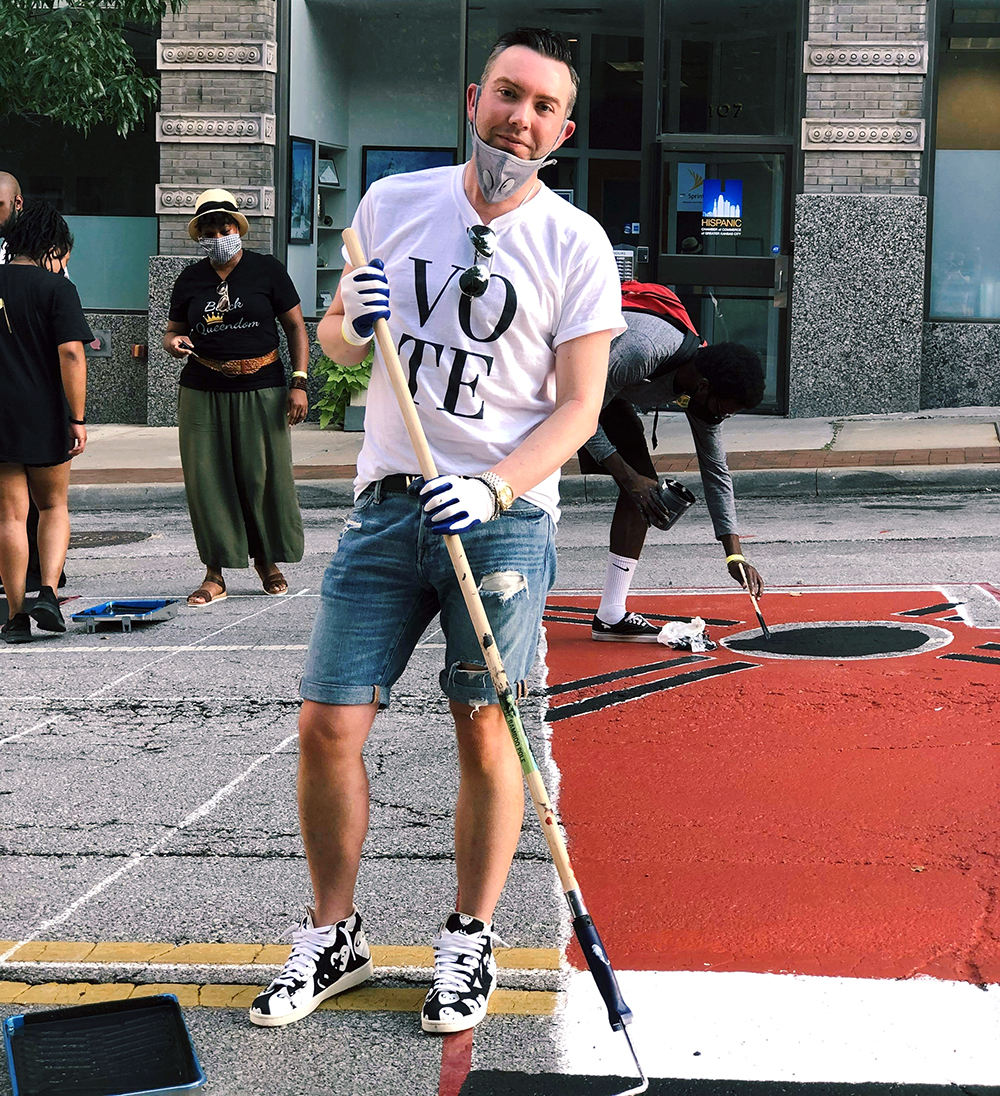 In a serendipitous, full-circle moment, I sit at my laptop in Colorado, where I was three months ago. I was hiking along a creek roaring with fresh snow melt, when I had a small idea. George Floyd's still-recent murder—and the excruciatingly painful video of his last breath being squeezed from him over the course of eight minutes and 46 seconds—were still very much on my mind. For my respite of mountain solitude, I'd packed a small stack of race and social-justice books. Those, coupled with the omnipresent public attention to a burgeoning movement, inspired me. Like many Americans, I felt an urgency to do—something. But like so many, I wasn't sure where to begin, or what I could do. I'd just seen the city of Washington, DC, complete a memorial street mural, and it felt like Kansas City needed a similar public value statement—a statement reaffirming its commitment to improving equal justice and opportunities for its most underrepresented community members.
I'll be honest. The initial idea was a modest one: obtain whatever city approval required, buy some buckets of paint, pay one of my artist friends to help paint the downtown street I live on, and Kansas City would have a street mural. But as quickly as the idea came, it also grew. The next day, with ten hours of idle driving time on my return to KC, I began calling people. The very first was Crissy Dastrup, co-founder of Troost Market Collective. Together, we quickly recognized the opportunity to do something bigger in a way that could involve the entire community. Almost immediately, the Urban League and NAACP Kansas City chapters joined as inaugural partners. So, we began planning.
Locations, Artists & The City
With added partners, the initial downtown location expanded to three. But with a growing list of locations, a desire for geographic diversity also emerged. And as we reached out to various stakeholders in other commercial corridors stretching from both ends of the city, others excitedly jumped on board. Some even came to us. Suddenly, there were six.
But we still needed artists and the city's approval. The legendary Pat Jordan led us to Natasha Ria El-Scari, founder of Black Space Black Art, who helped identify six local Black artists, each adept in large-scale projects of this kind. That incredibly talented and illustrious group was comprised of Vivian Wilson Bluett, Adrianne Clayton, Warren Harvey, Avrion Jackson, Harold Smith, and Michael Toombs. Each artist, working within the framework of uniform block lettering, began producing six unique designs, each reflecting their personal style, as well as the identity and fabric of their paired neighborhood. As for city approval, Councilman Eric Bunch introduced a resolution endorsing this necessary project, and it was immediately passed by the city council, 12-1. That happened without delay—not because working a proposal through city government is traditionally quick and simple, but because the resolution reflected hundreds of hours of planning, care,  and attention; because of the highly respected, cornerstone social justice organizations that publicly championed the project; and because the effort was entirely privately funded—we asked the city for zero dollars. Additionally, I suspect that the values reflected by the project were also personally shared by the near-unanimous membership of the city council as well as majorities of their respective constituencies. Thus, in a matter of minutes, the City of Kansas City, MO was added as a fourth partner, and it was official: the streets of our city would reflect our values and bear the simple but powerful words: Black. Lives. Matter.
What About All Lives?
I think of it this way. I wouldn't walk into a breast cancer benefit and pose the question—but, what about prostate cancer? Don't all cancers matter? The "Save the Whales" slogan doesn't suggest— 'I don't care about other living creatures in the sea,' or that starfish somehow matter less. In the aftermath of the Boston Marathon tragedy or 9/11, no one argued that all cities or all buildings matter. The very obvious rationale is—most everything among us has value and matters. But it is OK to spotlight certain issues or categories as necessity dictates. And right now, it is our human obligation to shine a light on the disproportionate injustices faced by Black communities. Those equitable deficiencies encompass everything from dying at exponential rates due to the coronavirus to innocent children being shot in their own neighborhoods for grabbing a bag of Skittles or a can of iced tea out of their pocket. Black lives are uniquely in danger at this moment in history—and have, quietly, been for some time. This is why we, as compassionate beings, must profess—in actions and in deeds—that their endangered lives matter.
When we organizers received two credible death threats, they were immediately forwarded to the police. Yes, the police—those officers of the law, whose primary duty is to protect us. Perhaps paradoxically, many of them were the first to support our project. Those same officers kept us safe while painting, stopped to watch and take selfies, and even knelt to put their paint strokes on this powerful statement. They did not ask whether blue lives also matter, and if so, to what degree do they compare to the value of a Black life. Because they, and the community members of every skin tone who joined together that day, know that caring for Black lives and blue lives are not mutually exclusive. Yet, law enforcement interactions with Black persons were three times more likely to end in death than the same interactions with white persons. This is why we must say the words.
Absolutely all lives matter, and all lives include Black lives. But we cannot rest on our laurels and proclaim that every life matters if we cannot first agree that Black ones do. And once we can collectively agree on that critical steppingstone, then someday we may be able to extol a universal belief that all lives matter. But I don't believe anyone can adequately argue that we have reached that pinnacle of enlightenment yet. The nightly news is full of examples that would contradict that rose-colored, wishful projection.
Permanence and Purpose
To some, this might seem like a trivial art project that will eventually wear down and fade away. And in a certain sense, that is true. There will be some upkeep and maintenance, but eventually the murals will fade. Their impact, however, will remain. This year, people who'd never before spent time considering what systemic racism is and whether it exists, are suddenly opening their eyes. Now, with their eyes open as they traverse the streets of our city, they're going to see something different. We hope these words cause them to pause and think further. Because each one of those first-time pondering minds that shifts is one additional grain of sand on the scales of justice—weighing closer and closer toward that elusive "tipping point" we're seeking—the point when we don't have to paint streets with the words "Black Lives Matter" because everyone will already know and agree.
White Ally Challenges
Doing this—and being white. It's a difficult topic, but one I've been asked about quite a lot. I think that's because many people with good intentions are unsure how to approach and navigate delicate subjects right now—and I certainly fall into that category myself. Just a couple days after that lengthy drive of thinking and coalition-building, I awoke with a sense of panic. I'd never worked on anything like this, and I was worried about all the things that could go wrong (optically) by having a white person, with a certain amount of privilege, fighting what others might perceive to be "not my fight." Or even my place. And the fear of not saying the right things, or doing things the right way, nearly paralyzed me from doing anything at all.
I remember listening to KCUR 89.3 that morning and hearing Congressman Emanuel Cleaver II on Up to Date. He was talking about how, just days before, for the first time in his half-century of protest involvement, he held back tears when he stood to speak near the Plaza and looked out on a majority-white crowd. He called it a "great awakening" and a unique moment in American history. That framing not only helped me recognize the obligation, but it gave me the courage to push through my fear and to forge ahead. Because I was realizing too, that this moment is different. And it is different because more people just like me are finding their voices and are using them to speak up. I recognize that there's no single reason we find ourselves in this situation of prolonged inequality, but I believe that fear, held by those who can and should use their voice, is chief among them.
As white allies engage in this work, it is important to be open to listening, learning, and adjusting—likely, there are gaps in your American experience that you're unaware of. The takeaway from my experience is that, if I could be a small part of an incredible coalition of both legacy institutions and committed community members building from scratch a city-wide call to action, then anyone can. And I hope more ordinary people, like me, do.
Forward…
Converging crises are raising public awareness of issues that underrepresented communities have focused on for years. The coronavirus has laid bare gross inequities experienced by minority populations, at the same time as massive protests spotlight systemic racism in policing and criminal justice. Though it's been a cataclysmic year, this could be the silver lining: long-lasting, overdue progress on social justice and civil rights. While murals covering a city cannot promise that aspired outcome, what they can do is ignite dialogue and conversations, one step or drive on the pavement at a time. And it is modest steps like these that keep bending Dr. King's arc of the moral universe toward justice.
Over the past three months, I and three others who met for long hours at my dining room table every Wednesday night (Crissy, Justice Horn and Marissa Iden) thought we could lend some organization and momentum to this initially modest idea. But you can't organize a list of people with no names on it; you can't create a thoughtful city-wide arts installation with no talent; and you can't manifest a bold vision with no money. This project (the largest of its kind to date) happened because of what so many incredibly generous people in our community brought to it. And we are grateful. Also grateful are thousands of people who live in this city, whose lives were impacted. So many were able to witness, firsthand, how public art can not only draw communities together, but how deeply and emotionally it can connect with people. I've never had more face-to-face tearful conversations with pure strangers, than I did this weekend. It struck me, and continues to strike me, how much three simple words can mean to people, each of whom had their own stories to tell, and now this is one of them. It is a story of healing.
To the thousands of our Black brothers and sisters whose murders weren't captured on a cell phone video—whose names will never be known—and will never appear on murals such as these—we will work to prevent these avoidable losses of life and heal those affected when they do occur. Our ultimate hope is that, as our community moves on from this project, we can each find new ways to continue facilitating this healing as we simultaneously work to secure the blessings of liberty—for all.
---
So, KC—where do you want to go? XO
email: dlair@inkansascity.com  | Instagram: @damianlair #OurManINKC