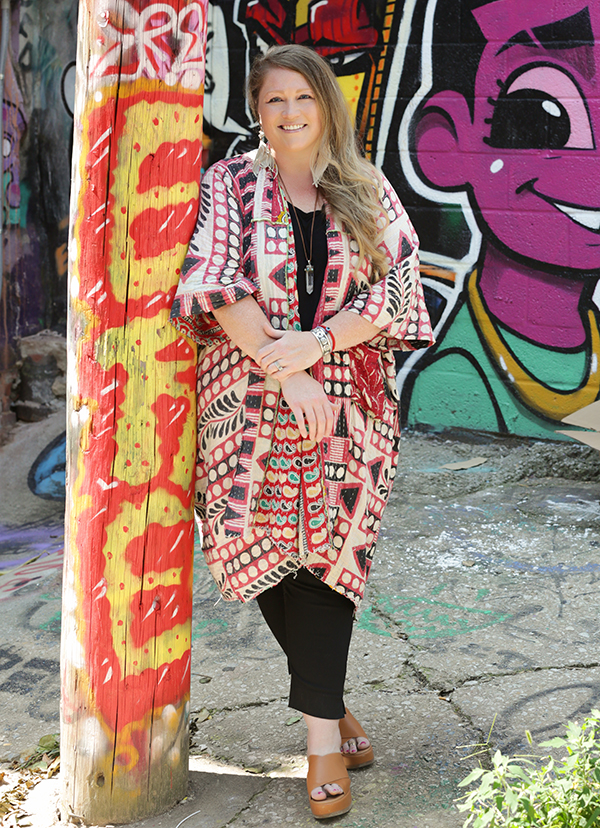 When Crissy Dastrup moved to Kansas City 14 years ago, the city instantly felt like home. "I've lived all over the country—Seattle, Norfolk, Texas, Arkansas, Oklahoma, Utah—and I recognized Kansas City as the place I wanted to raise a family and put down roots," she says. "Our city is still defining who it wants to be and feels like a place where you can make an impact. That was an exciting prospect 14 years ago when we saw the skyline for the first time and remains true today." Dastrup quickly got involved in the KC community as the founder of Troost Market Collective (TMC), a nonprofit focused on creating equitable economic opportunities for creative entrepreneurs of all backgrounds—especially along the Troost corridor. Today, she serves as TMC's board chair, as vice president of the Hyde Park Neighborhood Association, and she's running for a 4th district seat on Kansas City's City Council. crissyforkc.com
---
Crissy's essentials…
Shop Til' You Drop: One of my favorite new shops in the Crossroads is Black Rose Co., where I find a bit of the unusual and macabre that matches my very eclectic palette. 
Local Maker: I'm obsessed with the one-of-a-kind earrings handmade from natural and vintage finds by Lashon Mack (@soulrebel_). The entrepreneur and mother of nine vends at 18th & Vine and will be at Troostapalooza on October 8. She's one of the many KC women I admire for her strength and resiliency.
Made-in-KC Scent: Wildcraft Co.'s (@wildcraftco) Sacred Smudge is my favorite year-round scent—the smell of Palo Santo soothes my soul. It's made locally in the Crossroads at The Bauer.
Self-Care: Midtown Kava on 39th Street is filled with my favorite self-care finds. It's owned and curated by one of my favorite women small business owners, Sarah Waters. I love all their products and treat myself to a fresh CBD-infused cold brew or artisan soda when I need a quick refresh! I source my doggy self-care CBD chews there, too. 
Local Sip: The Cherry-O from Ruby Jean Kitchen & Juicery on Troost is my go-to. I know it's healthy, but it tastes like a serious indulgence. I always see some of my favorite faces at Ruby Jean's and appreciate the focus on health they bring to the Troost Corridor. 
Fall Activity: Troostapalooza!—watching historically divided communities come together and build the future they want while supporting local creatives.
Breakfast Spot: Anchor Island Coffee on Troost is an LGBTQ+/minority-owned coffee and food place with the best breakfast burritos and flavored coffee drinks—the Choripapa can't be beat, and their hot chai is always on point.