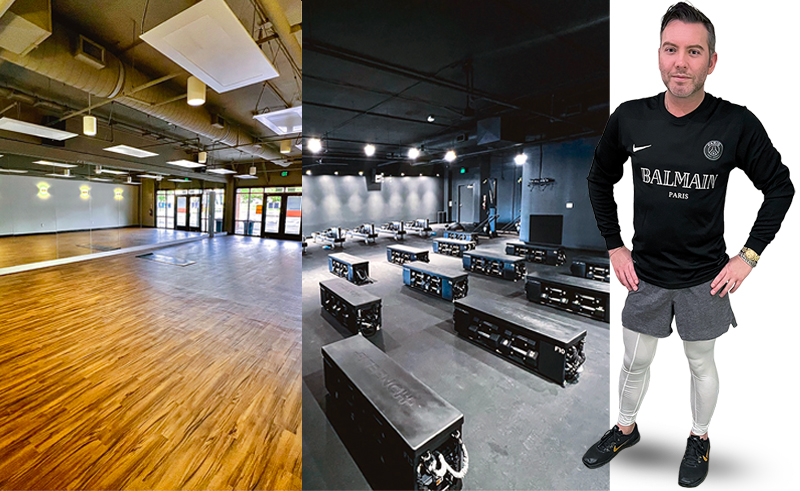 HI/LO Workout
At the encouragement of my friend Denise Delcore, we met bright and early before work at Sweat Forum in Prairie Village. Located in the State Line Shopping Center at State Line Road and 76th Street, Sweat Forum is a women-owned business that's a group fitness community.
SF's approach can best be described by their split, balanced concept: the HI room and the LO room. In the HI room, they offer an array of strength and cardio classes that target alternating muscle groups. I did the 50-minute Arete H.I.I.T (high intensity interval training) class, led by instructor Jackie O'Leary, who offered beginner, intermediate, and advanced options at every step. The all-black room boasts the perfect level of super-dim lighting and a killer playlist of beats that gave me life at this sunrise hour. Interval training is an incredibly efficient way to torch the body, which is why it's my jam—lots of bang for what pockets of time remain in my always-packed schedule. And bonus—you'll keep burning calories hours after the workout.
The Arete class cycles through all of SF's state-of-the-art equipment: benchwork, bands, free weights, and water rowers. And on the topic of equipment, it bears noting that I was impressed to the point of speechlessness. I've taken a lot of classes at a lot of gyms, but I've never left gushing to friends about equipment. Everything felt good—even luxurious—to the touch. First, everything is beautiful and black. You had me right there—incredibly chic. The foam-top benches were solid but with the perfect amount of cushion and support. The rubber medicine balls provided a grip-able texture, without feeling like they'd been thrown around by hundreds of sweaty strangers. Even the rubberized floors, which looked like plenty of others I've encountered, just felt nicer—matte and dry, not sticky. In one word, it all felt expensive. And, hello, who's going to argue with that? Whomever sourced it all should be given an award.
In the LO room, the focus is on mobility and heat. Yoga and low-impact classes place emphasis on movement, breath, reconnection, and the mind. The LO room also features infrared heating panels in the ceiling. I've expounded on the benefits of infrared heat in this space before, but for a refresh, the dry heat warms your body from the core, increases flexibility and circulation, and reduces stress, joint pain, and inflammation. I'm ready to get back and try a LO room class next.
SF has showers on-site so you can clean up before heading to work, and their monthly and annual unlimited packages struck me as quite reasonable, given the elevated experience you'll have. Not to mention, I was sore the next day—the best sign that whatever Jackie had me doing worked. On the way out the door, I grabbed a protein-infused coffee from the cooler, feeling incredibly energized and accomplished for a day just ready to begin.
Luck of the Irish
I have been to Gaels Public House & Sports on several occasions—both for events and just drinks with friends. But what I hadn't yet done is properly try their food. So, on the eve of St. Patrick's Day, I thought it appropriate to head over to their Troost location, on the southern end of the Rockhurst University campus, for some Irish (or more broadly, northwest European) fare. Proprietor and friend Derrick Bachman had left for the day, but we were in plenty capable hands. Boasting three bars and 26 (!) massive TVs, Gaels is very much a watering hole—but one that doesn't overlook its restaurant undertaking, which too often translates as an afterthought at some spots.
Hot Gossip: Whose very distinctive "lost" belt was spotted on someone else?
With a menu much larger than I was expecting, we dug right in. First up: those delicious, long, thick house-made potato chips paired with a dome of aged-cheddar dip. I've heard their beef n' bites (fontina-topped stout meatballs resting in a cheddar cream) are also a hit. The menu also boasts a sizeable variety of pub-style pizzas—so, we had to try. We went the more adventurous route with the kit and caboodle (pepperoni, sausage, bacon, chicken, and lamb, paired with a red sauce.) The square pieces essentially collapsed under their own weight of meat, which was hardly a bad thing. Note: there were plenty of leftovers for the days ahead. Skipping over what appeared to be delicious wagyu beef and lamb burgers, I was reminded why we came. The shepherd's pie was a no-brainer. While not my go-to dish on any menu, this one packed a ton of flavor and might be the best I've ever had. Success. And last, but absolutely not least—the bierock. Beef, cabbage, carrot, onion, and cheddar impossibly stuffed inside a seamless and crisp yeast dough pastry. It was so pretty and perfectly browned that I hardly wanted to cut into it. Hands down, a winner—the bierock and the entire dinner experience.
A Farm in Mission
It had been awhile since I visited Enjoy Pure Food + Drink, so I thought I'd drop in on a recent trip to Mission Farms in Overland Park. To my surprise, it had doubled in size since that last visit. Clearly business has been good. And it's no wonder—their incredibly robust menu of food and drinks makes healthy eating a breeze. With dinner right around the corner, I skipped over the more substantive options. But their smoothies, bowls, salads, sandwiches, wraps, burgers, boxed lunches, and separate breakfast menu made me wish I'd come with more appetite to spare. Well, another time . . .
Instead, I went straight for the juice bar. Pure juices are named for their properties: Cleanzing, Metabolizing, Oxygenizing, Rejuvenating, and Greenzing. I grabbed one of each—one for now; several for later. You save by buying in bulk, as the woman ahead of me in line was taking advantage of for a juice cleanse. Not a bad idea. I'm a huge fan of cleanses (ask me sometime about my crazy, annual "lemonade diet" borrowed from Beyoncé). Cleanses are great for giving your body, digestive tract, and waistline a little rest. Or a big rest, depending on duration. While at the register, I also picked up some of their protein balls in lemon-turmeric and cookie dough flavors. Perfect for a little pre- or post-workout. Everything at Enjoy is made with our on-the-go culture in mind. So, whether you're dining in or grabbing to go, you'll wind up with something nourishing and delicious.
Overheard: "How many DIY bloop-gloop paintings can the market absorb?"
Aside from my later dinner date, I'd headed out this way for something I'd been wanting to try for years—cryotherapy. I'd made an appointment at CryoSalon to give it a whirl. For the uninitiated, cryotherapy is a hyper-cooling process designed to reduce musculoskeletal pain and inflammation by rapidly lowering a person's skin temperature. There are various choices, but I opted for the full-body session. Stripped to undergarments, plus socks and gloves, you're encapsulated in a liquid-nitrogen-cooled chamber for three chilly minutes. My chamber was set to -305°. That's no joke. I, of course, insisted on some pics for my Instagram, which gobbled up one-and-a-half minutes. Hey—halfway there! The rest went by much more slowly but was entirely tolerable. More tolerable, I discovered, if you dance around a little.
The purpose of all this? Well, the sudden temperature drop stimulates the nervous system, prompting your body to constrict tissues—sending blood from the skin surface, muscle tissue, and surrounding joint space to the core to protect the body's temperature. As the blood travels to the core, it passes through the cardiovascular system where it is cleansed of toxins and supplied with oxygen, nutrients, and enzymes. This circulation and cleansing repeats on a continuous loop for the duration of the extreme cold exposure. Upon exit and a return to normal temperatures, the body begins circulating that enriched blood to cleansed, peripheral tissues.
Athletes commonly use cryotherapy sessions to increase recovery and performance. And in that vein, CryoSalon also offers localized cryotherapy and compression therapy for isolated areas of the body—think of a puffy sleeve that fits over arm or leg suffering from a soft tissue injury. This can accelerate healing, alleviate muscle stiffness and fatigue, and reduce swelling and pain.
Another service offered, which I'm sold on trying next, is their ten-minute cryo facial. Imagine a blow dryer directed at your skin, but with freezing cold air. This is said to increase collagen production, tighten skin, and reduce pore size and puffiness. And makeup wearers will love that no cleansing is required. You're in and out. Leaving my appointment, I'll admit that I noticed a late-day jolt of endorphins and energy; a day's worth of fatigue and cobwebs had been blasted away.
Finally—dinner time! Having opened not terribly long before the pandemic shut everything down, I'd not yet visited Páros Estiatorio. So, I met a friend there to finally experience what everyone had been long buzzing about. We sat at the bar because that was the only Friday night reservation I could obtain a week in advance. Good sign. From the moment I opened the menu and saw the word Mezés at the top, I sighed aloud, "Man, I really miss Greece."
Named after the Cycladic island, Paros serves honest Greek fare with a modern twist. Nothing flashy—just everything done the right way. So, as one does in actual Greece, we embarked on a tasting tour. For the two of us, we managed to narrow the mezé/starter options to just three. Like queso at a Mexican restaurant, there is no set of circumstances that I can see spanakopita (flaky filo triangles filled with spinach, feta, leeks, and dill) or dolmades (rice, lemon, mint, and dill rolled and wrapped in grape leaves) on a menu without ordering. They're the table stakes of any proper Greek meal and call my name like sirens at sea. For good measure, we also threw in an order of char-grilled octopus. All lived up to my Grecian dreams.
We skipped over salads, though I have a strong sense that the grilled peach and roasted beet options would have been dynamite. For entrées, we shared the traditional moussaka (casserole layered with ground beef, eggplant, potato, zucchini, béchamel crust, and lamb jus) and the arnisia souvlaki (grilled lamb skewers) plus sides of feta mashed potatoes, braised lima beans (far better than I remember as a child!), and Greek fries to boot. And there was zero chance I was leaving without baklava for dessert. The whole meal was as divine as the space was fresh and beautiful. Not quite a summer of island-hopping in the Aegean Sea, but considering the time and cost savings, it was a pretty good proxy. For now.
---
So, KC—where do you want to go? XO
email: dlair@inkansascity.com  | Instagram: @damianlair #OurManINKC