Nearly eight months.
That's how long we've been living with the Covid-19 pandemic. And just as we're getting used to wearing masks and staying six feet apart and having small gatherings outdoors, we're about to head inside for a cold and dark pandemic winter. Feeling some disillusionment with this whole thing? Pandemic fatigue setting in? You're not alone.
We may be facing a long winter ahead, but that doesn't mean we cannot prepare for it. Here are five ways to prepare for our upcoming pandemic winter of 2020.

1) Get outside when you can.
Sunshine, fresh air, and just being in nature can be a healing balm for many of us. On those days when we are having gorgeous fall weather, make a point of getting outside to enjoy it. And once it gets colder, continue to look for ways to get outdoors and grab a bit of sunshine.
Can't get outside? For artificial sunshine indoors, consider purchasing a full-spectrum light box. Make sure to find one that puts out 10,000 lux. These light boxes have long been used to help people with depression have a better mood and more energy during the darker winter months.
2) Keep practicing physical distancing.
As temperatures drop, you may be tempted to bring your social gatherings indoors. Resist that temptation.
Since the coronavirus spreads through the air and droplets, just breathing in the same enclosed space for the period of time long enough for a social gathering creates an opportunity for that virus to spread quickly. Take off masks to eat and drink—or just because we tend to feel safer around people we know—and that risk of infection increases substantially.
If you do have indoor gatherings, use a large and well-ventilated space, wear masks for the duration, and keep six feet apart from people who aren't in your household. And be kind and compassionate towards those who don't feel safe attending your gathering.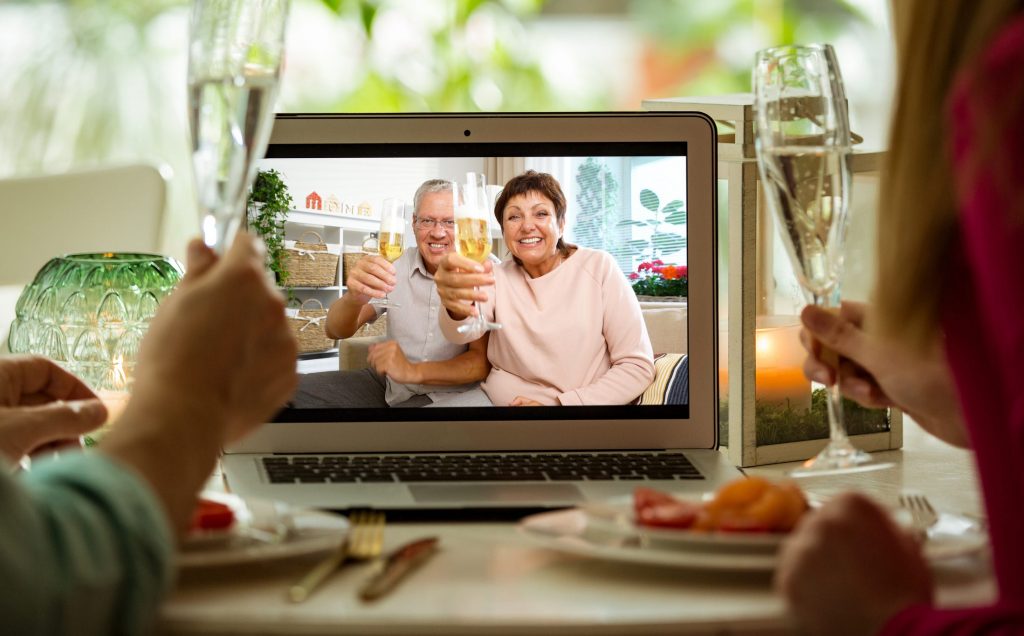 3) Connect with others on and off screen.
Even while avoiding close, in-person contact, we must still find ways to nurture our relationships and social connections. This is the time to get creative in how we connect.
On screen, we can connect with loved ones using video conferencing tools like Zoom or FaceTime. Try sending videos, pictures, GIFs, or voice messages back and forth to connect between those live conversations.
Off screen, we can still connect with each other, even in this Internet age. For your neighbors, use decorations or display written messages by hanging messages to your door or chalk writing on the sidewalk work. For friends near and not-so-near, try dropping off treats or small gifts on their porch or by their door. And for loved ones further away, use the good old U.S. Postal Service to deliver greetings, treats, and small gifts. (Who doesn't love personal mail?)
4) Plan for positive activities indoors.
Depending on your hobbies of choice, the winter may bring difficulties in finding enjoyable things to do. Now is the time to start looking for activities you can do indoors with the people in your household or small circle of friends. Offline, you can make crafts, play music, or practice woodworking, for example. Online, you can have virtual gatherings for all kinds of purposes—playing board games, discussing a book, or showing off the new projects you've made with this indoor free time.

5) Explore new holiday traditions.
The holidays will look different this year for many of us, since large gatherings are to be avoided. First of all, it is completely okay to have a variety of feelings about this. Sadness, anger and fear are common emotions in the face of disasters like the Covid-19 pandemic and all the changes the pandemic has brought to our lives.
While honoring your feelings, you can also start thinking about ways to celebrate the holidays!
What about dressing up in costumes for a Halloween Zoom call or cocktail attire for a virtual New Year's Eve party?
Why not check out a virtual festival for Diwali?
Prepare special recipes for Día de los Muertos and drop them off on your loved ones' porches?
What about sending a special ornament to each person who would be at your Christmas gathering and then get together on a video call for each person to display their new ornament and share a holiday story?
You have plenty of time to think of something new and special. And who knows? Maybe your 2020 idea will turn into another cherished holiday tradition.
Take these steps, and you're well on your way to a tolerable—even enjoyable?—winter 2020.
If you find you're still struggling with all the stress of the pandemic, help is available. Missouri's Show Me Hope program and the Kansas: Stronger Together program provide free and confidential crisis counseling for individuals, families and community groups. To get help for yourself or your loved one, call the national disaster distress hotline 1-800-985-5990 (TTY 1-800-846-8517)​ ​or text TalkWithUs to 66746 to connect with a crisis counselor in your local area.
—Rachelle Morgan is the founder and director of Soundscaping Source and member of the Tri-County Mental Health Crisis Counseling Program for Missouri Show Me Hope.