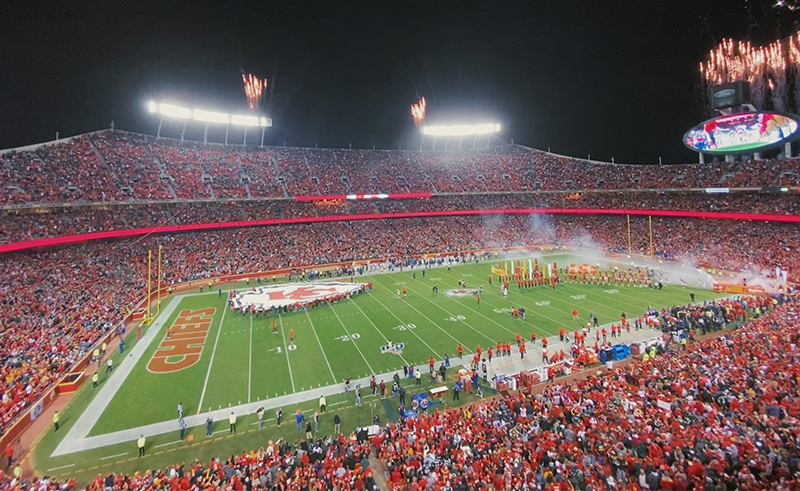 It's been a week full of shocking news from the Kansas City Chiefs. We're still not quite over the Tyreek Hill trade, but just as fans start to digest the news of the trade, the surprises keep on coming. 
Chiefs fans from across the metro were abuzz on Twitter this morning (March 29) after a tweet from Kevin Clark, an NFL writer for the sports website and podcast network, which said the Chiefs are considering moving the team's stadium to the Kansas side of the Kansas City metro.
"Chiefs prez Mark Donovan, when asked this AM about potential new stadium options, said the team has considered options in state of Kansas. They like Arrowhead and legacy of Lamar Hunt's stadium, but have been pitched by Kansas developers on a bunch of options. Something to watch," Clark tweeted on Thursday morning—another jaw-dropper for our Chiefs Kingdom in the span of just a few days. (Our hearts can hardly take this!)
Chief's fans were quick to respond. One Twitter user commented, "If they move to Kansas there will legitimately be riots." Many Twitter users commented something along the lines of, "NOOOOO," but quite a few Kansas City fans voiced support for the idea, with one user tweeting, "We here in Kansas love the Chiefs just as much as Missouri does anyway. So why not us?"
Meanwhile, Kansas City Mayor Quinton Lucas was quick to respond to the possible stadium move—and he's adamant about keeping the Chiefs on the Missouri side.
"Kansas City has proudly hosted the Chiefs since the early 1960s," Lucas tweeted in response to Clark. "We look forward to working with the Chiefs, our state of Missouri partners, and local officials to ensure the Chiefs remain home in Kansas City and Missouri for generations to come."
At the annual NFL meeting, Donovan also noted that the possibility of the Royals building a new downtown stadium would open the potential for further renovations at the current site of Arrowhead Stadium. He ended by saying the team is exploring all options ahead of the end of the Chief's current Arrowhead lease that expires in 2031.