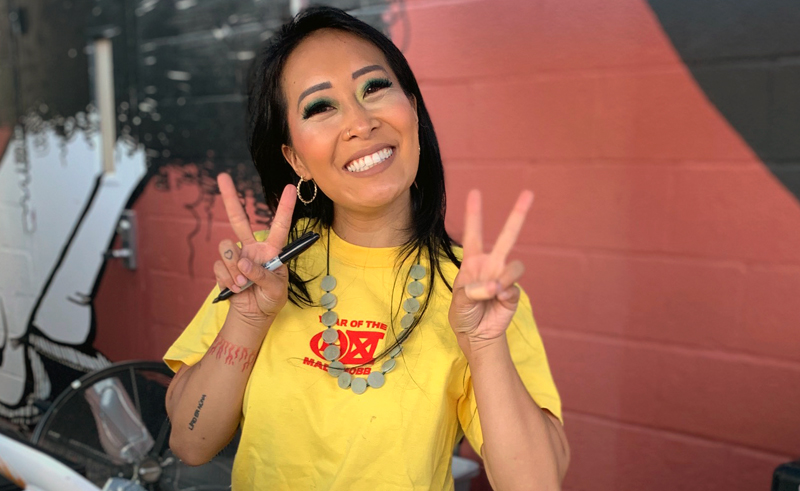 In the short time Jackie Nguyen has been in Kansas City, the feisty first-generation Vietnamese American has made a big impact, both on the coffee scene with her mobile Vietnamese truck, Café Cà Phê, and in supporting marginalized groups. On September 21, she introduced Kansas City to the Autumn Moon Festival. 
Held in the parking lot of Sequence Climbing Gym at 17th and Washington, the festival gathered Asian, BiPOC, and Latinx-owned businesses like Chamoy Boi, Wasteland Society, and Bucktui BBQ. The staff passed out samples of moon cakes, offered paper lantern crafts for kids, and held a children's storytime with a reading of Our Moon Festival by Yobe Qiu that explores how the festival is observed in China, Vietnam, and Japan. With lines for all vendors and food selling out fast, the festival was an instant success. 
Festival organizer Betty Le Shackelford says they hope to create an even more authentic festival next year when Café Cà Phê has a brick-and-mortar home. 
"We want to make the Autumn Moon Festival a yearly occurrence, as well as Tet [the Chinese New Year celebration], and hopefully we'll have a brick and mortar and a bigger celebration. We just love sharing our culture with Kansas City," Le Shackelford says. "Next year, I'd like to have more lanterns, more traditional lanterns, and to do a parade as they would in Vietnam."
The Moon Festival is a mid-autumn celebration in China, Vietnam, Japan, or anywhere that larger groups of Chinese immigrants settled. The festival is a time to share food and stories with family and friends, especially mooncakes, which are intricately molded pastries filled with red bean paste, lotus seed paste, or salted egg yolks.