The world is an infinitely better place with our pets in it. Some folks are lucky enough to be able to take Fluffy and Fido to the office. We asked a few Kansas Citians to give us the 411 on what it's like to have their fur babies at work. (PS. June 21st is National Take Your Dog To Work Day. Yes, it's a thing, people. Yes, we looked it up.)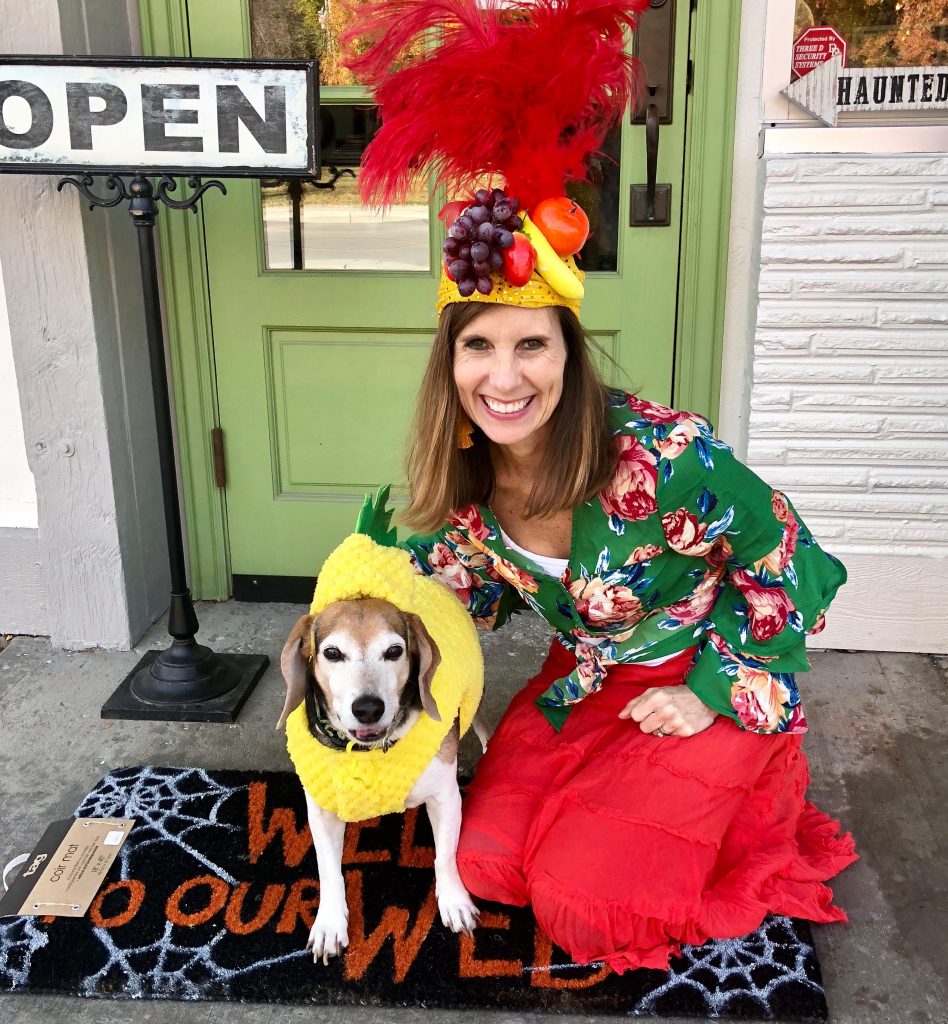 Leslie Slaughter, Co-Owner/Proprietor at Spruce Home in Leawood
"Rico, our ten-year old beagle, was rescued from a kill shelter in KCK and our family adopted him soon after that. He immediately bonded with us. His only issue? An extreme fear of being left alone. He has a calm temperament and loves riding in the car, so I started taking him everywhere with me—carpools, soccer games, tennis, friends' houses. In 2015, when three friends and I opened Spruce Home, a décor and gift store in Leawood, Rico was a natural choice as our shop dog. He welcomes belly rubs and attention, but typically, he can be found—well, sound asleep in his bed next to the sales counter. It's not unusual for new shoppers to be surprised that Rico is a 'real' dog when they wander to the back of the store to find him contently cuddled in his usual spot. Repeat customers know Rico and occasionally come in just to see him. He knows not to jump on people, but if a dog lover comes in and is excited to see him, Rico will offer his version of a hug and kiss (paws on shoulders and a lick on the cheek).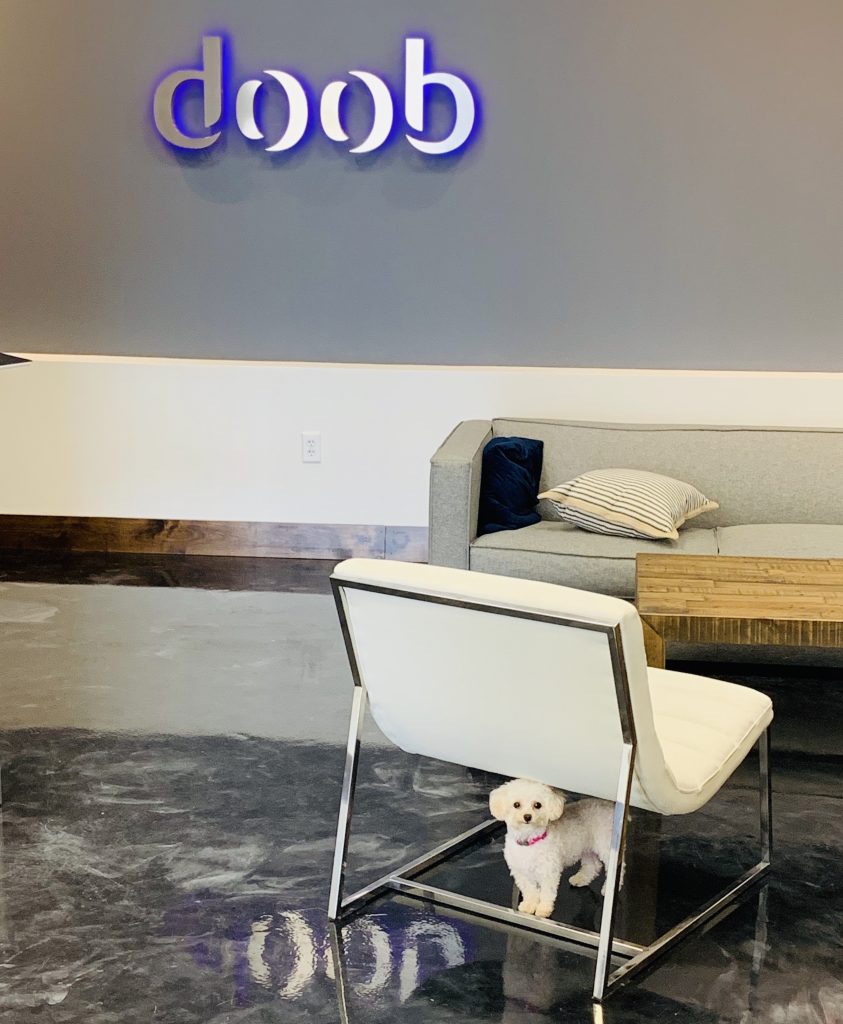 Nick Nikkhah – Co-owner, doob3D, Plaza
"Penelope is the most unspoiled, spoiled dog ever. So selfishly, I don't want to be without her. More importantly, I don't think she should ever be alone wondering where her family went because we're all that she has. So I take her to work with me, which is a huge treat for her, for me, the staff, and our guests. She loves everyone and they love her back especially when she makes her rounds giving love. She even brings customers into our store. As she stands by the door and looks out, her face is irresistible. People walking by stop to look at her and then see our store and come in to chat."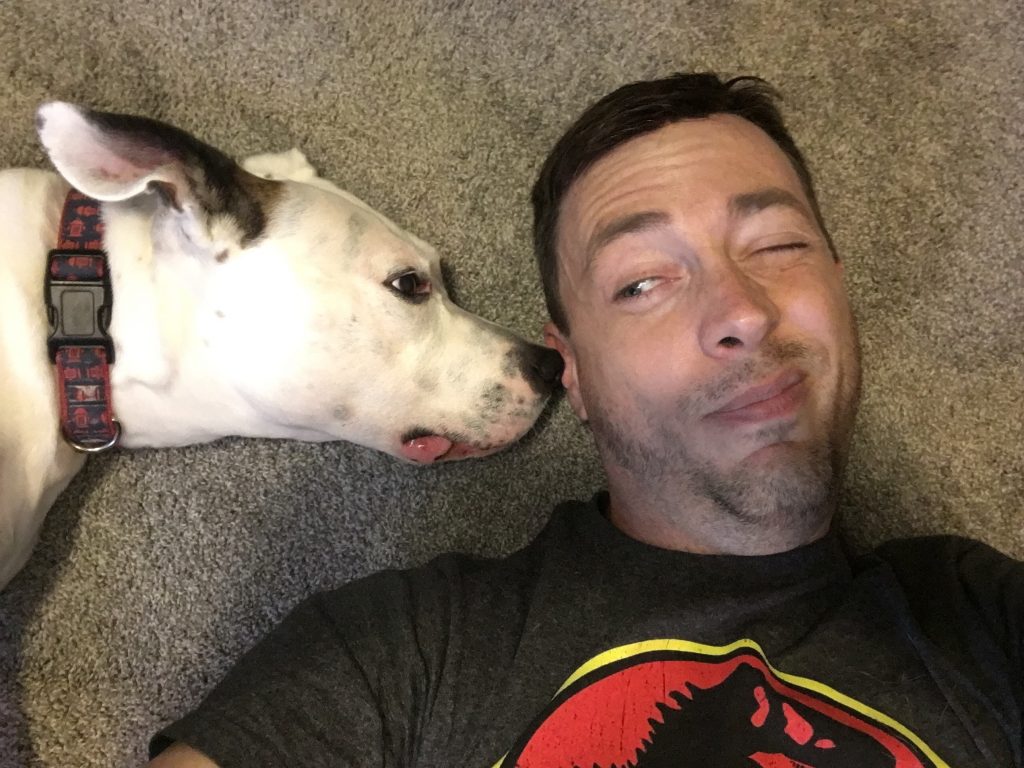 Mitch Weber – Video producer, Toto TV Productions — Liberty
"The one perk about working for yourself that I sometimes take for granted is being able to hang out with my pets. I own a video production company, so many days can be spent in my editing cave, but my dog Jonesie doesn't mind at all. He also sometimes makes appearances in videos, or he ends up being my co-pilot on the way to filming locations. He is so much a part of my business his face is incorporated into my logo.
I adopted Jonesie as a puppy in 2006 when I was working in Madison, Wisconsin as a TV journalist. And now that I own my own video production company and he is getting older, it's nice to be able to spend even more time with him."

Chris Burnett – Paid search manager at Paddock Productions, Plaza
"It all starts at the way Pickles looks at you. She has that 'Sarah McLachlan – In the Arms of the Angel' thing going for her. So pitiful. It makes sense, though, she had a lot of time to perfect that look as she was a shelter dog for about a year until my girlfriend adopted her a few years ago.
Anyway, back to that look—it's almost impossible not to feel awful when you walk out the door as she lays in her bed and gives you her 'puppy dog eyes.' Luckily, my work was open to the idea of her joining me when possible. Although she is super shy and quiet, she has easily won the office over with her mellow personality, and vice versa. She now sprints down the hall to the office door and impatiently waits for me to join her so she can race in and claim her spot next to my desk. I was a little worried when I first started taking her, but the entire office has welcomed her with open arms, treats and even commercial cameos! We work in an office that specializes in infomercial production. She loves going to work and makes everyone from our office, and the rest of the building, smile and enjoy their day that much more."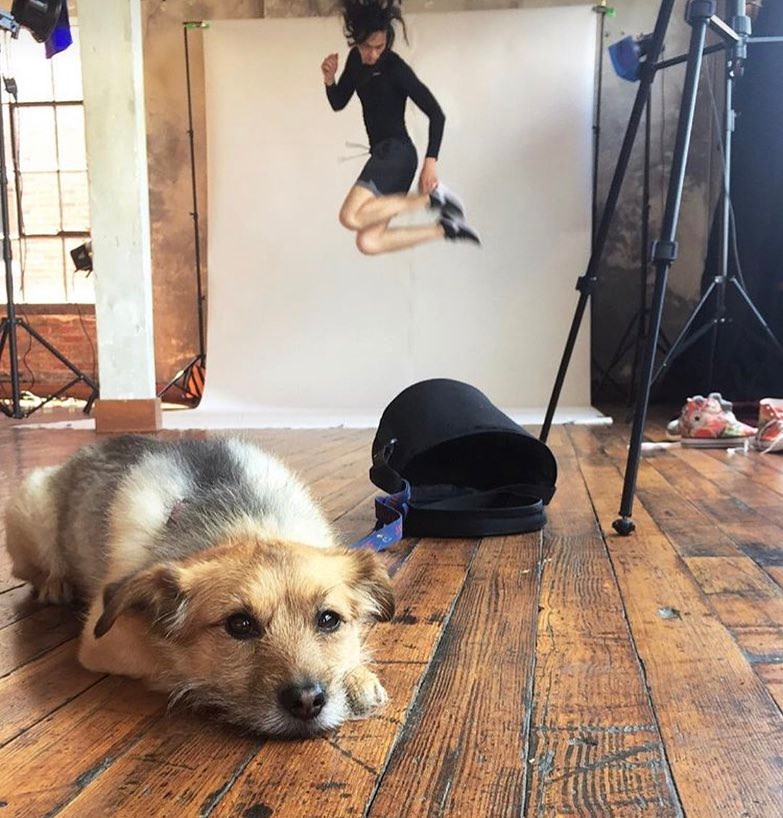 Jenny Wheat – Owner, Wheat Photography, Crossroads
"Ten years ago I went to a shelter looking—very specifically—for a Boston terrier. The staff at the shelter brought out, instead, a bedraggled, matted, sad, Eeyore-lookin' mutt dog, and I thought, 'Oh, no! I can't leave this sad thing here at the shelter.' So I left with a nervous little dumpster dog that was nothing like a Boston terrier.
She's been my trusty, quirky sidekick ever since.
Lily is the ideal commercial photography studio dog. She wanders into every scene we are shooting, sheds hair on every piece of wardrobe, barks during every important client phone call, and if we accidentally leave the studio door ajar, she quietly skulks out to the common areas of the Bauer Building to leave 'gifts' for the staff who is trying to show potential brides and grooms the event space. Nothing like giving a tour and having to step over a poo in front of the guests. Lily is also known for spread-eagle napping and Chewbacca-style food begging."

Cat Heisler, General manager of Pete's Pest Control, LLC — Lenexa
"I have two sweet fur-babies at the office. Meet Harriette—a Mexican Red-Knee tarantula. I've had Harriette for six years. Female Mexican Red Knee tarantulas can live up to 30 years in captivity! I'll feed Harriette live crickets. It is pretty fun watching her pounce. Harriette is also in charge of collecting on delinquent accounts. I kid! Cookie, meanwhile, is a recent acquisition. She's a Costa Rican Pink Toe tarantula. She also eats crickets and can comfortably live up to ten years. Pink Toes are tree dwellers, so Cookie is often found upside down on a leaf or the top of her terrarium. She has not yet been assigned a specific role in the company.
I often use my tarantulas as a teaching tool to show there is no need to fear bugs. Learning about bugs and their role in the environment is important.  Many bugs—especially spiders—are beneficial in the appropriate environmental setting. Running loose inside a house is definitely not appropriate! This is why pest control services are sometimes needed."