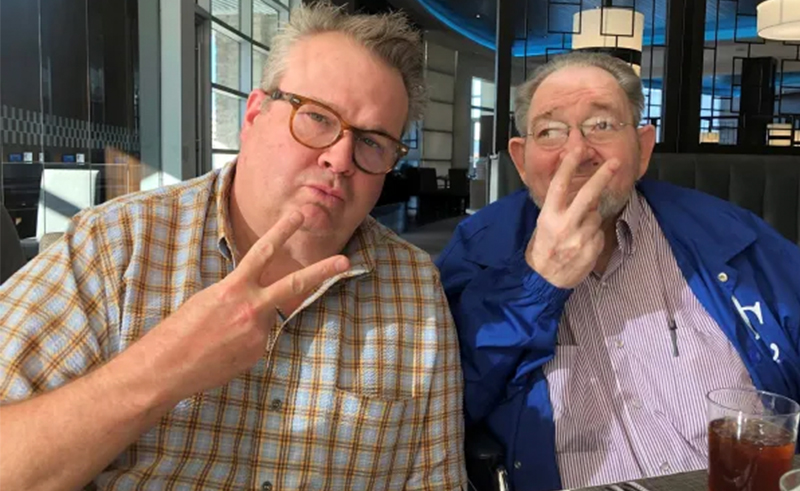 When Vincent "Vince" Stonestreet, the father of Emmy award-winning actor Eric Stonestreet, came to the end of his four-year battle with cancer in November 2021, the Stonestreet family turned to Kansas City Hospice and Palliative Care for end-of-life care.
"[KC Hospice] wasn't here very long, but they were wonderful," says Jamey Stonestreet, Vince's wife and Eric's mother. "He died on his birthday, and that's what he wanted. He wanted to be at home. If it came time to go to Kansas City Hospice House, he was ready for that, but it worked out that they were able to handle all of his care here [at home], and everyone was just really, really good." 
A year later, Eric Stonestreet and his family have established the Vincent A. Stonestreet Fund to support hospice care for vulnerable pediatric and adult patients, as well as help fulfill wishes for pediatric patients. Each year, KC Hospice provides over $500,000 in uncompensated care and serves more than 5,400 families. Of those, between 50 and 100 children facing serious illness receive critical services through KCH Carousel Pediatric Care. 
The Stonestreet family describes Vince as someone who "loved unconditionally, was generous to a fault, protective, funny, complicated, reluctantly cool, and goal oriented. The fund seemed like the best way for the family to honor the loving husband and father. 
"He had a friend who had a lot of health issues and was down on hard times," Eric recalls. "He installed garage doors, and my dad called him to put a new garage door on his shop. Did he need it? No. But dad called him to put this garage door up, and when he was finished, he handed dad a bill. My dad wrote out a check, and his friend said, 'Vince, you misread the bill. This is way too much.' Dad said, 'No, this is what I want to pay for the door.' Dad was saying, 'your time and your services are worth this much to me.' I just thought, man, that's such a great thing—all wrapped up in one moment. He helped a friend out but didn't want to make him feel like he was just giving him something." 
Learn more about Vince and donate to the new fund here.