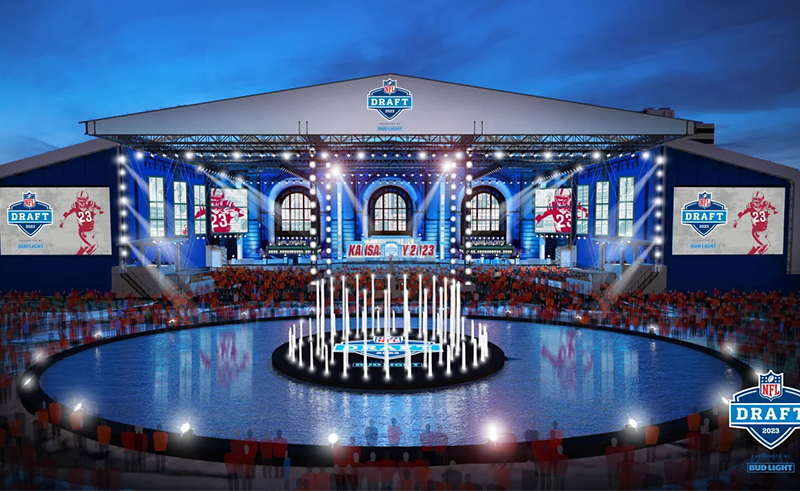 Kansas City is putting its best foot forward to welcome hundreds of thousands to Union Station for the NFL Draft April 27-29. While the festivities cater to fans of NFL teams across the country, the 2023 Draft will feature plenty of nods to Kansas City.
The NFL just released the schedule for the first day of the draft, and they've handpicked national stars who hailed from Kansas City to greet and entertain fans.
Throughout the draft, favorite Chiefs players—past and present—will take the stage with members of Big Slick, including Eric Stonestreet and Heidi Gardner, for a variety of special moments.
Draft celebrations will kick off at 4:45 p.m. with prospective NFL players walking the NFL Draft Red Carpet presented by TCL on the Memorial Courtyard at the National WWI Museum and Memorial. 
Opening festivities will include performances from multi-Grammy-nominated singer-songwriter and Kansas City's own Oleta Adams, and country music star Brittney Spencer will sing the national anthem. The U.S. Air Force will provide a flyover after the national anthem.
Then, NFL Network's Kimmi Chex and Colleen Wolfe will host activities in the Draft Theater for night one. After each day of the draft, the NFL will host free concerts in the Draft Theater as part of the NFL Draft Concert Series presented by Bud Light. Headliners for each night will be announced soon.
The NFL's interactive football theme park, The NFL Draft Experience presented by Panini, will open at noon on April 27 on the south side of the World War I Museum and Memorial—it will be free and open to the public.