Within three hours of Kansas City, there are great places to discover—or rediscover. Pack some cold drinks and a lunch, and head out.
Lawrence
West on I-70. On a hot day, laid-back Lawrence is a great place to just chill. If you usually buzz across town to get to Massachusetts Street, hold on there. East Lawrence, the area around 9th Street and Pennsylvania, is the new Warehouse Art District. Take in an exhibit at Cider Gallery at 810 Pennsylvania, an old cider mill reimagined as an art gallery, open Tuesday through Friday, 1 to 5 p.m. Discover Angie Pickman's cut-paper art at Rural Pearl Studio at 720 East Ninth. Sample a cocktail at Bon Bon (sit on the patio on a nice day) at 804 Pennsylvania, or a brew at Lawrence Beer Company at 826 Pennsylvania.
And then go to Mass Street—where John Brown Underground at 7 East Seventh St. is just the place on a humid, too-sunny day. It really is underground and feels like a speakeasy. Try a cocktail made with rhubarb bitters to quench your thirst. The Replay Lounge at 946 Massachusetts offers a karaoke happy hour every Tuesday, beginning at 6 p.m., where you can croon Love Me Tender.
Konza Prairie and the Flint Hills
Farther West on I-70. The Flint Hills call. Take exit 313 north off I-70. Pack a picnic lunch and tailgate, then walk the 2.7-mile Konza Prairie Nature Loop near Manhattan, part of the Konza Prairie Biological Station where Kansas State conducts ecological research on the tallgrass prairie. No dogs, no food, no drones. The prairie in its native state, one of the few areas left untouched, is plenty. On the way back, stop at Alma, just west of Topeka. The town, hewn from local rock, is charming. Stop at the Volland Store in Alma for an art exhibit from noon to 5 p.m. on Saturday and Sunday. On July 27, you can experience Charro Jerry Diaz and Company demonstrating traditional vaquero (Mexican cowboy) horsemanship at 4 p.m.
Hamilton, Missouri
Northeast on I-35. Forbes magazine calls this rejuvenated small town, home of J.C. Penney, the "Disneyland of Quilting." Even if you don't quilt, you can get inspired by all the colors and patterns of fabric you'll see at stores dotted through town—and admire how one great idea and the Doan family saved a town. Stop in at the Missouri Star Quilt Company, the Blue Sage or the local brewery for lunch, and tour the J.C. Penney Museum. Go antiquing at Barn Gypsies, or the nearby Cameron Antique Mall, or St. Joseph Auction and Antiques.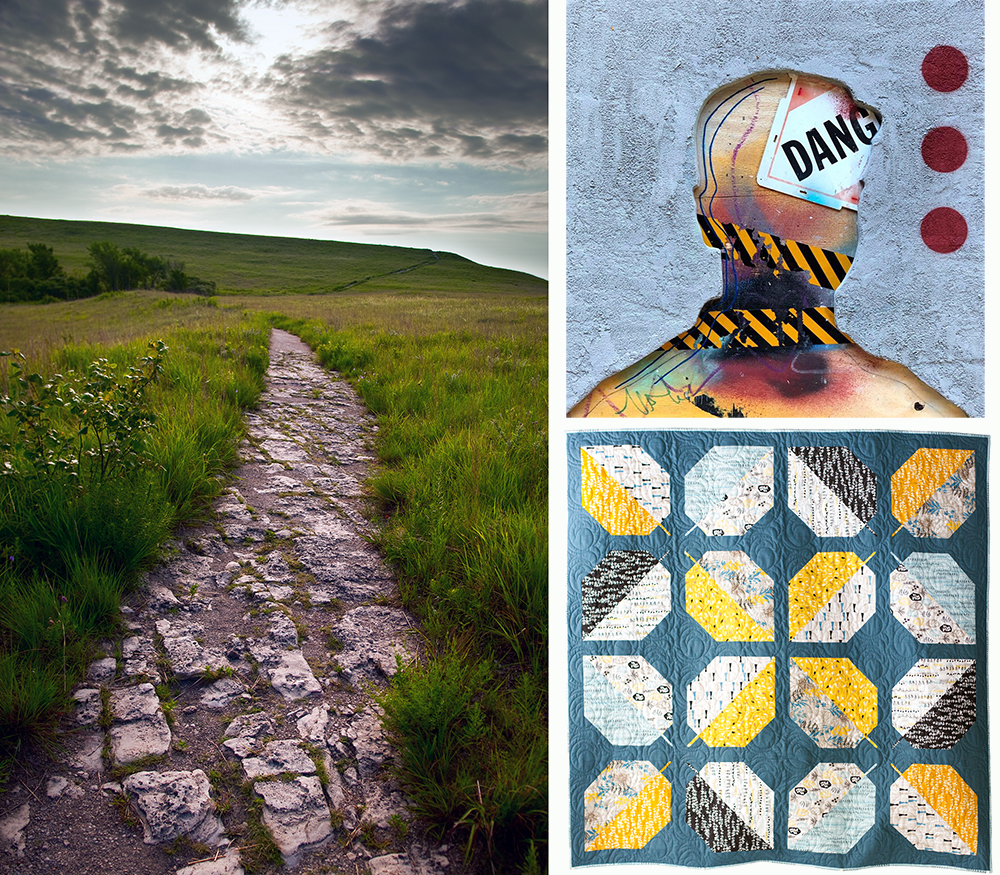 Weston, Missouri
North on I-29. Then follow the signs to Weston. With its tobacco barns and bourbon distillery, Weston still reflects the Kentucky origins of its settlers. The main street slopes down to the Missouri River, where Lewis and Clark paddled by in 1804, exploring the Louisiana Purchase. Today, the small town thrives on its homegrown wineries, brew pubs, antique shops, country décor, and nearby farms where you can go apple-picking in the fall. It's fun just to wander up and down the streets, stopping in where inclination leads you. The Burley Market, open every second weekend, offers crafts and artisan wares for sale. On July 14 from 8 a.m. to 8 p.m., come for the Weston Paint-Out, when plein-air artists line the streets and you can watch them work. Wear some Western gear and you might find yourself the subject of a portrait. Buy some artisan sheep's milk cheese from Green Dirt Farm Creamery before you head home. Take a quick drive around the back streets to take in more of the town's antebellum architecture.
Arrow Rock
East on I-70. When getting away from it all involves stepping back in time, then Arrow Rock is your destination. This quiet, circa-1829 river town evokes antebellum Missouri when George Caleb Bingham painted Missouri River scenes. Walk or take a tram tour of the village. Then scope out the shops that sell everything from Native American flutes to hand-dyed yarn, powder horns, quilts, and country antiques. Stay and take in a show at the Arrow Rock Lyceum—All Shook Up until July 7 and 9 to 5 until July 28—and dinner at Catalpa. It's less than a two-hour drive to Arrow Rock and your car won't turn back into a pumpkin after midnight, we promise.
Crystal Bridges
Southeast on 71 Highway. A visit to Crystal Bridges Museum of American Art, nestled in 120 acres of Ozarks woodland in northeastern Arkansas, is a bit of a trek—three hours each way. But if you've ever shopped at Wal-Mart, you'll be glad at least some of your money went to this amazing cultural venue. Admission is free for the main collection. You'll come across paintings you've only seen before in books. Museum founder Alice Walton's original interest in watercolor began a lifelong love of art. "As a child, my mother and I painted watercolors of nature during our travels to our country's magnificent national parks," she explains. "When I discovered the great masters of American art history and their watercolors, I understood the wide gap between what I could do and what our greatest artists have achieved, it made me want to live with their inspiration, and that's what I began to collect." Today, the collection includes art from America's beginnings to modern works by Georgia O'Keeffe, Dale Chihuly, and Mark Rothko.
The museum opens at 11 a.m. Enjoy a late lunch on the crystal bridge over the man-made lake to rest up before you drive home. On the grounds of the museum, you can also tour a Frank Lloyd Wright house originally built in New Jersey, emblematic of his "Usonian" architecture (advance tickets advisable). The museum is closed on Tuesdays.
Tallgrass Prairie Preserve and Cottonwood Falls
Southwest on I-35. The southern loop of the Flint Hills calls. As soon as you get past Emporia, you'll feel you're somewhere else—the getaway feeling you want on a day trip. Cottonwood Falls entrances with its historic courthouse, art galleries, and the nearby Z-Bar Ranch. At the Tallgrass Prairie National Preserve and Z-Bar/Spring Hill Ranch in Strong City, you can hike the trails or take a 90-minute tour in a refitted school bus. Then head to Cottonwood Falls, made famous in PrairyErth by William Least Heat Moon. The picture-postcard courthouse presides over the downtown. Stop in at Tallgrass Antiques, Vintage Bulldog, and Prairie PastTimes shops. Browse the art galleries and come back with a memento you can hang on your wall. On weekends, Pioneer Bluffs barn is open in Matfield Green, a short jaunt on the Flint Hills Scenic Byway, otherwise known as Route 177.