Six years ago, Slap's BBQ got a call—at the last minute, mind you—to represent Baylor University in an annual barbecue competition during the Big 12 in Kansas City
And they went on to win it all.
Since then, Slap's owner Joe Pearce has been clamoring to reclaim the title at the Big 12 Big Q—an uber-competitive barbecue competition that happens every year around this time. Despite coming up short of first place recently, the four-day event is one the Slap's squad looks forward to every spring. And one that has grown "tenfold" since it began, Pearce says.

Barbecue tents sit in front of the Sprint Center, where the Big 12 Big Q is organized by the Missouri-based National Barbecue League. They recruit celeb pitmasters from around the country to represent Big 12 universities during the barbecue competition. NBBQL co-founder Tim Scheer says pitmasters are chosen based on their performance in the competition world, their fanbase and their region. "It makes sense to have some alum that are from certain areas," Scheer says. "It worked out to be a pretty good fit."
Pitmasters with connections to Big 12 universities, like Boomerang BBQ out of Lubbock, Texas, have the first option of which team they would like to represent, while the rest choose among the remaining universities. "We try to tie the two together to promote the competition and friendly rivalries," Scheer says.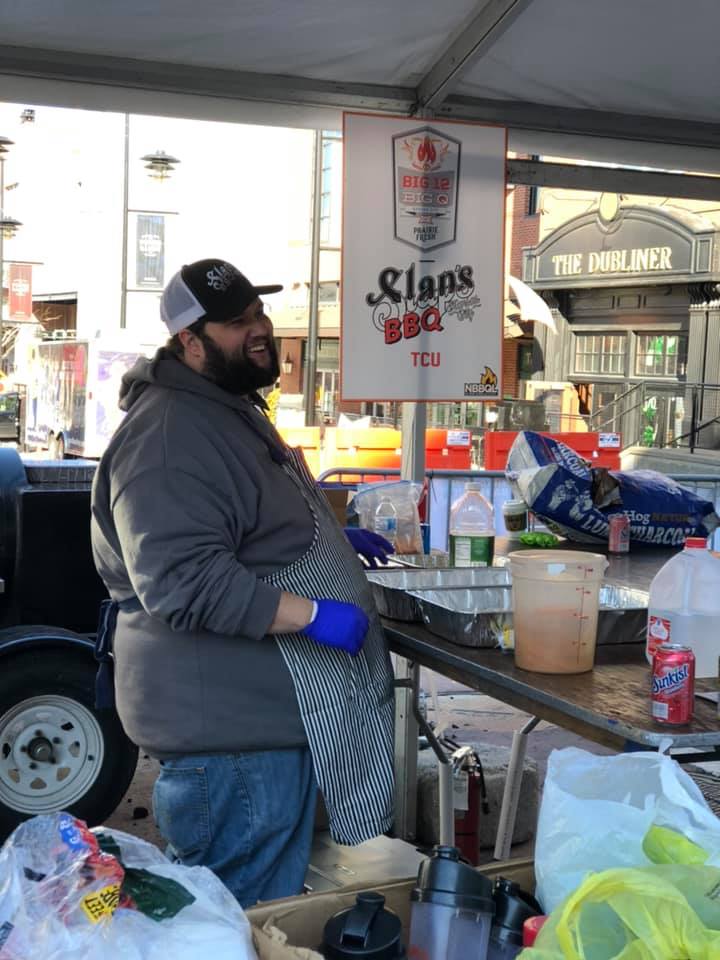 Naturally, combining basketball and barbecue showcases what Kansas City is known for. According to Scheer, it's the best of both worlds. "I think the event's council, everybody, wanted to put KC's best foot forward—and that's barbecue, for sure."
Past years have featured a fantasy meat draft—uh, an odd name, but we'll take it—which Pearce says brought an engagement to barbecue competition that doesn't happen in a traditional competition setting. It was based on how the teams ranked in the Big 12. "It's just another thing to interact and create some buzz around," Scheer says. "It adds an entertaining value as well for fans."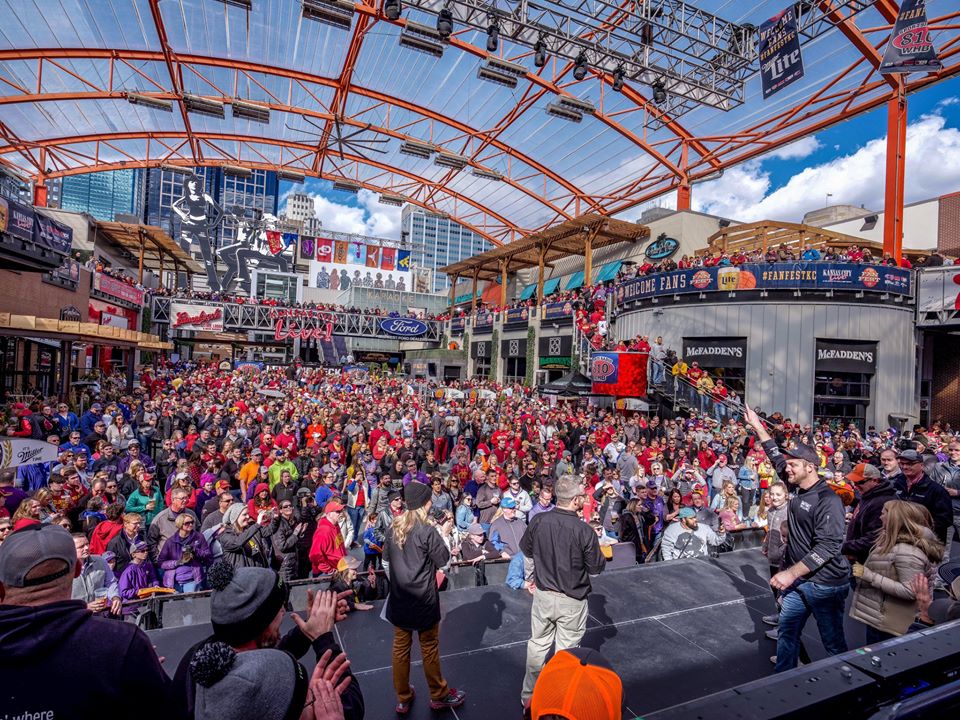 Last year's event featured four categories of barbecue—chicken, ribs, pork, and brisket—but this year it will feature a rib throwdown on Friday. Prairie Fresh, the Big 12 Big Q title sponsor, will provide the ribs as the company marks its third year with the event. David Eaheart, senior director of communications and brand marketing at Prairie Fresh, says that in helping bring a festival atmosphere to the barbecue portion of the Big 12, they will provide a "giant-sized pig" fans can take photos with. There's even a "Pull the Pork" game. (Think "Operation," but with pork.) Again, weird name, but whatever. "There's a communal aspect to barbecue that brings people together," Eaheart says. "You mention barbecue and people will start telling you about the best ribs they've ever had."
Throughout the Big 12 Big Q event, Scheer says he expects a lot of fan interaction. "We'll be competing and jawing back and forth with our competitors and trying to persuade people to vote for us to win the people's choice."

But at the same time, Scheer says, they also will be "making people happy with good barbecue" and offering the chance to meet celebrity pitmasters. "It's a whole lot of cooking, a whole lot of fun, and a whole lot of competition," he says.
And it's that competition that Pearce is looking forward to as he seeks to win it all. This year, Slap's BBQ will be representing Texas Christian University in an atmosphere where all fans are embraced, regardless of the team they support. "It's pretty magical," Pearce says. "Then fans get to come down and see the team that is representing them in the barbecue world." Game on!
Want to know more? For more information, visit https://big12bigq.com/.