Let's dip our toes into summer travel with luxe staycation suites that let us test-drive design. What's it like to be immersed in contemporary art? Soak in a sculptural egg-shaped tub? Sleep in a loft? Play pool in the middle of the night? Live with walls of windows?
Our five Kansas City properties divulge their design secrets—and follow Covid protocols for the health and safety of their guests.
---
The Pendergast Suite at The Crossroads Hotel Kansas City
Historic and modern meet at the Crossroads Hotel. The property employs a mix of fun and funky that is appropriate to both its location and its former life as the Pabst Brewing Depot. Kansas City political boss Tom Pendergast once owned both buildings and now lends his name to the suite. With its own pool table, game table, and a dartboard in place of the powder-room mirror, the Pendergast Suite very much keeps a local Kansas City connection, showing the way to put a sense of place in our own homes.
Says Jeremy Bennett, the hotel's director of lifestyle, "We want guests to have an authentic Kansas City experience. We don't turn to a catalog to find design elements. We prefer to work with someone local." You'll see original architectural elements freshened up with works by Hammerpress, hand-drawn wallpaper designs from local tattoo artists, hand-painted lights by ceramicist Melanie Sherman, and works by Kansas City Art Institute students. All in a bohemian palette of teal, tobacco, brandy, and burnt orange perfect for an arts district.
And what about that good night's sleep? "The beds are ridiculously soft and comfortable," adds Bennett. "The room looks good and feels good and even smells good." That's thanks to toiletries by Grown Alchemist in scents of sandalwood and sage in the tah-dah bathroom with its sliding steel-and-glass door.
---
The Presidential Suite at Loews Kansas City Hotel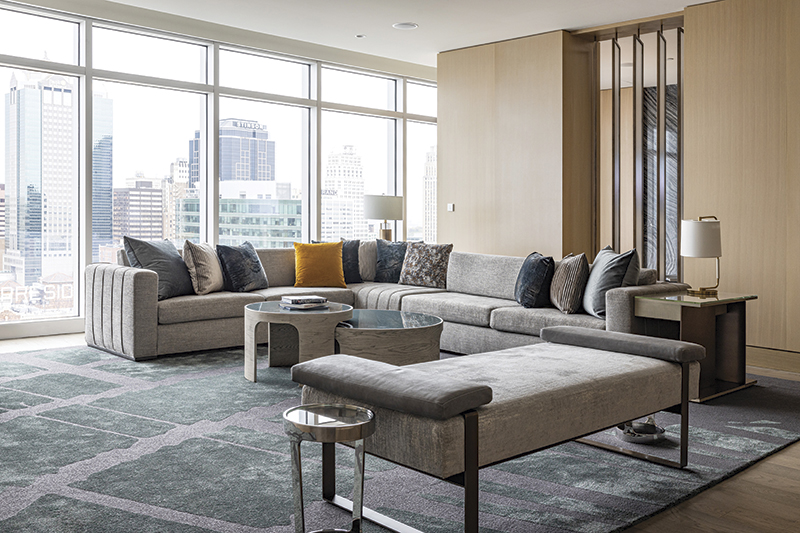 With soaring windows and sleek steel ribs, the new Loews Kansas City Hotel is within walking distance of the Kauffman Center, the Power and Light District, T-Mobile Center, and the Kansas City Convention Center. It's also a place where you can live with dramatic design by Dallas-based Looney & Associates and see how you like it.
High above the city skyline, you can step into the bath with a wall of windows; you can see the city lights, but no one can really see you. The same in the bedroom, where you can go to sleep with the twinkling stars, then wake up to a panoramic view of downtown.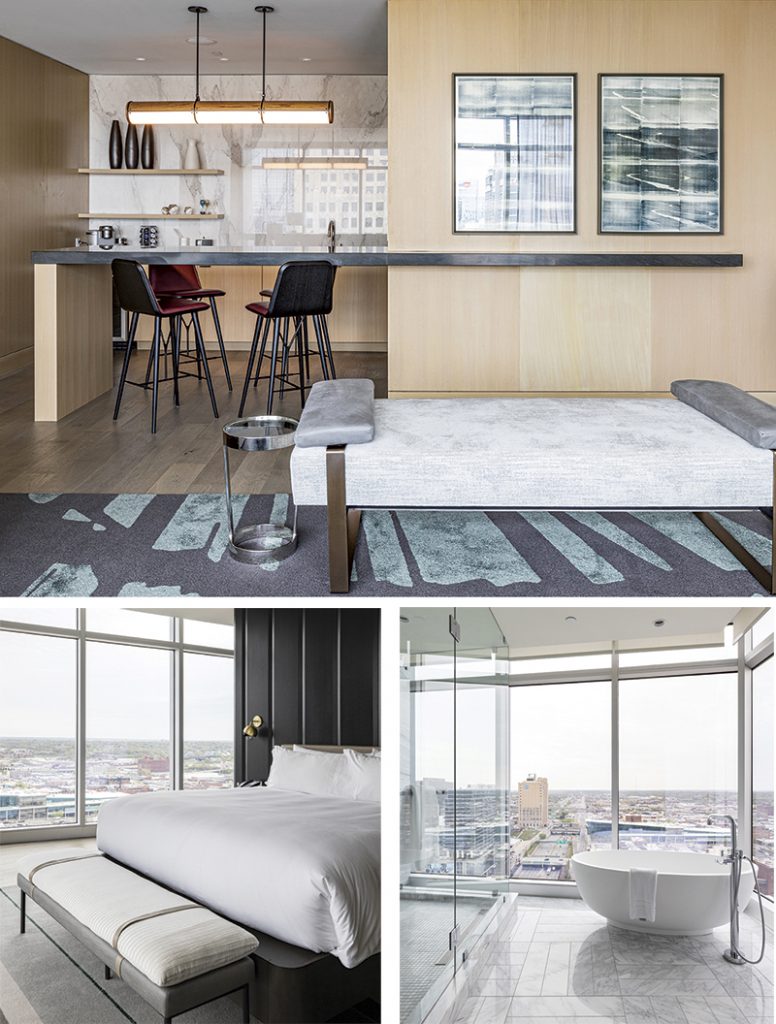 Says Brian Johnson, the managing director, "We wanted to draw the views into your room, so you feel like you are part of the city." The Presidential Suite has a high-end residential feel, says Johnson, an aspect of Loews' "reinvented hotel experience." From the huge walk-in closet to the pillow-top mattress you can sink into and the floating TV on the glass wall, this is the lifestyle to which you'd love to become accustomed.
---
King Bed Loft Suite at Hotel Kansas City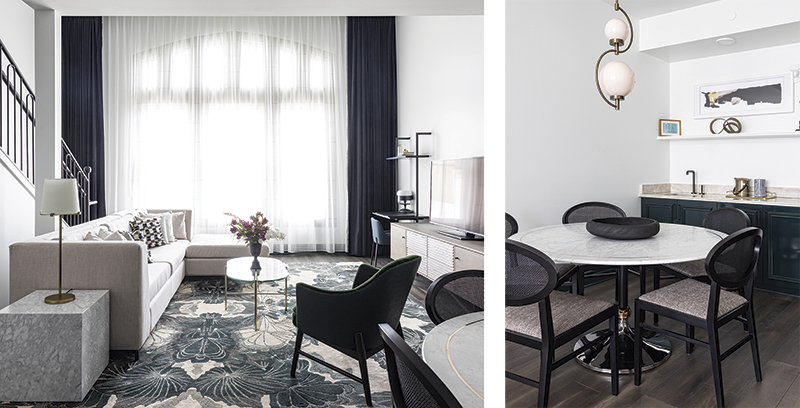 Built in the Gothic-Revival style and opened in 1922, the 15-floor Kansas City Club was where lumber barons, cattle ranchers, railroad executives, and power brokers gathered. Now in the Unbound Collection by Hyatt, the hotel preserves hand-hewn walnut and stained glass, but adds modern touches, with a nod to the feminine.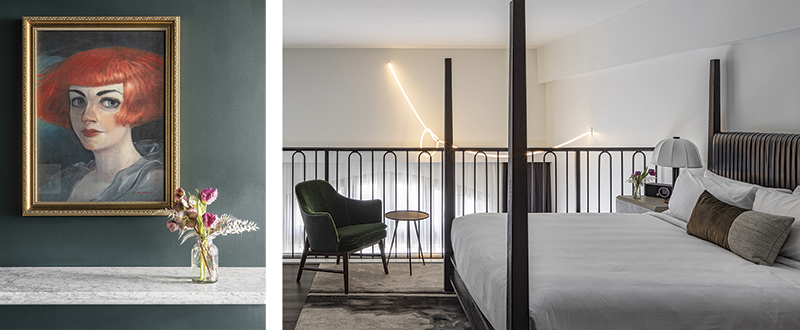 Design inspiration, through Simeone Deary in Chicago, came from an unlikely source—a modern portrait of flame-tressed Bertha Goodwin, the first female who applied for membership in the all-male club (and you can guess how that turned out). But the spirit of Bertha lives on, says Sarah Beck, the director of sales and marketing, to welcome male and female travelers alike. Neutral upholstery, armoire-style double doors into the bath, lampshades formed like hoop skirts, and a light fixture whose outline resembles a necklace add a softer touch to the black-and-white décor.
The King Bed Loft Suite features a downstairs gathering place and a four-poster bed in the loft bedroom. "You feel like you're on your own island—or in a New York City loft apartment," says Beck. An upscale coffee maker, locally made treats (Savory Addictions nuts, Andre's chocolate, Kansas City Joe's beef jerky), and even a signature Kansas City Club bourbon in the mini-bar program give guests a taste of place.  
---
The 21c Suite at the 21c Museum Hotel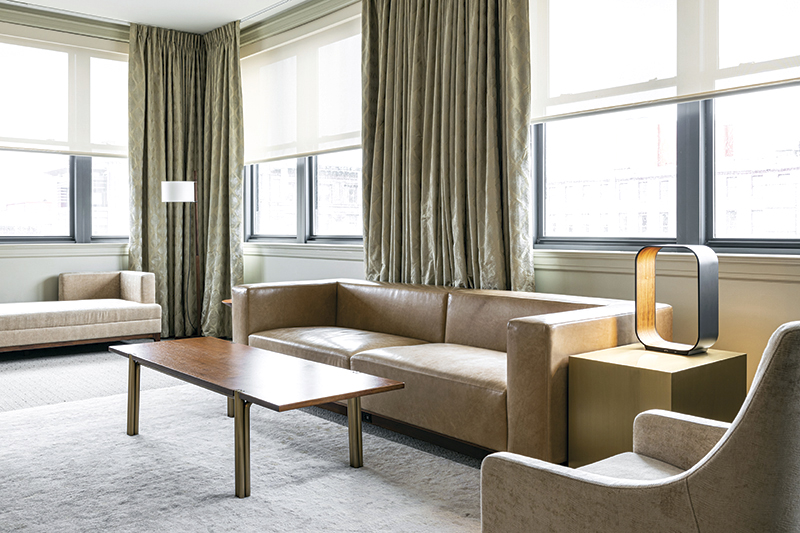 Built in 1888, the venerable Savoy Hotel underwent a $50 million transformation into a true-to-place 21st century art experience, says Kim Jessen, the director of sales and marketing at 21c. Next year, exhibits of modern art will pop up again, as do beams of lusciously colored lights, mixing with the Victorian and Arts and Crafts architectural features.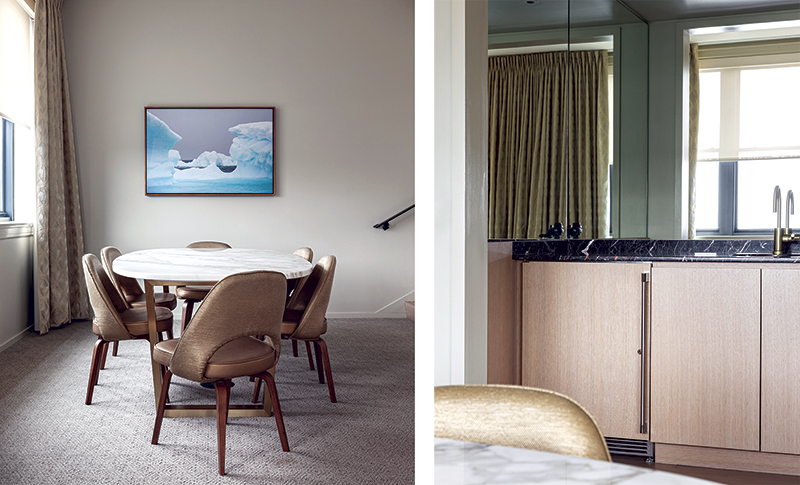 That's just what New York designer Deborah Berke intended. Says Berke, "Reasserting the here and now, which is an antidote to placelessness and homogeneity, demands absolutely that you avoid predictability. To bring out the here, something has to be quite unexpected, jarring us into the moment, asserting the now."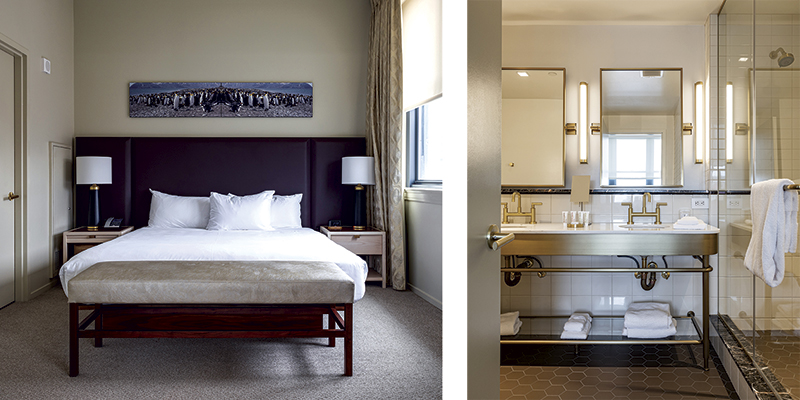 And the now in the 21c Suite is wow. Keeping and repurposing the original sink and floor in the powder bathroom, the design mixes the historic with contemporary in midcentury furnishings and modern art. Custom bedding, double-paned windows, electronic blinds and blackout fabric guarantee a good night's sleep—the ultimate luxury—even in the heart of the city. The entire seventh floor, with seven rooms including the suite, can be booked for a private party.
---
The Grand Suite at the Inn at Meadowbrook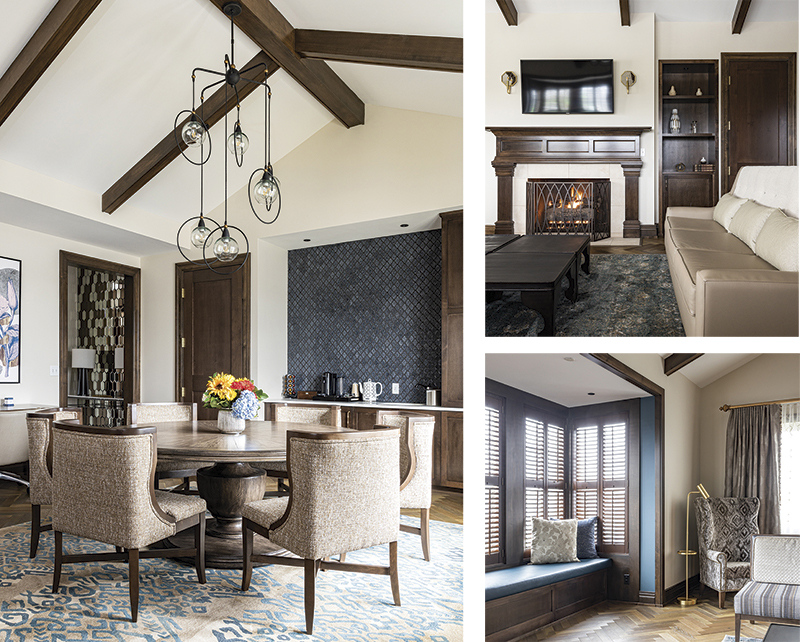 If you want a more suburban staycation on the site of a former golf course, the Inn at Meadowbrook offers scenic lake views, walks in Meadowbrook Park, and wide open spaces. In a traditional palette of earth and sky, with a fireplace and a table that seats eight, the Grand Suite exudes "easy luxury and contemporary charm," says Chris Curtis, the director of sales and marketing.
Designed by Looney Ricks in Memphis, the Grand Suite offers what is trending in boutique hotels—a curated experience. Soak in the egg-shaped tub in front of a fabulous tiled wall, take an aromatherapy shower infused with Vitamin C, brew your own espresso just the way you like it. And sleep like you're in a luxury hotel suite.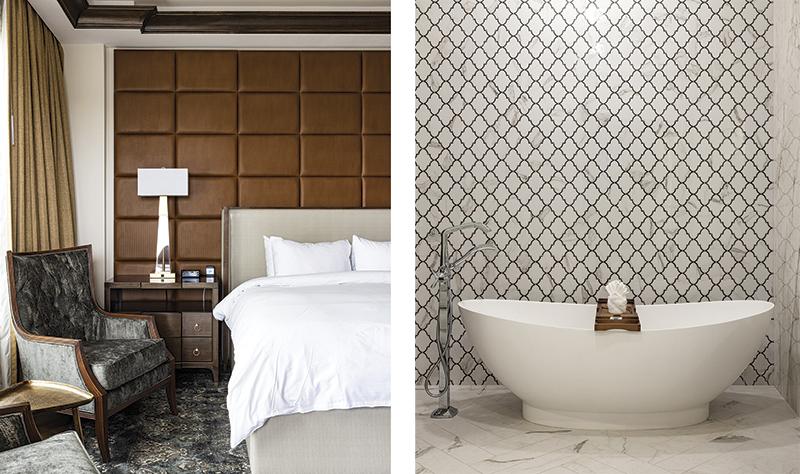 Says Curtis, "A good night's sleep is one of the most important aspects. We want our guests to say, 'I feel so refreshed' the next day. Our linens are custom designed for their hand feel more than their thread count, for that fall-into-the-bed experience." Plush comforters, robes, and custom toiletries add to the feeling of wellbeing.