Sponsored content: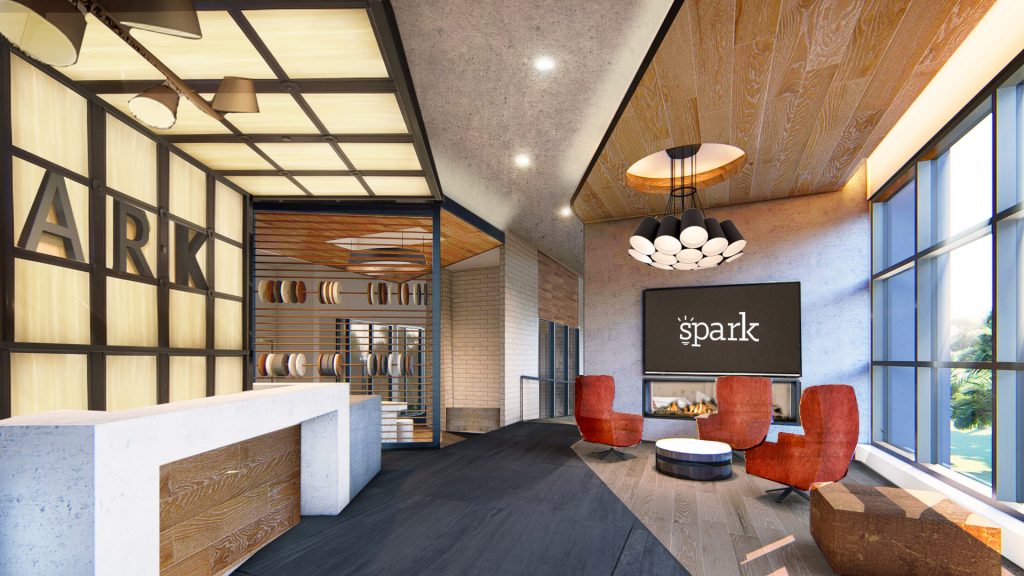 Timing is everything. In the case of the metro's newest coworking space, Spark Kansas City, they chose to open September 8th—the day after Labor Day. That was by design, says Shervonne Cherry, Spark's director of community and partnerships. "Opening around Labor Day, the celebration of the American labor force, just made sense. Our focus is to be a catalyst for entrepreneurs and small businesses—people who are looking to take their ideas and concepts to the next level," she says. "We're providing them with a work place home, as well as resources and programming."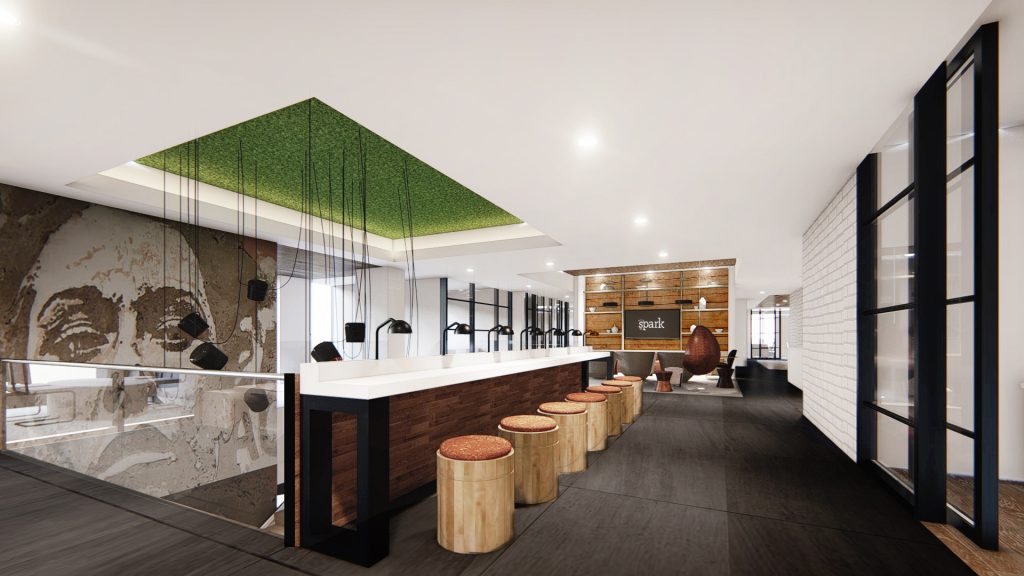 Cherry agrees, but says the nuanced services are what really makes the difference. "It's really the little things." From concierge mail service to a local dog-walking service (yes, Spark Kansas City is pet-friendly), members are not just taken care of—but are able to prosper at work. That includes a mother's room/wellness space where new moms or members can find a bit of sanctuary outside of the hustle and bustle around them. "We have beautiful glass offices with plenty of natural light, but sometimes you may want a quiet space for a moment where you can get your thoughts together," says Cherry.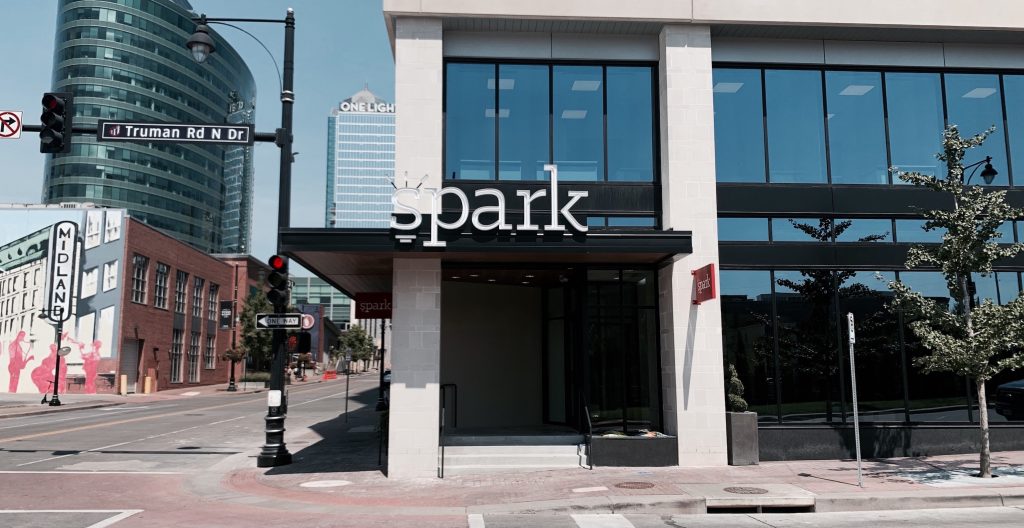 The 15,000-square-foot space—conveniently located inside of Two Light apartments in downtown Kansas City—has already garnered plenty of buzz from local Power and Light residents who are eager to see what the collaborative space brings to the table. "It's been fun seeing members moving in, selecting their offices in this bright, shiny new workspace," says Cherry. "We're community-focused and focused on companies—because if they're not successful, Spark doesn't exist."
Spark originated nearly four and a half years ago in Baltimore as a marriage of hospitality and entrepreneurship, says Kyla Bradley, the community manager of Spark Kansas City.  Since then they've been setting the standard for workers looking for the quintessential work/life balance. The Kansas City location is no exception. "There are so many cool elements," says Bradley. "We've watched it come together over the last couple of months—a beautiful, creative, inspiring, and comfortable space." 
Local and Localized
Spark Kansas City is making sure members enjoy a true Kansas City experience—including having local cold brew and craft beers on tap—just to name one amenity. Bradley, who is a Kansas City native, says she's proud to help companies and members make local connections. The goal? To support Kansas City's growing entrepreneurial ecosystem and ensure community members connect with the hundreds of successful businesses, dining, entertainment options, and cultural experiences within downtown Kansas City. "I'm here to be a resource for our members, connecting them with valuable partners and outside members of our community," she says. "Every city we're in—we're connecting with that city's ecosystem. Whatever you need, that's what we're here to provide."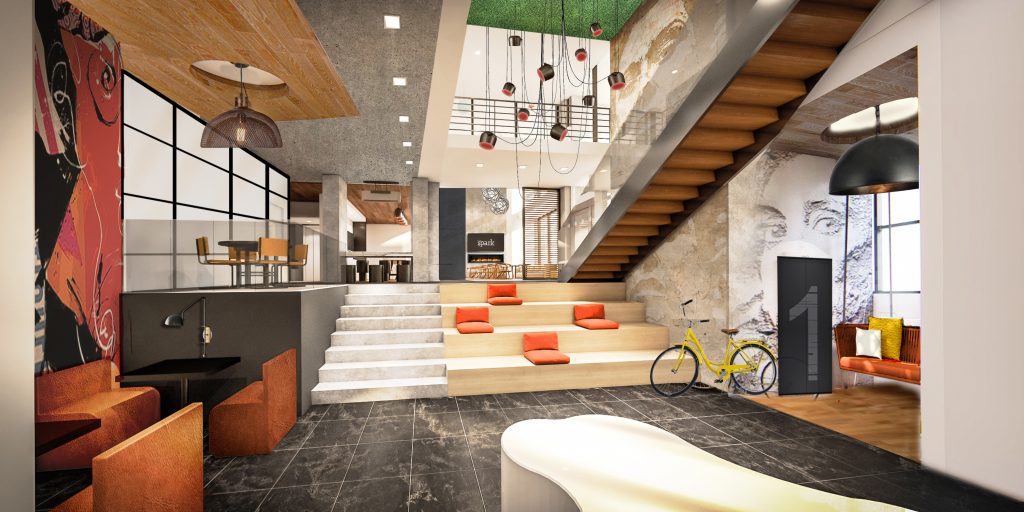 Given that Spark Kansas City is located at the junction of the Crossroads and the Power & Light District, the two-level workspace provides local entrepreneurs and startups 1) an affordable, efficient way to capitalize on growing their business and teams and 2) cultivated convenience.
"Your Commute is an Elevator Ride"
With Spark's vision of a "coliving" community (and ability to accommodate nearly 150 members comfortably), the space promises to draw professionals from downtown and across the metro. The stylish, secure work commune offers plenty of private office space alongside shared kitchen, lounge, and amenity areas. "How people are living and working is shifting as the work/life/play balance has been more fluid," says Cherry. "People need us to be flexible and accommodating because that's what they are expecting from their workspaces."
As Covid-19 presents various challenges in the work place and at home, individuals are considering options for virtual learning. For example, Spark offers packages tailored to students in need of a productive and safe environment outside of their homes. "We're all adapting to the new normal—and we're excited to offer learning hub packages," says Bradley.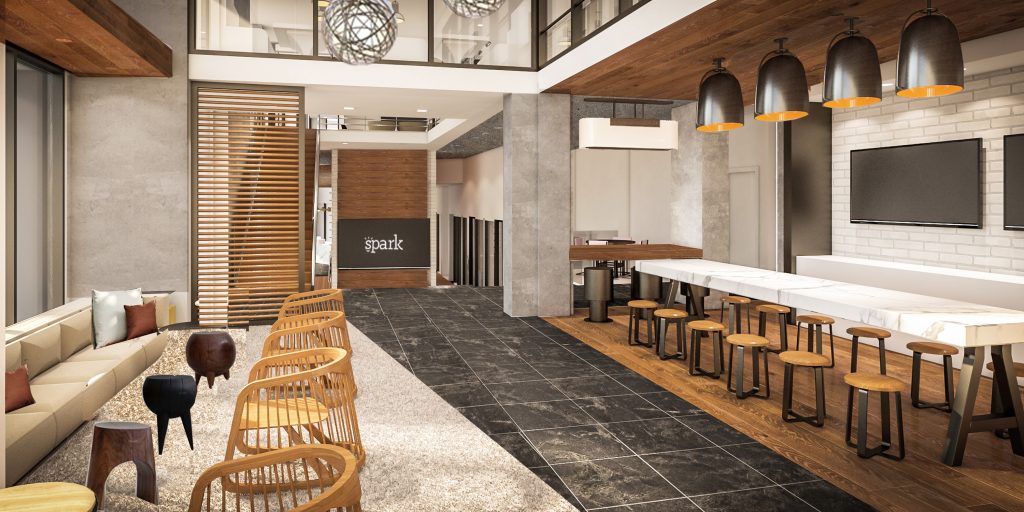 Living and Working Intertwined

Cherry says Spark's move to Kansas City has been in the works for a few years. The team is excited to show off all the hard work they've accomplished—everything from colorful murals to sleek décor. "It's the transformation of KC—more people are moving downtown, conducting business downtown," she says. "We're really embracing the shift that's been happening in KC over the last decade."
In addition, smaller startups are often bringing in new talent to the market. Spark Kansas City's centralized location, neighboring Two Light Luxury Apartments makes the space ideal for the corporate traveler. "Everything they need is downtown," Cherry says. "We also want them to explore all of the awesome nearby neighborhoods, but they can also stay put. They can have something that's convenient." She adds it's also perfect for entrepreneurs or executives moving here. "They have a place to land. They can get acclimated and settled before finding a house."  And thanks to the connection with Cordish Companies, Spark KC members receive exclusive perks and discounts at a number of nearby Power & Light District properties, she says.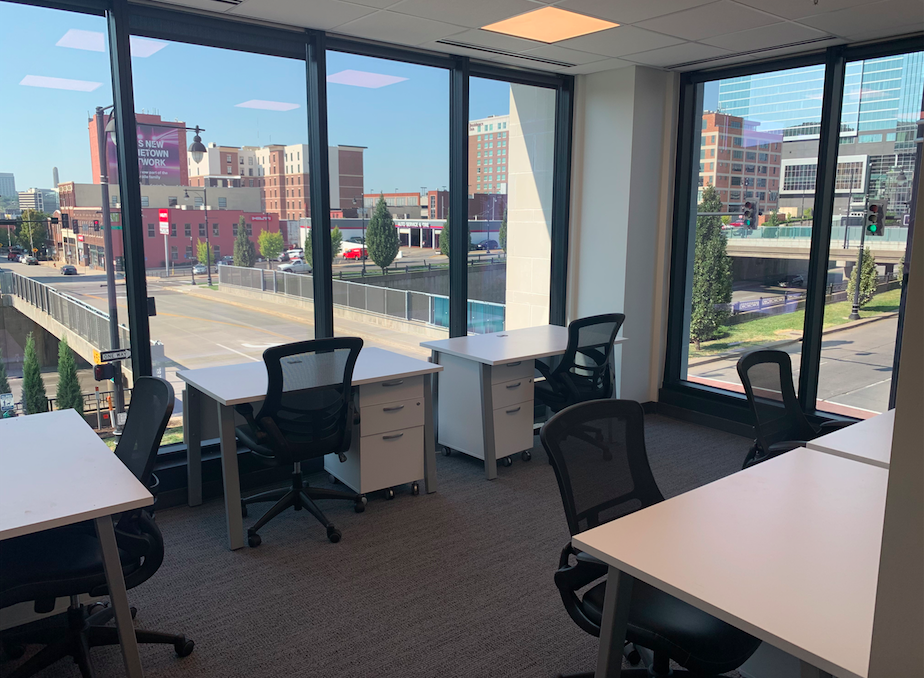 Bradley, meanwhile, is enthusiastic to finally open the doors. "We're ready to help people launch their own business or their company. We want them to thrive in our space using our resources," she says. "I'm excited—excited to see people again, to see them working. And help people be successful."