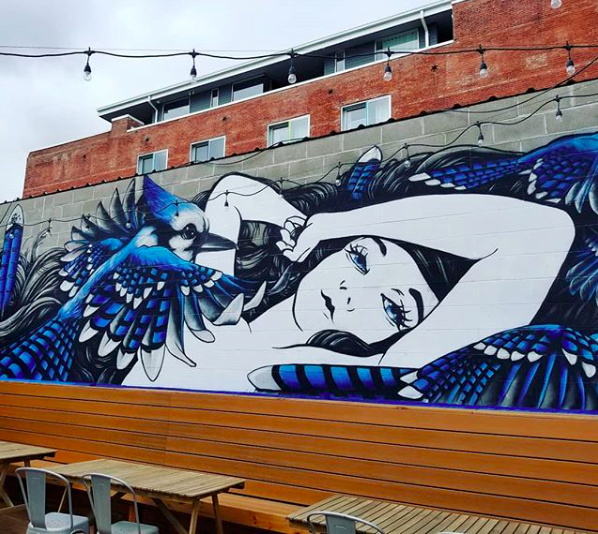 From the heart of downtown Kansas City to the greater metro area, murals and street art adorn the walls of businesses, melding urban with suburban, creativity and innovation. It's a literal brick and mortar foundation for artists to share their style, concepts, and passions with the world.

Brookside
Unbakery and Juicery/Wornall Road and Brookside Boulevard
Residents and visitors to Brookside can enjoy the brainchild of Emily Farris splashed across the exterior wall of Unbakery and Juicery. When Farris, a writer by trade with graphic design experience, had the idea to create a mural, she reached out to Unbakery owner Robin Krause, though another artist brought the idea from a digital concept to reality.
The "Damn Fine" display—a nod to cult-favorite TV show Twin Peaks—was unveiled about two years ago. Farris says that piece will be covered shortly to make way for a new idea. But, rest assured, it will still contain a reference to '90s television.
Also in Brookside, former resident Ruthie Ozonoff combined old-school sentiment with new technology. Ozonoff, who graduated in 2016 from the University of Kansas with a degree in illustration, painted a postcard mural, located at 63rd Street between Wornall Road and Brookside Boulevard, in November 2018 in conjunction with First Washington Realty and the neighborhood's 100th anniversary.
Ozonoff says she wanted to bring back the "sweet idea of the old-school postcard," while allowing the piece to be interactive. "[The postcard is] marrying old and new ways," Ozonoff says.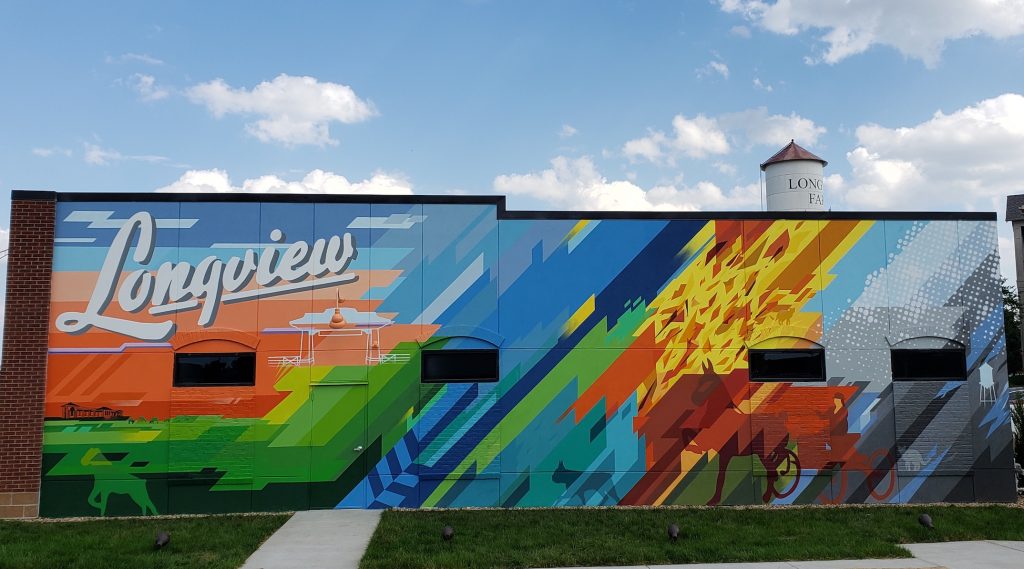 Lee's Summit
Historic Longview Farm
Historic Longview Farm in Lee's Summit added a modern twist to its agricultural roots. Phil Shafer of Sike Style Industries was contacted about a year ago to work on the project. A friend and former store owner in the Crossroads connected Shafer with the farm. The mural, which combines "Longview" and business elements while depicting the changing of the seasons, took roughly 18 months to complete. Shafer says it's "really great" to see public art in suburban areas. "We had a good vision for this," Shafer says. "I think we hit the sweet spot."

River Market
Betty Rae's
Anyone in search of unique flavors of ice cream at the River Market's Betty Rae's also will be treated to a flavorful splash of color on the building itself. JT Daniels, who has been a muralist for roughly six years, is the man behind said vibrant landscape. He created the mural last August.
Daniels got into the mural genre through a co-worker at the Mattie Rhodes Home and says he creates anywhere from 14 to 18 murals in a given year. In addition to the Betty Rae's delight, his work also includes a recent piece in Kansas City Kansas Community College's cosmetology department.

Parkville
Mural Alley
A stroll down Parkville's Main Street should include a stop in the 'burbs "photo-op alley." Parkville Artisans' Studio owner Tricia Szasz says the city's business owners came together about two years ago to brainstorm ways to bring more foot traffic to the area.
"Mural alley was one of the brainstorm ideas," says Szasz, who created the wings mural—the first she ever worked on.
85 hours of work brought the wings from concept to reality. Other pieces in the alley include "I Heart Parkville" (designed by Szasz and painted by her son, Jackson) and "Namaste in Parkville" (created by Wendy Landry, of Om Prana Yoga and Consultants).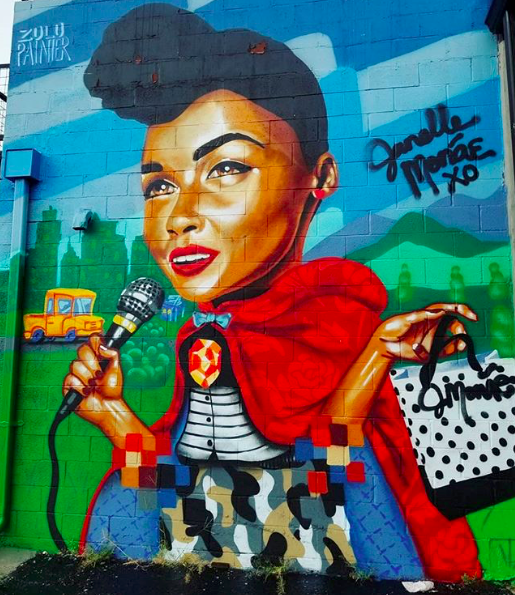 West Pennway/Southwest Boulevard
Adorning the building at West Pennway and Southwest Boulevard is Kansas City native Janelle Monáe. The creation is a first in Kansas City for international multimedia artist ZuluPainter. Completed last year, he says the entire piece took about a week to bring to life. He focused on Monáe, not only for her local ties, but because of what she represents.
"She also symbolizes strength and perseverance, which is also what was going on with the building," he says. "The building is dedicated to veterans, helping them have a better future and continue on a positive path."

Crossroads
One of Kansas City's hubs for street art is the well-traveled Crossroads district. From a Wizard of Oz-inspired display to others that encapsulate the businesses they are associated with, there is something for everyone in these pieces. With more than a dozen murals adorning building walls, anyone interested in seeing them all can attend the third annual SpraySeeMo event (read that: a mural tour just for this area) in September. The goal? To "propel" Kansas City into a Midwest "art mecca."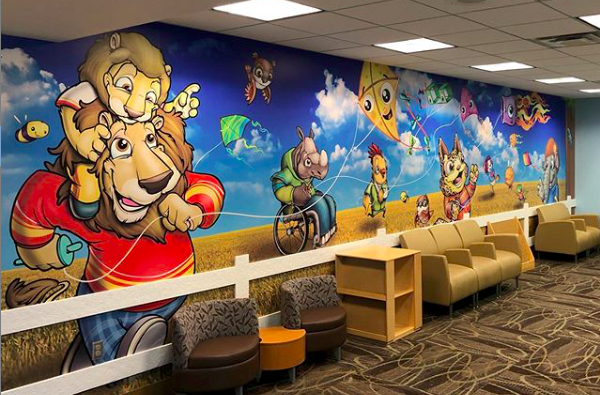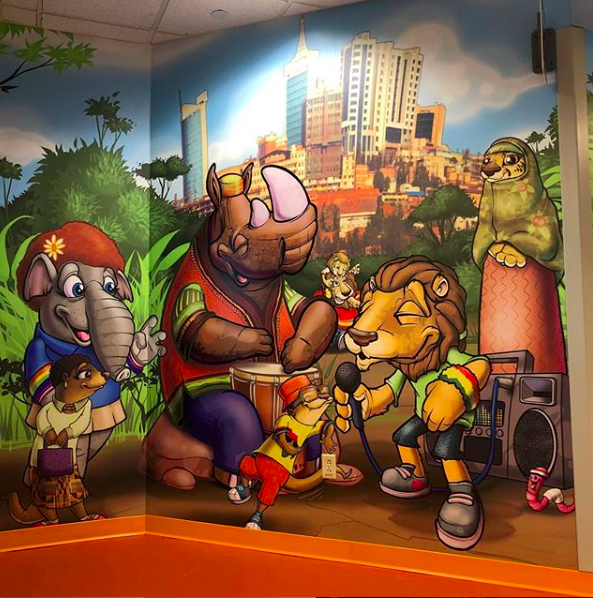 Kansas City
Children's Mercy Hospital
The halls of Children's Mercy Kansas City are adorned with vivid, eye-catching scenes, brought to life by Donald "Scribe" Ross. He has been the resident artist for Children's Mercy for 17 years, first working at the hospital in its maintenance painting department.
In preparing for a given mural, Scribe says he must consider the patient population. He also consults with the hospital's child life department because those employees work patients one-on-one and have a "unique" perspective.
His work also has been visible beyond hospital walls for nearly 30 years—in all of the places a Kansas City native would expect in the likes of Westport and the Crossroads.