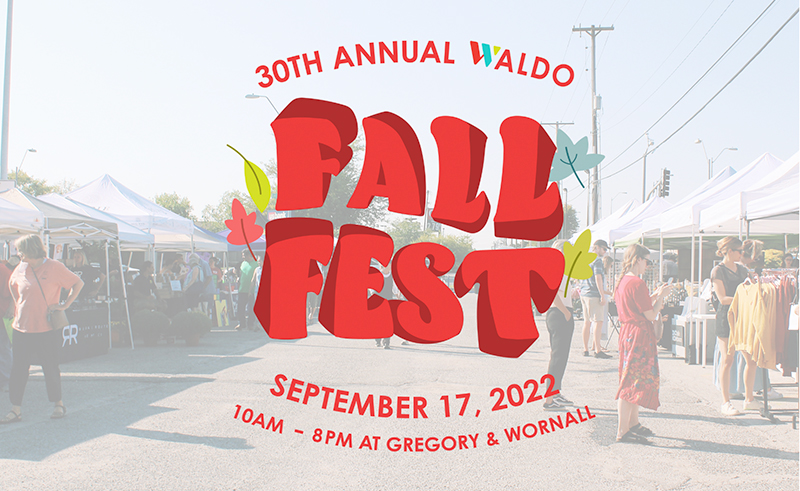 Sponsored Content
While cool breezes and vibrant colors of yellow, orange, and red leaves signal autumn is at Kansas City's doorstep, do Kansas Citians really need any other clue that the season of falling leaves, pumpkins, and apple spice has arrived other than the Waldo Fall Festival? 
For 30 years, the Waldo Neighborhood Association has invited Kansas City to explore what local has to offer with shopping, food, and live entertainment under crisp autumn foliage. This year, the beloved festival is back in its full glory on September 17.
"We are excited to bring back our large-scale format for the Waldo Fall Festival," says Natalie Nelson, the director of operations. "We've still been met with many challenges from the pandemic the past two-plus years but are continuing to see tremendous business growth in the Waldo Area Business Association. It's a great opportunity for people to explore the area while supporting local businesses and celebrate 30 years of fun in Waldo."
From 10 a.m. to 8 p.m., the Waldo neighborhood will be bustling with festivities. This year's festival footprint is larger than ever before, with most of the activity located in the parking lot off Gregory Boulevard and Wornall Road.
It's All About Local
The 30th Annual Waldo Fall Festival will include small business pop-ups, with booths featuring many of the neighborhood's 300+ businesses. Shop around for locally made and sourced clothing, accessories, treats, and specialty services.
Looking for something in the spirit of the season? Stop by the Waldo Greenhouse booth. This year, the Waldo nursery has a new cart filled with all kinds of fall decor you can take home to celebrate the season. From mums and fall flowers to pumpkins, houseplants, and pottery, shoppers will have plenty to choose from.
As a member of the Waldo neighborhood for three years now, Craig Fischman, co-owner of Waldo Greenhouse, looks forward to meeting old and new customers alike, as well as mingling with other Waldo businesses. Plus, he has a surprise in store for customers who buy a plant and a pot.
"We're coming up on three years, and we just love this area—we've really enjoyed the people and customers we've had," says Fischman. "We're going to try to have an area on the cart where if someone picks out a plant and a pot, then we can pot it up right there so they go home with a potted plant instead of having to do it at home on their own and make a mess, they can make a mess here!"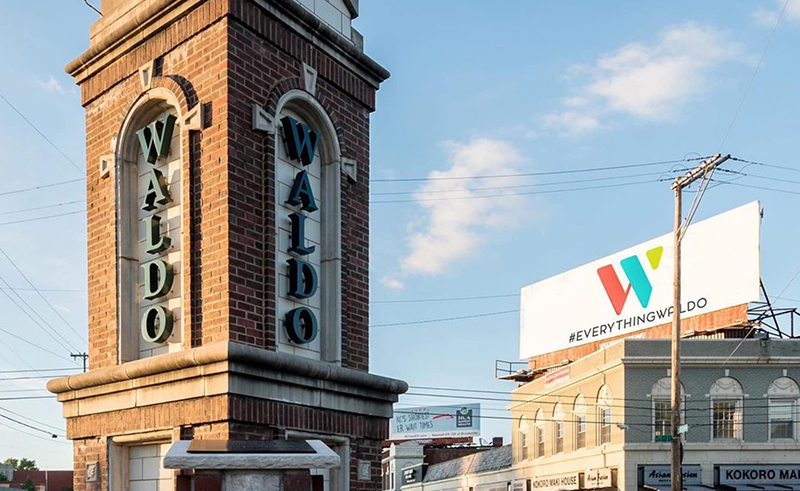 Bites to Eat and Fun to be Had
While local business vendors are a signature part of the Waldo Fall Festival, no Waldo event would be complete without local food and entertainment.
The food options are what Andy Doohan, manager of this year's festival sponsor, Mike's Wine & Spirits, is looking most forward to—with the exception of hosting the first Mike's Wine & Spirits booth at the Fall Festival.
"I'm a big foodie, so I'm excited to see what vendors will have," Doohan says. "I am pumped to eat some great food. I also love listening to live shows, so I'm looking forward to eating, drinking, and hanging out while listening to the music."
This year's food choices? Food trucks from Kona Ice, Vee's BBQ, Jason's Lunchbox, and Omnivorium. Live music will be playing on stage throughout the day, with live performances from local schools, EZ Answers, Drew Six, and Longshots.
Doohan's father opened Mike's Wine and Spirits in Waldo over 20 years ago, so Doohan has seen the neighborhood—and the Waldo Fall Festival—continue to grow and flourish over the years.
"We love being integrated in our communities, and Waldo has been home to us since we were kids," Doohan says. "Owning and operating a business in Waldo has been super rewarding to be able to give back to the community and build relationships with both people we've known throughout our lives and people who are newer to the neighborhood."
The 30th Annual Waldo Fall Festival is on September 17 from 10 a.m. to 8 p.m.