While you're in town for the Big 12 basketball tournament, seize the chance to learn more about Kansas City's extensive sports history. Create your own self-guided tour with stops that will take you from the immediate Kansas City area to Lawrence, Kansas. (Use @inkansascitymag in your pics so we can join your adventure!)
College Basketball Experience
Have some downtime between games? Head to the College Basketball Experience, next to the Sprint Center and open daily in March. Get in the game with activities that include free play on Center Court, the high-pressure game Beat the Clock, and a pop-a-shot-like set-up that pits you against your friends. Try your hand—err, voice—at sports announcing. And don't miss the National Collegiate Basketball Hall of Fame, which pays tribute to the coaches, players, and teams that have made lasting contributions to the sport.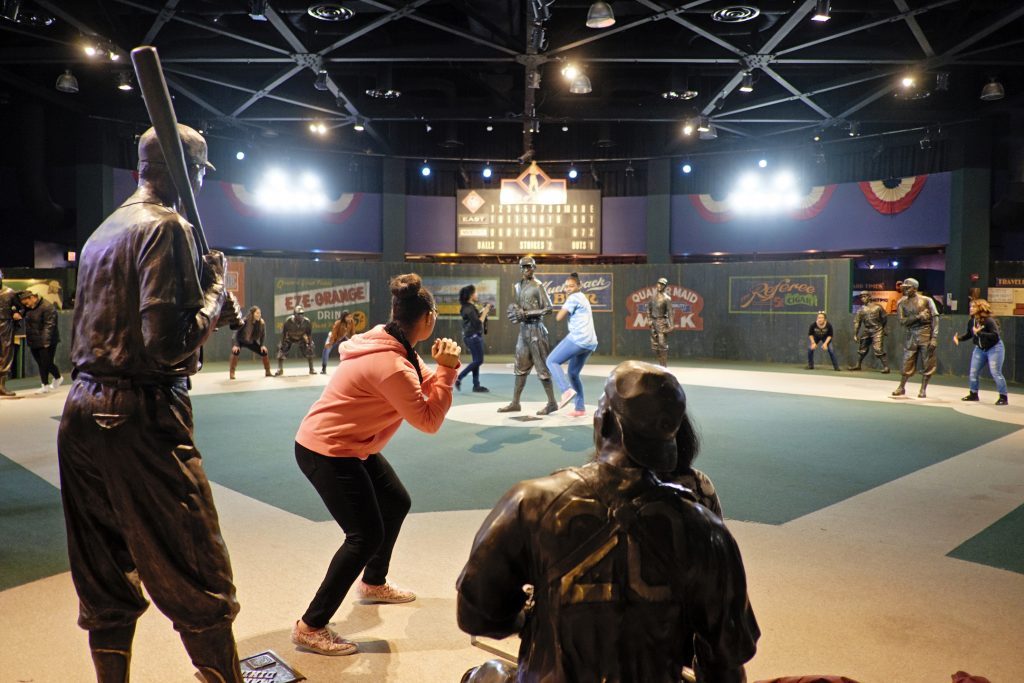 Negro Leagues Baseball Museum
What started as a one-room office in 1990 has grown to a multi-room interactive museum at Kansas City's 18th & Vine District. A visit during the Big 12 tournament couldn't be better timed, as the Negro Leagues commemorates its 100th anniversary this year. Explore photos, artifacts, films, and more on your self-guided tour of the Negro Leagues Baseball Museum, also home to several sculptures that make for memorable photo opps. Museum staff recommends reserving at least an hour to ensure you don't miss anything.
Memorial Hall
Soldiers and Sailors Memorial Hall in downtown Kansas City, Kansas, is best known as a veteran's memorial and the site of Patsy Cline's last performance. The towering building also has a rich sports legacy. Memorial Hall is home to flat-track roller derby league, the Kansas City Roller Warriors. The building saw basketball action when the American Basketball League's Kansas City Steers played there in the early 1960s. Kansas City's professional wrestling scene flourished at Memorial Hall, the site of televised weekly shows. Legendary wrestlers Ric Flair and KC native Harley Race, both won their first NWA World Heavyweight Championships in the building. More recently, Memorial Hall hosted several mixed martial arts events.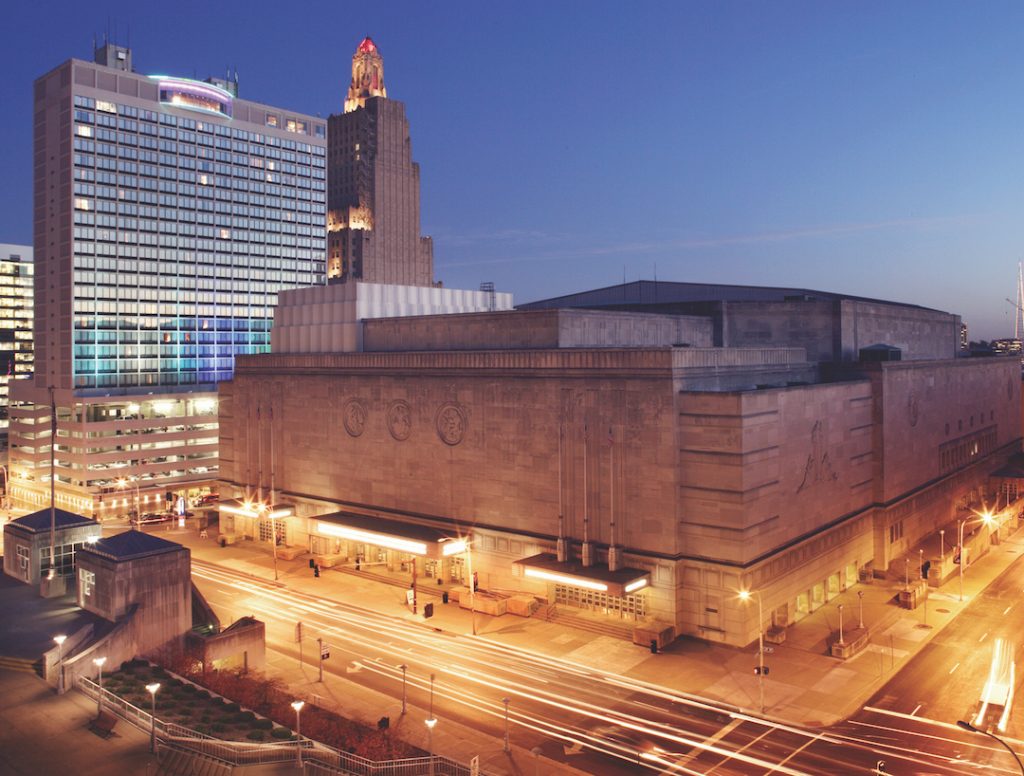 Municipal Auditorium
Downtown Kansas City's Municipal Auditorium—next to the Kansas City Convention Center—has been a longtime mainstay of the city's college basketball scene. Municipal Auditorium hosted the NAIA Men's Division I Basketball Tournament from 1937 to 1974, and resumed in 2002. The University of Missouri-Kansas City Kangaroos basketball team calls Municipal Auditorium home, as does the Mid-America Intercollegiate Athletics Association annual tournament. Plus, Municipal Auditorium hosts women's basketball games during the Big 12 tournament.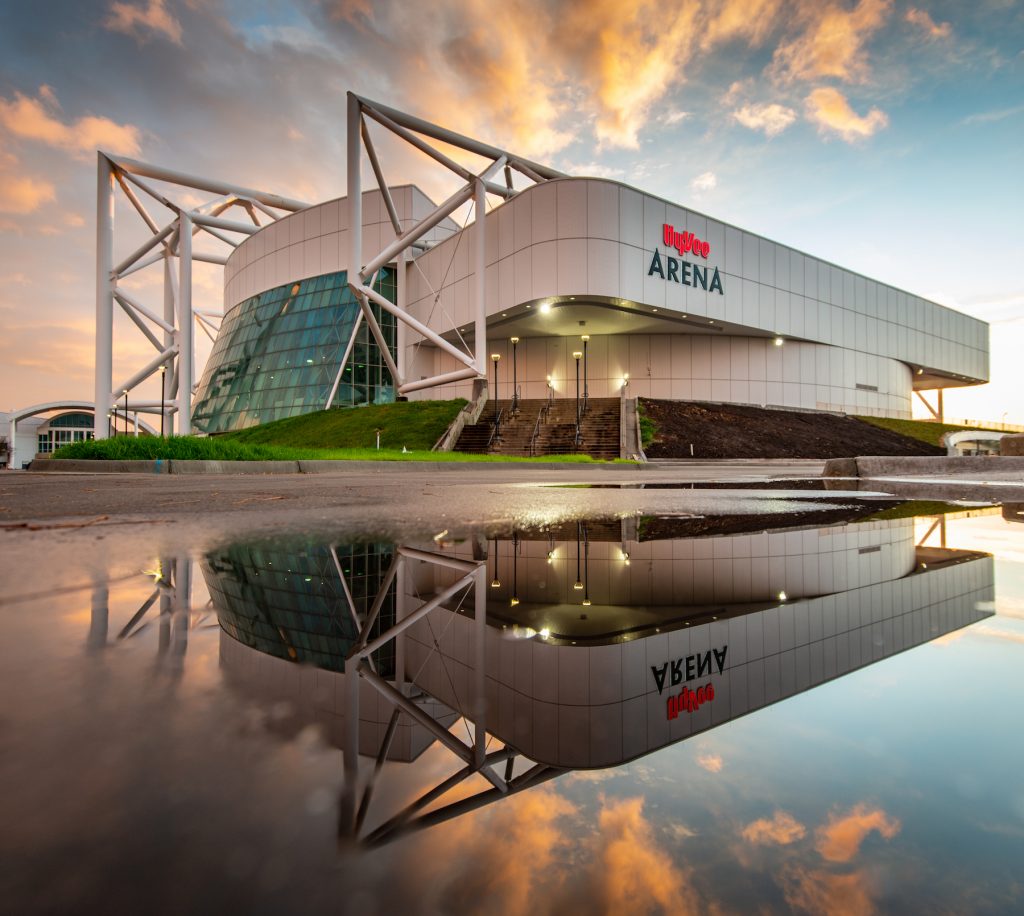 Kemper Arena
A 1970s construction boom throughout Kansas City included Kansas City International Airport, the Truman Sports Complex and, in the West Bottoms, Kemper Arena (now Hy-Vee Arena). The first major project of German architect Helmut Jahn, Kemper Arena replaced Municipal Auditorium as the host of Kansas City's NBA (Kansas City Kings) and NHL (Kansas City Scouts) teams. From the 1980s to the early 2000s, Kemper Arena served as center stage for a myriad college basketball action, including the NCAA regionals and men's and women's Final Four, the Big Eight and Big 12 conference men's tournament, the Guardians Classic and the Mid-Continent Conference.
Lawrence—The Cradle of Basketball
It's worth your time to carve out a few hours in your schedule to drive 40 minutes west on I-70 to Lawrence, known as The Cradle of Basketball (named for a documentary commissioned by Explore Lawrence). Although the game of basketball was invented in Springfield, Mass., basketball inventor, Dr. James Naismith, brought the game to the University of Kansas campus and became KU's first basketball coach. Make a half-day of it and follow Unmistakably Lawrence's Cradle of Basketball itinerary, which includes stops at Allen Fieldhouse and an historic marker at Douglas County Bank, site of the first KU home basketball game in 1899. All that sightseeing will make you thirsty, so consider these downtown Lawrence watering holes.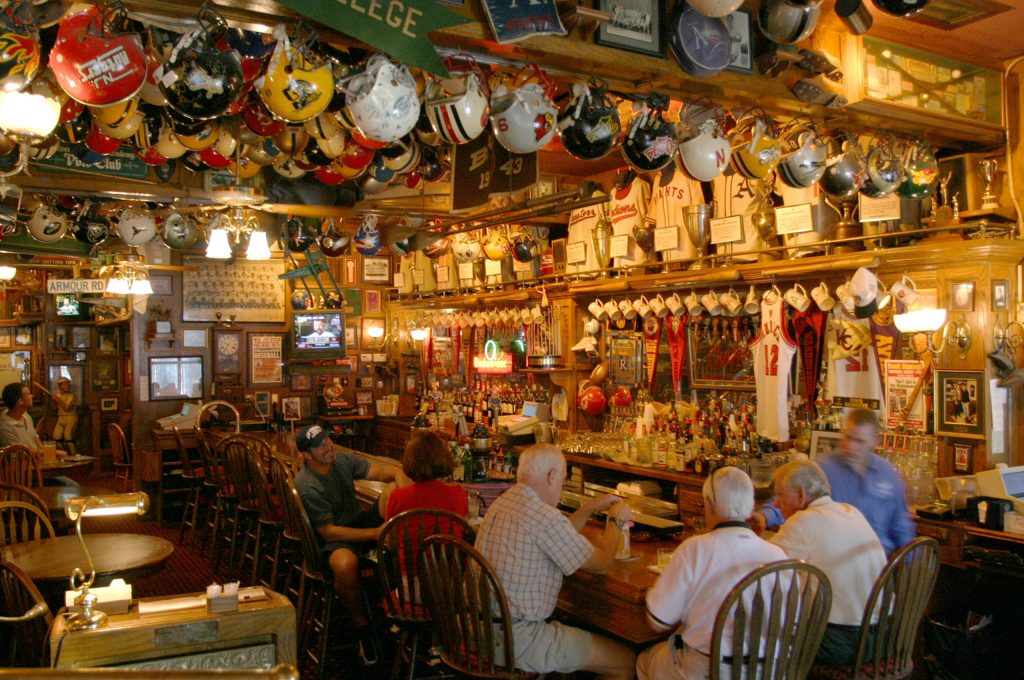 Chappell's Restaurant & Sports Museum
Kick back after your self-guided adventure at North Kansas City's Chappell's Restaurant & Sports Museum. The family-friendly restaurant is nearly covered with sports memorabilia collected by owner Jim Chappell and also donated by sports fans throughout the years. While you wait for your Chappell Burger or tenderloin supreme, stroll through the restaurant and be whisked away on a wave of nostalgia.  (PS. Get the tenderloin. You can thank us later.)